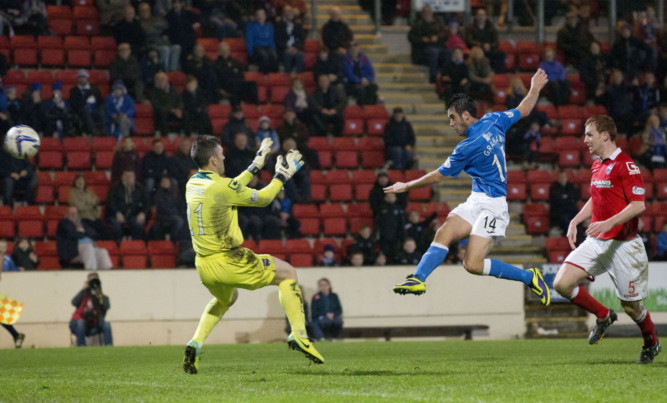 Brian Graham doesn't need the occasional wind-up from a St Johnstone team-mate to remind him he lost last season's Scottish Cup final.
He doesn't even need to catch a glimpse of the trophy in the McDiarmid Park boardroom or the mementoes of May 17 around the stadium.
There's a DVD out for Christmas, and it isn't one Graham is likely to put on his wish-list for Santa.
The Saints striker has put the pain of Celtic Park behind him, and his focus is helping the team who cost him a winner's medal get their hands on the cup for the second year running.
"There's been a couple of wee fly digs here and there about the Scottish Cup final but that's what I expected," the loan striker said.
"They deserved to win the cup last season, and I was bitterly disappointed but it's a new season and hopefully I can get a good run in the competition with St Johnstone.
"Every Scottish boy wants to win the Scottish Cup and it was a great opportunity for me but it wasn't to be and you can't let things like that keep you down. You've got to keep going.
"I came on as a substitute in the cup final and it was one of my lowest points.
"We had to watch them lift the cup out of respect and shook their hands and wished them well, but we were inside after that because we were too disappointed. After the game we went back to Dundee as a team and it was miserable, as you can imagine.
"I've never watched the final again and I probably won't. Why would I want to? There's enough pictures around the place here, so I can't escape it!"
When the cup resumes in the new year, Graham is confident that Saints will be in good form for whoever they are drawn to play against in the last 16.
As they did in the league game between these two teams last weekend, there was much to admire in the Perth attacking play, the goals scored, and the resilience in weathering a County fightback.
It all adds up to side that has turned a corner.
"We haven't lost in five games now after a sticky patch and that shows the character in the dressing room," the former Morton and Raith Rovers man pointed out.
"Some other teams might have buckled and tumbled down the league. But we've shown what we're about in the league and cup by getting results.
"We came out of the blocks quickly and were really good in the first half – the best we've been for a wee while – and we've got to try and do that for 90 minutes going forward."
If County had gained confidence from a good second half performance seven days ago, they hid it well in the first 45 on Saturday.
It was one-way traffic towards their goal, and there were only six minutes on the clock when Saints broke the deadlock.
James McFadden fed Michael O'Halloran and Jamie Reckord brought him down on the 18 yard line.
The defender only got a yellow card (some referees might have deemed it a red) but his foul was severely punished seconds later. McFadden hit the free-kick into the wall, it broke to O'Halloran and he found Mark Brown's bottom right corner for his fourth goal in four games.
There was an element of controversy about it, as the far-side assistant referee had flagged to signal that Steven Anderson had strayed into an offside position when the shot was struck.
Referee John Beaton decided there was no interference and the goal should stand.
County boss Jim McIntyre was adamant it was the wrong call, as according to him, Brown delayed his dive because he thought Anderson was going to get a touch on it.
And Staggies striker Jake Jervis even claimed that there has been a rule change that they weren't aware of.
He said: "The goal shouldn't have stood. 100%. Apparently the rule has changed but nobody seems to know that apart from the referee. He said the player has to be standing in front of the goalkeeper but he went to flick the ball in and that's offside.
"The linesman flagged so I don't understand why it was given. The rule needs clarified. Apparently it would have been last season but not this season. I haven't heard that anyone at our club has been informed of a rule change."
Saints manager Tommy Wright noted: "They were aggrieved last week as well. The fourth official told me that the referee over-ruled straight away because he was in a better position. You're always going to get managers and players complaining about decisions."
Nobody could argue about Saints' second. It was a James McFadden classic.
There were shades of the former Scotland man's iconic goal in Paris about his 25-yarder, which gave Brown no chance.
O'Halloran has been prolific of late, but he has also shown a selfish streak that has frustrated Graham, who was in a great position to make it 3-0.
O'Halloran made the wrong choice to shoot rather than lay the ball off to his team-mate, and the chance was gone.
Graham was magnanimous about it though, saying: "Michael had a chance to play me in and if he did that we might have been three up but he was high in confidence after scoring a goal and I can't really criticise him for not passing in that situation. Maybe next week!"
The game could have again been put beyond County's reach shortly before the break. O'Halloran drove down the left and crossed to the back post, where Lee Croft was in space. The winger's shot beat Brown but Scott Boyd cleared off the line.
The start to the second half was a mirror image of the start to the first.
Joe Cardle shaved the post with a shot from distance on 47 minutes and five minutes later Mannus tipped a Reckord shot over the bar.
It was definitely game-on when the visitors made it 2-1 – Jervis guiding the ball past Mannus into the bottom far corner.
With around 30 minutes left on the clock, rather than half that the week before when the Staggies scored their goal, there was greater potential for a comeback.
Jervis should have equalised, but side-footed wide after the Saints defence was cut open by a Graham Carey pass.
With a replay on the cards at this point, Saints did a good job of making sure that wasn't necessary. Indeed, they averted a siege-ending and, though you wouldn't go quite as far as describing it as comfortable, finished the match the better side.
Graham hit the bar and then missed the target after being put through by David Wotherspoon. And in between times, Dave Mackay sliced a volley wide.
The Perth frontman observed: "I had a chance nearer the end. I chested it down and I thought it was going to run away and I ended up getting too much on it. I should probably just have side-footed it into the corner but I chested it down, spotted Mark Brown coming out and when I hit it I thought it was in and I was about to celebrate.
"One of the boys was laughing at me saying that he thought the crossbar was going to snap. It was unfortunate not to go in but we've done well to grind out the win."