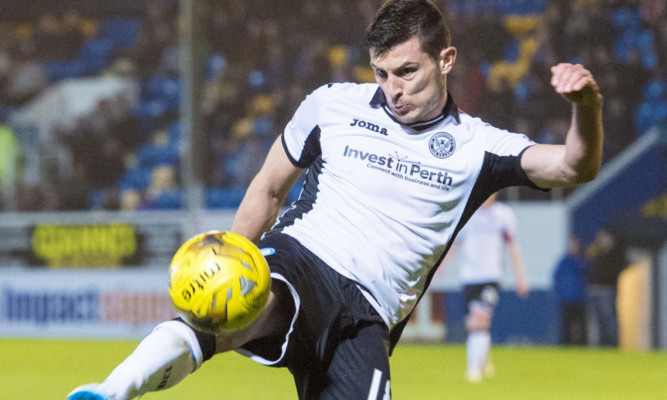 Graham Cummins will be out of action for at least a month according to St Johnstone manager Tommy Wright.
The striker, who has been a big hit at McDiarmid Park after signing in the summer, injured his hamstring in the early stages of Saturday's game against Kilmarnock.
A full prognosis hasn't come back from the specialists yet, but Saints now have a good idea of how long the Irishman will be out for.
"We are assessing him and we are looking at a minimum of four weeks, maybe six weeks," Wright reported.
"It was sore over the weekend and we have to let it settle. We will have a better idea over the next few days.
"Graham doesn't have a history of hamstring problems and hopefully he caught it early. The pitch was soft but we had tailored training earlier in the week to try and avoid these sort of injuries.
"It is disappointing for Graham. He has scored six goals and could have had more. But he has also played an integral role in creating chances, getting assists for eight or nine goals.
"Fortunately we do have cover in the shape of Chris Kane and John Sutton, and Michael O'Halloran can also play up top."
Wright confirmed that Cummins is one of the players the club will be offering a new contract to, and the man himself has said that he wants to stay beyond the end of the current season.
"We haven't got down to the nitty gritty of the contract talks," he said.
"There is nothing concrete but it is always a help when a player wants to stay and he has indicated he is keen to extend his contract. That's the same with one or two others."
Meanwhile, Wright has praised David Wotherspoon for his recent performances off the bench.
He said: "David was brilliant when he came on. He gave us freshness and drive.
"Darnell had done well there the week before but he didn't really get to the pace of the game on Saturday.
"David has now done well off the bench for us a couple of times, so I'm pleased how he's reacted to not starting."
There was a flash of skill by Steven Anderson that set up Saints' weekend winner, but Wright joked with his centre-back that these rare moments of attacking inspiration don't always have a happy ending.
He explained: "It's amazing how things flash by in your mind.
"I reminded Ando that he did a back heel against Celtic a couple of seasons ago and they went straight up the pitch and scored after he gave the ball to them.
"It worked on Saturday thankfully!"