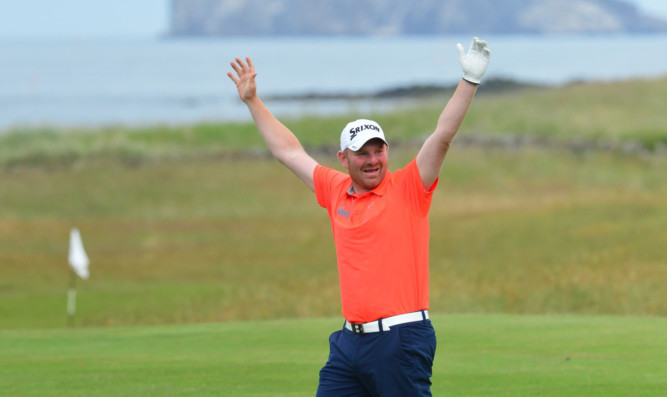 Amateur Calum Hill put his local knowledge to best use and qualified for the Aberdeen Asset Management Scottish Open in dramatic fashion at North Berwick yesterday.
The 19-year-old, from the Tantallon club that uses the famous East Lothian links, will play with the star-studded field at Gullane next week after being the fifth of five to come through the new 36-hole qualifying competition.
The other qualifiers in a scoring frenzy amid the showers were three former Scottish professional champions Gareth Wright, Graham Fox and Greig Hutcheon, and the Orkney-born, Kent-based professional Craig Sutherland.
Sutherland finished tied in the qualifying tournament at 12-under with Wright, and then won a sudden death play-off with a 20-foot birdie on the 18th for the £7500 first prize on offer in the qualifying event.
But the real aim was getting into next week's championship and the big story was the teenage Hill, who missed out on a place in the six-man Scottish amateur team playing in Sweden this week but wasn't much for caring about that yesterday.
"I heard there was going to be a qualifying competition here and all I wanted to know was whether there were going to be spots for amateurs," said Hill, whose parents run a B&B just up the road from the course and who attends Louisiana Monroe University in the USA on a golf scholarship.
"When I found out there was, I was desperate to get a place. I obviously know this place pretty well and it was a fantastic opportunity for me."
Hill's been a member of his club since age 10 but was pottering about on the famous North Berwick children's course from the age of five. Set up by his first round of 64 on Saturday, he plotted his way around for a 68 yesterday.
"Slept great last night, it was my own bed," he added. "I felt really comfortable and it was a lot of fun, and there was a terrific amount of people out there supporting me.
"I had 11-under in mind but when I got to the final tee and saw that a par and ten-under would do, that was it. Obviously I've played Gullane a lot and it's going to be a very exciting few days."
Sutherland is making a go of being a full-time player at the advanced age of 37, having left Orkney at 16 to pursue his golf dream at clubs in the London area and having been there ever since.
"I've lost my accent but I'm definitely a Scot," he said. "I can't wait for my first European Tour event to be the Scottish Open.
"64 today was probably the round of my life, to be honest. I've been up in Scotland for three weeks playing Open qualifying and EuroPro events, and was supposed to be going home tonight, but it seems like I won't be.
"It's my 38th birthday on Thursday, and I can't think of any better way to celebrate it than playing with the big guns."
Wright, a proud Welshman but long-based in Scotland and national professional champion in 2013, had a hole-in-one at the fourth, his third as a pro.
"I set out to win, but to get in a play-off was just a bonus and really the main aim was getting to play at Gullane this week," he said. "I must play it two or three times a month in the winter and I'm on the membership list, so I can't think of any better place to play."
Hutcheon will be playing his sixth Scottish Open, his charge starting with an eagle at the 11th when he was flatlining in the first round, and sustained during yesterday's round which turned nasty with heavy rain in the last two hours.
Fox, Scottish champion in 2012, shot 66 and 65 and will be playing his first Scottish Open this week.
"I'll have to cancel a bunch of lessons booked for this week," said the pro at the Clydeway Golf Centre in Glasgow. "Hopefully they'll understand, but I've got two kids of three and 18 months so explaining to my wife might be a bit trickier."
Completed scores
130 C Sutherland (Lynx Golf) 66 64, G Wright (West Linton) 64 66 (Sutherland won on first playoff hole)
131 G Fox (Clydeway) 66 65, G Hutcheon (Paul Lawrie Golf Centre) 65 66
132 C Hill (Tantallon) 64 68
133 D Stewart (Turnhouse) 68 65, M Stewart (Troon Welbeck) 67 66
134 A Welsh (Cathkin Braes) 69 65, A Forsyth (Mearns Castle) 69 65, S Henderson (Kings Links) 67 67, J McLeary (Dalmahoy) 65 69
135 S Binning (Mearns Castle) 68 67
136 N Henderson (Renaissance) 68 68, P Robinson (Largs) 69 67, C Ross (Kirkhill, am) 69 67, M Kerr (Dalmahoy) 69 67, A McArthur (unatt) 70 66, P McKechnie (Braid Hills) 70 66, G Murray (Kingsbarns) 66 70
137 C Ronald (Carluke)69 68, P Shields (Kirkhill) 71 66, J Byrne (Banchory) 68 69, K Hutton (Downfield) 67 70, C Everett (Caldwell) 67 70
138 R Arnott (Bishopbriggs) 69 69, J Ross (Royal Burgess) 70 68, S McAllister (S McAllister Golf) 70 68, G Brown (Montrose Links) 70 68, S Caitlin (Affordable Golf) 71 67, P Jamieson (Dunblane New) 72 66, J Lomas (Caprington) 68 70, K McNicoll (Gullane) 68 70
Other scores included
139 C Lawrie (Paul Lawrie Golf Centre) 73 66
140 E Saltman (Archerfield) 67 73
141 P O'Hara (Clydeway) 69 72, L Mann (unatt) 70 71, S Borrowman (Dollar) 72 69,
142 G Forrester (St Andrews Golf School) 70 72, D Young (Craigie Hill, am) 70 72, F Mann (Carnoustie) 71 71, S Drummond (unatt) 71 71
143 S Herald (St Andrews Golf Academy) 72 71, C Lawson (Elmwood) 70 73, S McLaren (Blairgowrie) 73 70,
144 J McColl (Kingsbarns) 72 72, B Marchbank (unatt) 73 71
147 P Wytrazek (Burntisland) 71 76, C Gillies (unatt) 75 72
148 C Kelly (unatt) 72 76, P Brookes (Pitreavie) 73 75,
152 C Armstrong (Burntisland) 74 78, C Robinson (Elie) 76 76
153 C McMaster (Wellsgreen) 78 75, A Hogg (Kingsbarns) 76 77
154 M McKenzie (Edzell) 74 80
155 T Poyser (Ladybank) 75 80
158 S Smith (Scotscraig) 80 78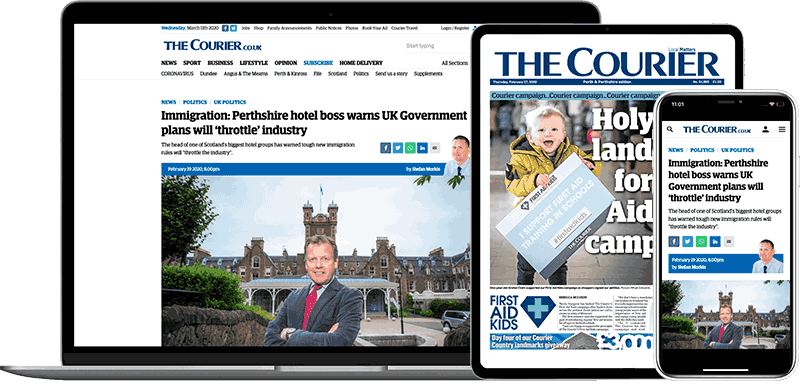 Help support quality local journalism … become a digital subscriber to The Courier
For as little as £5.99 a month you can access all of our content, including Premium articles.
Subscribe