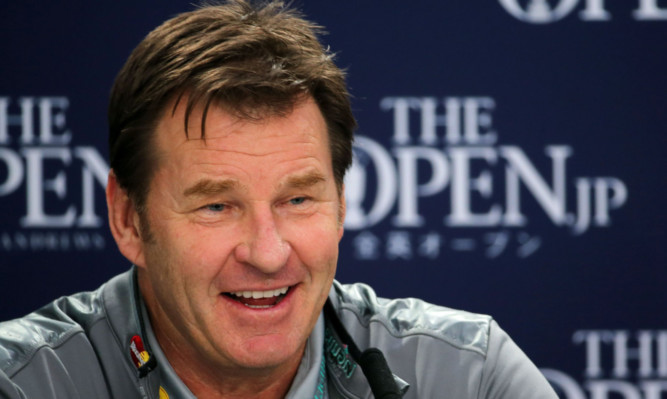 Sir Nick Faldo once described Fanny Sunesson as "the 15th club in my bag".
"Indispensable" and "vital" were other adjectives he used during the height of his and their major-winning career.
The former Open champion, who celebrates the 25th anniversary of his St Andrews triumph this week, should know a good caddy when he sees one.
And it's the relationship that Jordan Spieth has with his bag carrier, Michael Greller, that is one of the reasons the Old Course novice has a chance of completing three quarters of a season grand slam according to Faldo.
Such is the chemisty of the golfing couple not to mention their work ethic there has never been any suggestion of Spieth looking beyond the man who was a maths teacher when they came together as the Open favourite turned professional.
"They work very well," he pointed out. "It is one of the things I spotted a year ago, how well Jordan works with his caddie Mike, and to hone, get the work, the golf ball as close to the hole as possible.
"They've got their own little formula and great belief in what they're doing. They've got their game plan, go and do it.
"Jordan's obviously got a very high golfing IQ, and he takes a lot on board. Obviously that's how he works with his caddie.
"When you're playing really well, if your caddie tells you where to land it, he's going to probably land it there. That is what they're enjoying at the moment. That's what I notice on television, how many shots are pin high that he hits.
"They seem to have very good course management. I think he'll be in there. I really do. He's playing too darned good when you're holing putts. When you keep saying the golf ball go in the hole, it's a nice feeling."
Paul McGinley believes Spieth's late arrival in Fife after playing (and winning) in America will be a handicap.
Faldo is not so sure.
"Well, you can tell Jordan is happy with the way he's doing things because he has his own form right now," he observed.
"For a kid of 21 with his coach, they really do have a form of what they're going to. This is why he handles things so well. So I don't think he's too worried about it.
"It's amazing, when you're that young, you'd say, one good night's sleep to get over jet lag and he'll probably be fine tomorrow morning, and especially coming off a win and shooting scores like that.
"Yeah, if he believes that's the way to do it, then that's the way to do it. That's the way Jordan Spieth wants to do it. Guess what? It's right.
"It's exactly the same thing as Chambers Bay. You have to plot your yardage here, where you're going to land it, what you predict the bounce is going to be, the release, all sorts of things. But they seem to be finding a way of doing that.
"He keeps churning out good shots. When you're doing that, you just jump back on the saddle and ride again. That's what he's doing."