 Dundee Stars coach Marc LeFebvre was yesterday closing in on a deal for a competitive defenceman which could finalise this season's import recruitment.
The new head coach has been talking to the mystery man and remains confident of landing the newcomer ahead of a key meeting this week with Travel Club members.
The 33-year-old former Coventry Blaze, Sheffield Steelers and Edinburgh Capitals star jetted into Tayside from Canada on Sunday.
And he has already been given a guided tour of the city by club owners Mike and Stephen Ward.
Top of his agenda is, however, the final piece in what the experienced forward says is his "jigsaw".
He said: "We hope to have things done this week with a new defenceman.
"It is a holiday in Canada on Monday and it is always difficult finalising things over a weekend but we're very close and the next few days could seal it."
He is determined to get steel into his squad, hence the acquisition of Canadian forward Justin Faryna who, LeFebvre hopes, will make a big impact on British ice hockey.
The Calgary-born player has been brought in as the coach believes Stars were "bullied" on the ice last season when they propped up the table.
Faryna spent the previous three seasons with the Rapid City Rush in the Central Hockey League (CHL) and latterly in the East Coast Hockey League (ECHL).
He has an average of 10 major fighting penalties per season.
LeFebvre said: "Justin brings a physical presence to our line-up and I believe we need that.
"I've watched footage of last season and my view is that the team was bullied around the league.
"Justin has a few penalty minutes to his name. He has had 32 fighting majors over the past three seasons and brings an element to our line-up.
"He also brings a great work ethic and excels on the penalty kill. All the reports I have received on Justin is that he is a great teammate and will be a valuable asset to our dressing room."
The players are expected to arrive on August 21 and 22 and LeFebvre has arrived early to ensure that they have a smooth passage.
He said: "There are visas to work out, accommodation, equipment to source and receive and some administration.
"The Wards (Stephen and Mike) have been great so far and we also have to meet the fans. They are the lifeblood of this organisation. Without them you don't have a business."
Meanwhile Canadian winger Jeff Lee will be given his British ice hockey debut by Fife Flyers.
The 27-year-old from Calgary joins the Kirkcaldy club from East Coast Hockey League side Quad City Mallards.
Flyers' head coach Todd Dutiaume said: "Jeff will be a key player for us. He comes with a solid resume and good references. It was important for us to add some size up front. He will be tough to play against."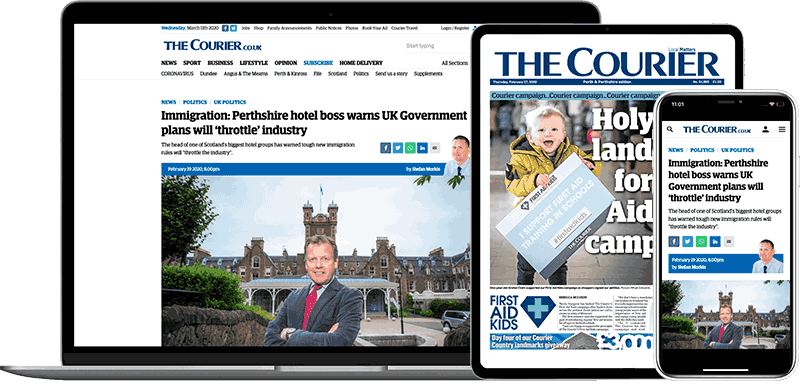 Help support quality local journalism … become a digital subscriber to The Courier
For as little as £5.99 a month you can access all of our content, including Premium articles.
Subscribe