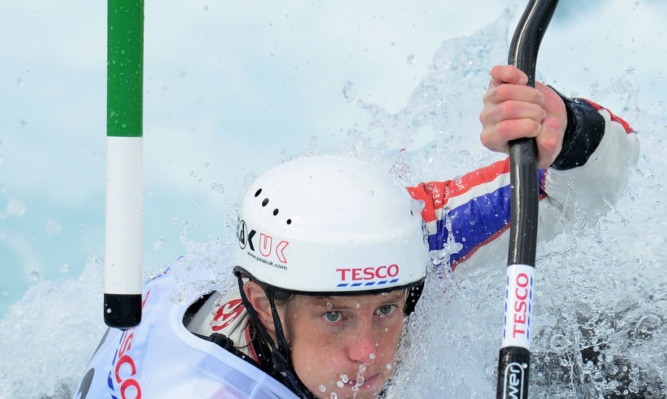 Two Perth and Kinross athletes have been named in the British senior canoe slalom team for a home World Championships in September – and taken a big step towards qualifying for the next Olympic Games.
Eilidh Gibson of Kinross won her place in the C1 category at the weekend trials by grabbing the third and final spot, while Crieff's Fiona Pennie – a former World silver medallist – is one of the K1 canoeists.
With less than 18 months before Rio 2016, earning a place on the British team is an important first stage of the journey to Olympic selection, which will be finalised in October this year.
It was a sweet feeling for Gibson, as she had lost out on under-23 selection three weeks ago and is now set to make her senior debut.
The Strathallan club member said: "The fact it was so tight and anyone could have taken it is really exciting. It is great to have such fantastic racing in C1 women, but really hard.
"It knocked my confidence being off the pace and not making the under-23 team, so the last few weeks I have worked really hard and I am proud of myself to have kept a good mind set throughout."
Pennie was pre-selected, so didn't have to endure an ordeal like Gibson.
Aberdonian David Florence, a 2012 Olympic silver medallist was a stand-out performer on the rapids at Lee Valley White Water Centre, winning six out of six races in two different classes C1 and C2.
Another Scot, Bradley Forbes-Cryans, held his nerve and will compete at his first senior World Championships in the K1.
He said: "I have certainly gained a lot of experience from this race and I hope it makes me a tougher athlete mentally."
Paul Ratcliffe, canoe slalom head coach, said: "We have selected one of the strongest canoe slalom teams we have ever had, on the back of the most competitive selection series I have been involved with. Athletes, coaches and support staff can all be proud of what they have achieved.
"Our job now is to go away and prepare this team to deliver their best performances at our home World Championships in September, which is a key milestone for us on the road to Rio. Our first international test will be at the European Championships in Germany the last weekend in May."
Selected athletes will now prepare to compete at the European Championships, the ICF World Cup series and a home World Championships at Lee Valley White Water Centre. The World Championships is the opportunity for Britain to qualify boats for the Rio 2016 Olympic Games. There will then be final trials to decide Olympic athlete selection in October.