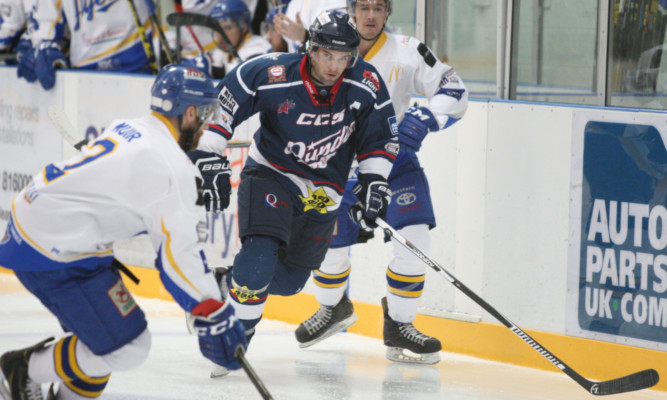 Dundee Stars came from behind last night to edge arch-rivals Fife Flyers 5-4 in their Elite League clash at Dundee Ice Arena.
Goals from Brett Switzer after 47 minutes and Martins Porejs six minutes later turned a 4-3 deficit into a 5-4 win in a game in which Dundee outshot the visitors 34-23.
Former Fife star Bobby Chaumont claimed the opener after one minute 56 seconds but Shayne Stockton levelled eight minutes later.
Justin Fox fired Flyers 2-1 ahead with 16 seconds left of the first period and Ryan Dingle extended the visitors' lead only 15 seconds into the middle session.
Stars responded with goals from Lou Dickenson after 24 minutes on the power play and Curtis Leinweber five minutes after that.
Nicholas Rioux put the visitors back in front at 4-3 after 47 minutes and the Fife fans celebrated but Switzer and Porejs ended their hopes of a second straight victory at the arena.
Stars had suffered a shoot-out loss to Coventry Blaze on Saturday.
Dundee coach Marc Lefebvre had warned his men about the quality of netminder Brian Stewart, a man he signed for the Midlands club before he was axed a year ago. And Stewart saved three penalty shots to earn a 4-3 victory for bottom club Coventry.
It was former Braehead Clan player Neil Trimm who scored the game- winner after Stars netminder Vlastimil Lakosil had saved from Drew Fisher and Carl Lauzon.
Stars goals in regulation time came from Switzer, Dickenson and Justin Faryna.
Flyers had boosted their play-off hopes on Saturday with TJ Caig netting a double in a 5-3 victory over Manchester Storm at Kirkcaldy.
The other Fife goals were netted by Stockton, Fox and Rioux.
Elsewhere last night, Cardiff-born Ben Davies came back to haunt his former team with the game-clinching goal in a confidence-boosting 3-1 victory for Braehead Clan over the Devils.
Results:
Saturday, Elite League: Braehead Clan 2 Sheffield Steelers 5, Coventry Blaze 4 Dundee Stars 3 (SO), Edinburgh Capitals 2 Belfast Giants 7, Fife Flyers 5 Manchester Storm 3, Nottingham Panthers 3 Cardiff Devils 5
Yesterday, Elite League: Cardiff Devils 1 Braehead Clan 3, Dundee Stars 5 Fife Flyers 4,Edinburgh Capitals 1 Belfast Giants 3, Manchester Storm 2 Nottingham Panthers 5,Sheffield Steelers 2 Coventry Blaze 3.