 The view that this is a Six Nations job not even half-done is illustrated by Scotland head coach's readiness to change a winning team for Sunday's meeting with France at BT Murrayfield.
As largely expected, Vern Cotter has re-instated Alex Dunbar to the midfield at the first available opportunity since his year-long injury absence, at the expense of the dropped Mark Bennett and leapfrogging Peter Horne, who remains on the bench as cover for three positions.
Less expected is Josh Strauss coming in for Ryan Wilson, a move caused in part by the starter in Rome suffering an ankle injury in the Stadio Olimpico, but given the two-week gap the additional explanation that Strauss offers a little more bulk against the big French pack seems more convincing. David Denton's groin injury has still not cleared.
Other than those two changes Cotter has left well alone. The feeling in the camp is clearly that now the relief at beating Italy and breaking the run of nine successive defeats in the championship has dissipated, that win alone does not stack up as even a reasonable campaign, and they must kick on against the French.
The head coach's admiration for the Dumfrieshireman is well known and obvious. After the centre suffered a ACL injury at this time last year Scotland's midfield defence was suspect for the rest of 2015, even during the World Cup.
There was almost a haste about his rehab during the summer in the ultimately fruitless hope of getting him back for the World Cup, and attempts to re-introduce him since have been stalled by minor injury absences.
After just a game and a half coming back from the last one, a hamstring strain, Dunbar is back in the team, although those 120 minutes for Glasgow did have him back to his imposing best on both sides of the ball.
"Look, I think he's a quality player," said Cotter. "I don't want to talk too much about him and apply too much pressure on him before the game.
"But he brings a lot to his team when he plays, in his defence, his carry and his work rate. He's looking forward to getting out there and hopefully we'll be talking about him afterwards.
"'He's played well, he's fresh. We'll see his energy and drive, and he gives us a different profile.
"The French will have to look back a year to find games with him. We're very confident and know he will perform well."
As for Strauss, it will be the first Murrayfield start for this "project player". An influential and at times devastating player in the Guinness PRO12, the jury is still out on the former Springbok training squad player as a force in international rugby where his power in ball-carrying is countered by a better class of defender.
Wilson had been in a restraining boot for some time in the build-up, but Cotter confirmed it also "corresponds with the fact that Josh does bulk us up, it does give us a bit more power."
'I know that Ryan, the competitor he is, will bring so much energy into the game when he comes on and may offer us something special in the final minutes," he added.
Strauss knows he has to make an immediate mark on Sunday's game given that he's replacing a player deemed by many to have done well in Rome.
"I think it's very important, the fact that I have been given an opportunity to start ahead of other players have been great so far," said the prodigiously bearded back rower.
"Ryan had a great game against Italy. So to get the opportunity to start I can't take anything for granted. I have to prove that I deserve to be in there and that puts a little more pressure on but that's why we play rugby."
Strauss has yet to play in the dark blue at Murrayfield but is looking forward to it "massively".
"I said during the World Cup, even before that first game, you don't know how you are going to feel, you have never been out there, and just being out there against Japan for the anthem was such a great feeling.
"I can't wait to be out there on Sunday in front of a packed out stadium. I have watched games there before and it's such a great atmosphere, I can't wait to experience it from the field."
Cotter, deftly handling questions bilingually from both Scottish and French journalists, is prepared for the unexpected from France, even if they seem to be reverting ever more to a restricted kind of game.
"'With the French, you don't know what they're going to bring," he said. "They will have looked at us and found ways to access the game, to apply pressure.
"So I think they will try to kick down the paddock and go for zero-pass play, for a start, and then move it wide and try to get past us with that width.
"We need to see what's coming, adapt, and apply pressure. Like any team, they don't like going backwards."
Few coaches know the French as well as Cotter, so if he could take one thing from their rugby and translate it to Scotland, what would it be?
"The wine and cheese," he joked. "Numbers, maybe, they're got 30 professional teams to pick from while we have just two.
"'There is a strong rugby culture here, so I'm not going to start comparing. The French love the game, communities are based around it, just as they are here.
"But I think there are real qualities in this country, in the rugby that is developing here. So I take that from us. All we're missing is the vineyard."
Scotland team: Stuart Hogg; Tommy Seymour, Duncan Taylor, Alex Dunbar, Tim Visser; Finn Russell, Greig Laidlaw (capt); Alasdair Dickinson, Ross Ford, WP Nel; Richie Gray, Jonny Gray; John Barclay, John Hardie, Josh Strauss.
Replacements: Stuart McInally, Rory Sutherland, Moray Low, Tim Swinson, Ryan Wilson, Sam Hidalgo-Clyne, Peter Horne, Sean Lamont.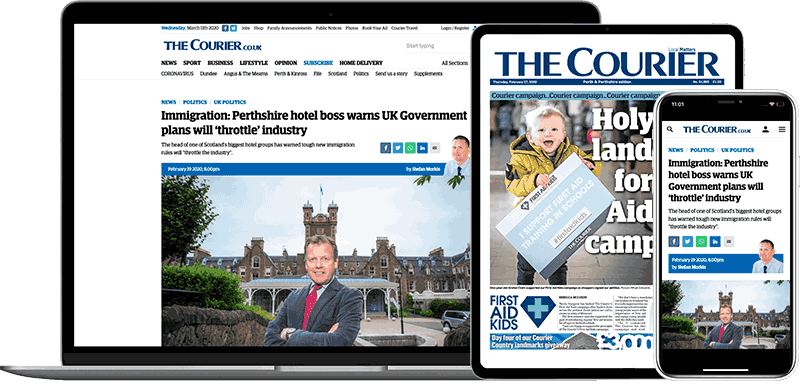 Help support quality local journalism … become a digital subscriber to The Courier
For as little as £5.99 a month you can access all of our content, including Premium articles.
Subscribe