 Frustration remains unconfined for Scotland after their ninth successive Six Nations loss and the ninth in a row against Wales, but might we at last be seeing the light at the end of the tunnel?
The squad and coaches would certainly like us to think so. On a brief scan of another excruciating experience in the Millennium Stadium (or Principality as it is now called, although you find most proud Welshmen spit that word with contempt) there was much to compare with previous episodes.
Not two years ago, which was an utter humiliation, but many other games in this lengthy run now spanning nearly two full seasons.
The Scots took the lead (they've led in six of those nine losses at some point), worked themselves into a position of strength, seemed to be set to turn the screw andthen made a series of errors which resulted in the game slipping from their grasp.
The turning points of this game were pretty obvious. No, not the dubious decision of George Clancy (how many inept Irish referees must we suffer?) and his TV Match Official to award Gareth Davies' opportunistic try when the Welsh scrum-half was marginally offside going for the remnants of a high kick contested by Jamie Roberts, who was much more clearly offside at the original kick.
Scotland's response to that was actually quite admirable, even as they had strolled out from their line expecting a scrummage or penalty award having seen the big screen replays, and then had to retreat for Dan Biggar's conversion, which must have been pretty soul destroying.
One of the issues in the last week has been how heavy this run of bad luck and close things has been on what is a comparatively young squad. Sean Lamont, the veteran centurion of the squad, even voiced concern about his younger team-mates on Saturday night.
Matt Scott, who missed Saturday's game and might have a bit of bother now getting his place back from Duncan Taylor had talked of "mental training" in the week. Even the most cheerful and optimistic has to be worn down by this run.
The reaction to the dubious Davies try, however, made you think they're made of the right stuff. Scotland immediately out together a series of 21 error-free phases, making ground and systematically pushing the best defence in the 6 Nations to the limit, before Finn Russell breached it with a deft cross kick for Tommy Seymour to score.
For the first hour, Scotland were the better side, against a team who were many people's championship favourites and notwithstanding England's start, remain so.
But if it was examples of resilience and forbearance that you were looking for, you were actually better picking the men in the red shirts.
They've been there and done that, and are a side underpinned with players of massive experience and influence, specifically Alun-Wyn Jones and Jamie Roberts.
Wales know not to panic, taking many of their best wins and championships coming from behind. When the chances came, they pounced.
The real turning points of the game were when the Scots let 16-13 and were driving a maul inside the Welsh 22, a tactic that Jones had almost single-handedly stalled after afternoon.
John Hardie spun off the maul and broke a tackle, but lost the ball. 20 seconds later, Tom James was only stopped from scoring at the other end after by a last gasp tackle from Taylor.
Still, Scotland shepherded George North into touch and they seemed set to escape, only for Jones and Luke Charteris to force Richie Gray into a hasty tap down from the defensive lineout and Greig Laidlaw could only surrender the scrum five. Three scrums and a scrummed penalty later, Roberts smashed over for Wales' go-ahead try.
Six minutes after that, and following a flurry of ill-timed replacements by Scotland, North carved a line through four ineffective tackles that barely landed a fingernail on him to score the clinching try. That score was the identifying mark of a quality team open the door just a touch to them, and they have the ability to kick it down.
Those replacements also hinted at a Scottish weakness against the top teams. Wales brought on an 100-times capped British Lion (Gethin Jenkins), another 50-times capped British Lion (Dan Lydiate) and a hardened lock with a half-century of caps (Bradley Davies), plus Gareth Ainscombe, who is a pretty handy player.
Scotland countered with Gordon Reid, Tim Swinson and Duncan Weir; honest and yeoman players who give their absolute all and can do a job, but clearly not in the same class.
So after two losses from two, and nine in a row, it still looks pretty desperate for Scotland? Perhaps not.
Scotland have done okay with injuries so far, they've got more players coming back than heading for the treatment table.
Saturday was another disappointment, but shouldn't be viewed with as much dismay as the England game Wales are a seriously good team and don't lose many games at home.
Italy's heart must be in its boots after their game against England yesterday. Despite two wins, France have looked pretty poor. Ireland are falling to bits with injury piling upon injury.
It's certainly not beyond the wit, ability and mental forbearance of the Scots team to win one, probably two of these remaining games. Shore up the setpiece, minimise the mistakes, and they have the game and talent to win.
Surely soon.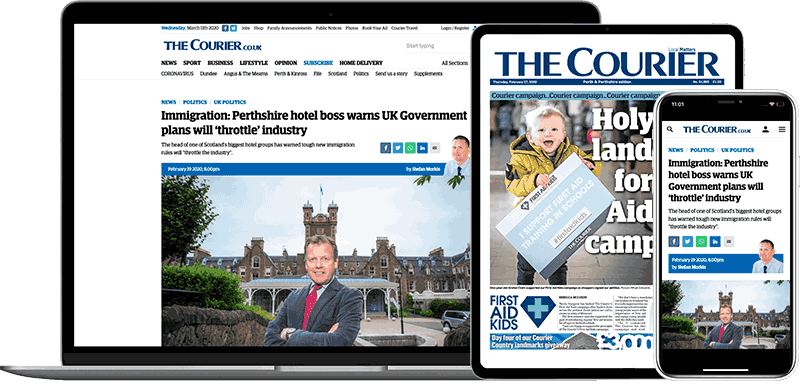 Help support quality local journalism … become a digital subscriber to The Courier
For as little as £5.99 a month you can access all of our content, including Premium articles.
Subscribe