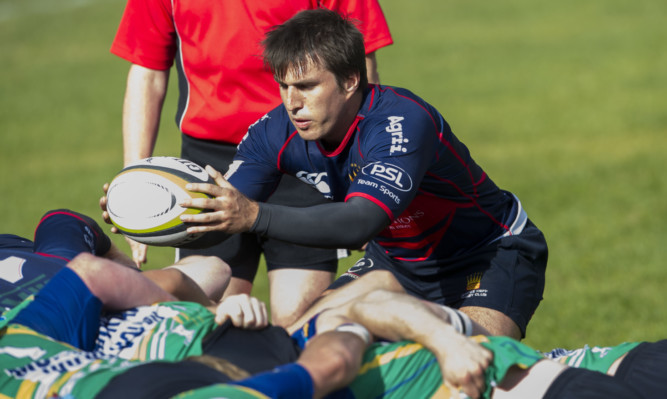 Dundee High coach Colin Sangster had that look of a frustrated schoolteacher whose pupils just aren't listening.
"Boys, what are we doing?" he asked aloud as he walked to the touchline in a fair degree of exasperation as an ambitious off-load didn't go to hand, little more than five minutes after he'd instructed his team to play simple rugby in the difficult windy conditions in Saturday's BT National One match at Mayfield.
High were 12-0 ahead against Peebles, so the situation was far from parlous, and the perception that the wind would help whichever team had it at their backs was only to be disproved as the second half went on.
But the plaintive plea from their coach was the signal for High to start executing the basics, and five more tries to add to the two in the first half resulted in a 41-10 bonus point victory that keeps High in the thick of the promotion hunt.
"It was a bit disjointed in the first half, but we had 10 players out and perhaps there were a few unfamiliar combinations," said the coach at the end. "But when we played simple rugby and did the basics well, the scores started to come."
For all the experience peppered throughout the team Ross Lemon was making a rare appearance on the wing, Alan Brown and Andy Dymock at their usual stations it's a young team that Sangster is nurturing.
Although he was already minded to blood 18-year-old Euan Fox, the school's first XV stand-off who made his debut off the bench last week, he was eventually forced to because of injuries and unavailability.
"He's an Academy player so we were originally told he could play no more than 40 minutes, but I was on the phone for a long time and convinced them to make it an hour," said the coach. "I thought he did well and was coming on to a game when we had to take him off."
Duncan Leese, stand-off for much of this season and just a couple of years out of his school XV jersey himself, played at centre and scored two tries, showing how well High were able to plug the gaps left by the missing 10 players.
Gav Hughan, moved to eight for the absent Dan Levison, also grabbed a brace, his first coming with the first "basics" try, via a series of strong pick-and-gos finally piercing the heart of the Peebles defence after a scorelsss first half-hour.
The score that really broke open the game was the one just after Sangster's plea, when Nick Alston booted a penalty down the line, the Dundee pack with captain Alan Brown controlling operations mauled with real authority, and Dymock was at his skipper's shoulder for the off-load and score.
Brown scored his usual try rumbling over from close range while full-back Mike Brown got the other after a peach of a long pass given the conditions from Alston.
High remain third still five points behind Marr who also got their bonus. But with a festive season to patch up the wounded, and a pretty good mix of youth and experience at their disposal they've got themselves into great position to make a run in the New Year.