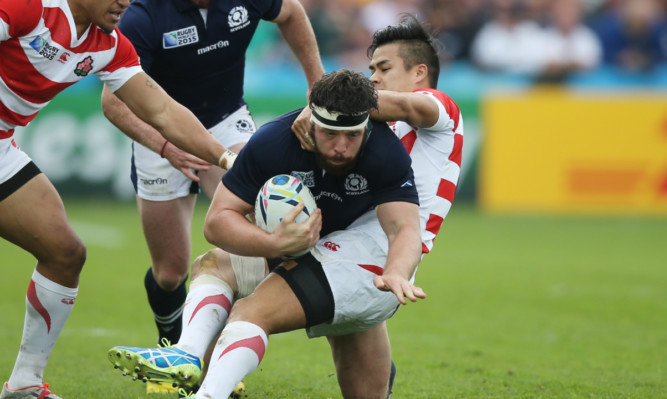 Alasdair Dickinson confirmed his position as Scotland's top prop in the victory over the USA but he knows he's plenty left in the tank for South Africa on Saturday.
The former Dundee HSFP prop had to come on at half-time against the USA having played the majority of the opening game against Japan just four days before, but both he and fellow first choice WP Nel made a huge difference in the second half blitz that saw off the Eagles.
But the increase in energy and performance was purely a team reaction, he stressed.
"As a prop on the bench you know you'll get on sometime," he said. "When we did we were able to bring fresh legs and the guys who started had done their job wearing their opposite numbers out, so it was easier.
"The whole squad upped it after half time. We realised we had to relax, we were a bit nervy, too many handling errors. All we needed was a bit more belief, some coll heads, and things would work out as they did."
The extra time on the pitch, with possibly the most gruelling of opponents for front five forwards coming up, doesn't concern Dickinson.
"We'll be fine, this is why we've done all this hard work over the summer," he said. "On Saturday we don't have anything to lose, we can just go out there and empty the tank and someone else will come on and take over.
"We're in good shape. It's been really tough on Gilko today having to leave the squad but otherwise we seem to be healthy."
Dickinson has been delighted with the reception from the fans in the first two games and expects more of the same against the South Africans.
"All we hope is the Scottish people and Scottish fans get behind the team, and the first two games have felt like home games," he said. "The reception when we arrived at Leeds was unbelievable, the support has just been phenomenal.
"We seem to be getting closer to the Border every week. I hope as many Scots can come down and support us as they can. If it is anything like the last two games I know they will."
Fellow prop WP Nel is of course South African-born but can't wait to meet them.
"They'll want to hit us big and dominate, that's how they're brought up in the game," he said. "It starts at a young age in South Africa. It's brought right through the ranks, to everyone playing the game whatever age, that you want to dominate your opposition physically.
"We can definitely step up and face that. There's a couple of things we must shift and work on and it's a step up for sure on the first two games."
There's plenty of encouragement in the 10 tries Scotland have scored in two games, including his first score for his adopted country.
"We've shown that, if we keep the ball and stick to our structures, we can be dangerous – we can score tries from the set piece, in the backs, from anywhere," he said.
"For us the key is to stay strong and not be frantic. If we work the opposition, they can be broken down, like we did for my try, just momentum building. It makes me feel like I've arrived at international level."