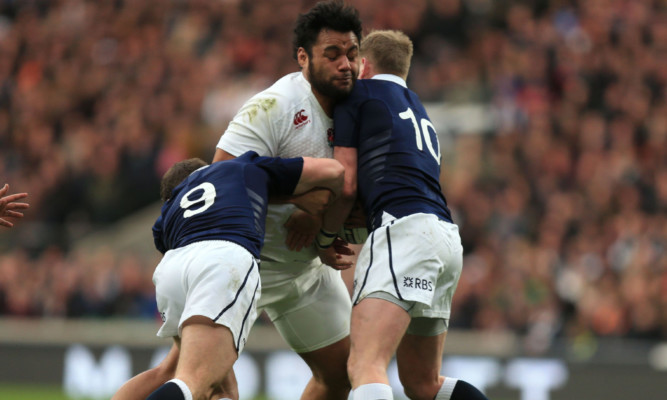 Could have, would have, should have: it seems to be Scotland's story in the RBS 6 Nations in recent years, and we got more of it at Twickenham on Saturday.
Actually, if you buy the narrative coming out of Murrayfield at the moment wholesale, Scotland could, with a couple of favourable bounces, be going for a Grand Slam instead of a whitewash and wooden spoon against Ireland next week.
"We could have won all three games", more than one player related last week prior to the Calcutta Cup game. And again on Saturday, Scotland somehow led England 13-10 at half-time and induced even cynical old hacks who've done ten or more of these fruitless long walks to Twickers from Richmond tube station to grin in insane hope.
But in all honesty, in considered reflection, we saw very little that was new here. One recalls the fixture four years ago, Ruaridh Jackson lobbing a casual drop goal so that the Scots got into half-time level having given as good as they got for the first 40 minutes. Just like Saturday, English power wore down that Scottish team in the end.
One also recalls from that match a heroic last-gasp tackle by the Scotland full back that saved a certain try. On Saturday it was Stuart Hogg three times four years ago it was Chris Paterson.
If the Scots are honest with themselves which in private they will be they'll know that the defence was a chaotic mess in the absence of Alex Dunbar and England generously butchered three out of four blatant try scoring chances in the first 18 minutes, plus another couple later on.
They could-have-would-have-should-have been 28-0 down, but that's one "could have" you won't hear repeated out of Murrayfield. Hogg's tackles were undeniably heroic, but England's backs needed to feed free team-mates instead of looking for their own glory.
Having got out of that potentially deep hole, the Scots played a lot of decent rugby in the second quarter, and a few of the moves were actually "magnificent" as described later by Greig Laidlaw.
This was not shocking, there are very good players in the team and they benefitted from Finn Russell's return with his willingness to take the ball into the face of the defence, and from David Denton's forthright forward progress.
They could-have-should-have-would-have scored a second try to add to the excellent team score finished by Mark Bennett but for Dan Cole's cynical intervention on his own line right on half-time. The English tight-head prop, who is largely there for setpiece and to be annoyingly obstructive off the ball, really deserved to sit down for ten minutes.
But this was just like Paris in the championship opener, Scotland withstanding the initial salvo and then giving the opposition a bit of a fright in the second 20 minutes. And just like Paris, they were flattened in the second half.
England were not quite as brutally physical as France the driving mauls didn't really work consistently for them but they sat on Scotland and the game. When George Ford spotted he had Euan Murray as a marker four minutes into the second half and cruised in under the posts, England regained a lead they never looked like losing.
And therein lies the truth of Scotland's campaign. For all that they have improved immeasurably from last year's Scott Johnson shambles, for all that we have a group of excellent young players who make one feel optimistic for the future, for all that the losses to injury to Richie Gray and now Dunbar have been crippling, the only game they could-have-would-have-should-have won was the one they threw away, against Italy two weeks ago.
They weren't really beating France unless the French beat themselves, although admittedly you can never be sure that won't happen. Wales had more than enough in hand at Murrayfield at the key moments at the second game. England didn't concede a point in the second half on Saturday, and not until the end did they look like doing so.
Yes, Scotland fought manfully and showed great courage and even won some of that missing respect from the English. But really, courage, fight and pride are absolute essential for anyone pulling on the jersey and are to be assumed.
We've also got some gems. Hogg is a shining light. Bennett is going to be great, as will Russell if we stick with him through his occasional errors. Blair Cowan was absolutely heroic against the English tide at times. Jonny Gray is just 21, which actually beggars belief.
But what we got on Saturday was not some great leap forward, nor a real indication that one is imminent. Scotland simply got back to where they were after the performance in Paris.
There's still a way to go that makes that trek from Richmond look like a brief stroll.