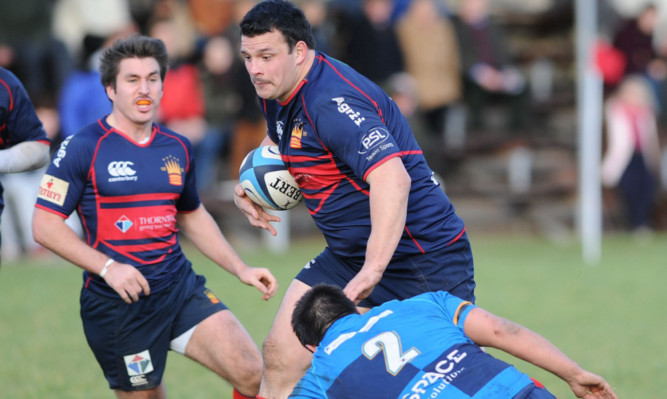 It might have been the final insult for Shuhei Kobo, the Japanese referee seconded to work Dundee HSFP against Kelso at Mayfield on Saturday.
"It says here that Shuhei is from Japan, but my old Dad was called Shughie and he was from Kelty," was Mayfield announcer Ken McKay's welcome to the ref on an exchange visit agreement between the JRU and the SRU.
Actually, Shuhei was taking a few steps down. He's a full-time professional ref in his homeland who has run games right up to the top Under-20 level, just a stage below full-scale internationals.
He's reffed Top League games in his homeland involving such luminaries as Schalk Burger, Rodney So'oiialo, Jaque Fourie, Nick Cummins, Berrick Barnes, JP Pietersen and Fourie du Preez. Mayfield on a freezing cold January among the snow flurries must have been a considerable culture shock.
As was dealing with Dundee's perennial cornerstone and captain, Alan "Broonie" Brown. The communication between the pair didn't begin well, Brown penalised three times at maul and scrum inside the opening ten minutes.
Perhaps Shuhei hadn't got Ken's joke, or maybe he was just getting settled into his alien surroundings. Or maybe Dundee, having not played for several weeks over the Christmas period, were the ones doing the settling.
The latter was probably right, as Shuhei's was an even-handed and thoroughly professional performance which it took a little time for the home team to catch up with.
Once they did, after being down 6-0 after a pretty messy first 25 minutes, the home side and especially Broonie shook off the rust with the snowflakes and eventually won comfortably 19-6.
Home coach Colin Robertson admitted he had been concerned about the comparative lack of action between the teams.
"They have Border League games over the festive season and a cup match while we hadn't played since the Selkirk game and not at home since November," he pointed out. "It was maybe understandable there was a bit of rust on our part and the first half was pretty poorly played by both teams."
After that opening spell, however, Brown and the Dundee pack started to gain the ascendancy and facing the wind their defence was exemplary, especially a long stand on their own goal-line as half-time approached.
Brown played a huge role in that, ripping the ball clear from Kelso hands in a driving maul to lift the siege. Sure enough, Dundee went right up the pitch with Andy Dymock's pace making most of the yards, and Nick Alston's clever loop opened up just enough space for Matt O'Sullivan to score a try against the elements.
By the second half Shuhei's penalty count was shifting against the Borderers and when skipper Chris Riddell was invited to sit down for 10 minutes after a cynical stop on Dymock, the die was cast.
Harry Millar finally kicked to the corner after hooking a number of penalty attempts he did make three and after being held up on the drive, Brown and his cohorts drove the Kelso scrum backwards for Donald Sangster to be rewarded with a try for his great industry about the park.
It's a solid start to 2015 for the home club, while Robertson hasn't given up all hope of reeling in GHA in second place in BT National One yet and after seeing how poor they were in the cup at Howe last week, neither he should.
"After Biggar next week we've got three successive home games and we'll se where we are after those," he said. "We'll have shaken off the rust after this game and look to be back in the form we were prior to Christmas."
A 17 point gap looks too tough to breach, but at least there's clear evidence that this young team is moving in the right direction, able to play and win in all kinds of conditions.