 The Scottish legal sector has been in a state of flux for many months now.
This week's coming together of three Tayside and Fife law firms Thorntons, Murray Donald and Steel Eldridge Stewart is the latest in a long line of merger and acquisition activity in the sector.
By no means an exhaustive list, we have seen Morton Fraser and Macdonalds Solicitors join forces as well as Burness and Paull and Williamsons merging and Archibald Campbell and Harley teaming up with Shoosmiths.
The trend towards consolidation began after the recession took its toll and forced some firms in what remains a highly fragmented industry to act.
A PwC report into the sector described 2013 as a "watershed year" for the Scottish legal fraternity, with some firms doing well while other practices were finding life considerably more challenging.
It is in that context that I am pleased the signs arising from the new Thorntons tie-up appear to fall on the former side of the fence rather than the latter.
The three firms have been trading well in recent months and it is clear they all have something to gain from coming together the Fife practices get the comfort of being part of a larger organisation while Dundee-based Thorntons gets a crack at the Fife market for the first time.
No jobs are being lost as a result of the coming together and the focus is on growth not contraction.
Those are positive signs and I wish Tayside and Fife's first legal super practice all the best for the future.Courier Business AwardsThe clock is ticking on entries for this year's Courier Business Awards, in association with Henderson Loggie.
The inaugural event brought the cream of business talent from across east central Scotland together to celebrate each other's achievements.
Our 2013 winners and shortlisted firms enjoyed a huge profile boost from their involvement and I sincerely hope their much deserved success has translated into new work and helped to cushion that all-important bottom line.
This year's awards will be bigger and better than before but it is not just the big boys that are invited to the party the awards are deliberately designed to reflect all aspects of the economy.
Believe me, our panel of judges are just as interested in the efforts of micro-businesses sustaining one or two jobs as they are in the large multi-nationals fighting Courier Country's corner on the global stage.
So there is no excuse to delay if you are involved in an innovative, go-ahead firm which calls east central Scotland home then the Courier Business Awards are for you.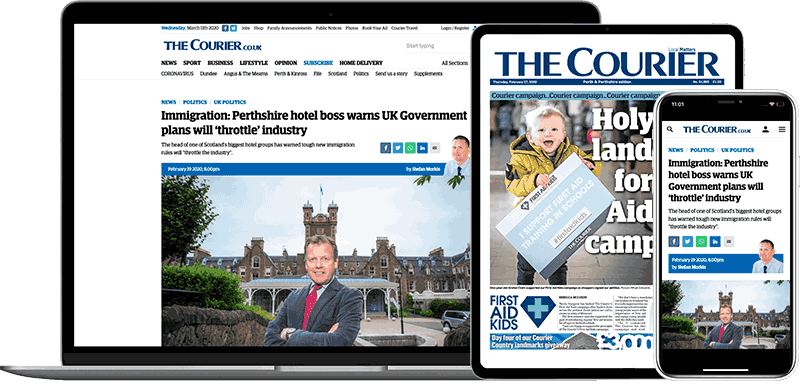 Help support quality local journalism … become a digital subscriber to The Courier
For as little as £5.99 a month you can access all of our content, including Premium articles.
Subscribe