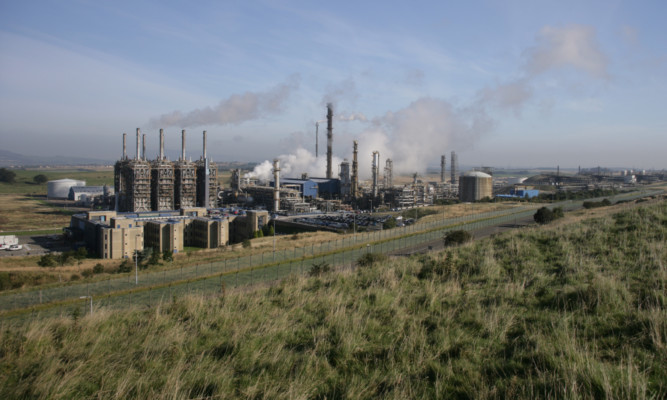 The Fife Ethylene Plant has struck a long-term deal for ethane produced from fracked shale gas imported from the United States.
The announcement prompted a union leader to call for a balanced debate on fracking, a practice the subject of a moratorium in Scotland.
The ethane raw material, known as feedstock, will be processed at the Ineos terminal at Grangemouth and travel by pipeline to Mossmorran from 2017.
Ethane gas produces ethylene, which is used in the manufacture of a broad range of products in the UK and is exported.
The Fife plant, owned and operated by ExxonMobil with Shell holding 50% capacity rights, is one of Europe's largest and most modern plants with an annual capacity of 830,000 tonnes of ethylene.
Access to the ethane from Grangemouth will complement supplies from North Sea natural gas fields.
The agreement also ensures the competitiveness of the manufacturing site at Mossmorran where the posts of 140 permanent staff and 50 contractors will be secured.
"This is a landmark agreement for everyone involved," said Geir Tuft, business director at Ineos.
"Ethane from US shale gas has transformed US manufacturing and we are now seeing this advantage being shared across Scotland."
Karen McKee, vice-president of ExxonMobil's global basic chemicals business, said: "Today's agreement helps to secure additional feedstock for the Fife plant."
Elise Nowee, general manager of base chemicals at Europe for Shell Chemicals, said: "This agreement gives the Fife Ethylene Plant access to the new infrastructure developed by Ineos and brings to it US advantaged ethane."
The Ineos £450 million terminal at Grangemouth is the biggest recent investment in UK petrochemical manufacturing and is supported by UK and Scottish Governments.
Its ethane storage tank is big enough to hold 560 double-decker buses. Without the latest deal it would have faced an uncertain future.
Ineos boss Jim Ratcliffe wants the Scottish Government to lift its fracking moratorium to help new industries, insisting the process is safe.
His firm has shale gas licences for three English sites but does not yet have planning permission for fracking. The moratorium on unconventional gas extraction including fracking awaits a full Scottish Government report.
GMB Scotland acting secretary Gary Smith called for a debate on the wider issue of fracking.
He said: "Our energy-intensive industries need access to affordable, secure energy supplies. They need the certainty that Scotland's energy mix will meet their needs.
"They need gas to be part of that energy mix. The debate about fracking must be based upon complete honesty about the economic realities of gas."
He added: "If exploratory drilling reveals a plentiful supply of Scotland shale gas reserves, is it not a moral duty for Scotland to take responsibility for providing for our own gas needs from those supplies, rather than importing gas from elsewhere?"