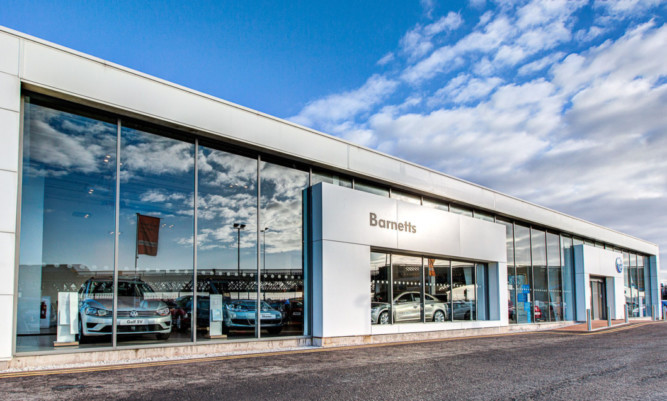 Barnetts, the prominent Tayside and Fife motor dealers, are firing on all cylinders thanks to an increase in new car sales.
The family company with headquarters in Riverside Drive, Dundee, and a branch in Largo Road, St Andrews, clocked up an 11.8% increase in turnover at £58.5 million in the year to December, 2014.
The Volkswagen, Volvo, Mazda and Peugeot dealers' pre-tax profit rose an impressive 40.7% at £1.05m.
Chairman Paul Barnett, grandson of the founder, said last year was a good year for the Barnetts Motor Group and the industry in general.
The turnover rise was broadly in line with the increase in the UK new car market, where 2.476m vehicle sales were up 9.3% on the 2013 number and were at a 10-year high.
Barnetts' entire increase in turnover from the previous year was attributable to increased sales of new cars, he said.
There were 21% more new units sold in 2014 at an average transaction price 4.5% higher.
He continued: "Used unit sales declined by 6% during the year as manufacturers' new offers made it easier for customers to buy a new car.
"Deposit contributions, low or subsidised APRs and the wider availability of Personal Contract Plan products offered beyond 36 months have resulted in more affordable new car offers."
He revealed the upward trend in new car registrations has been used by manufacturers, together with the strength of the Euro, to push ever-increasing targets on their UK dealer networks to maintain or grow their market share.
Barnetts have been relatively unaffected by the new targets so far and have pre-registered very few cars over the last year, but there has been significant pre-registration activity across many brands with dealers fighting to stay on bonus levels needed to make their business profitable.
The number of nearly new cars in dealer stocks made it difficult to sell genuine ex-demonstrators profitably, he said, and the company had seen a decline in the margin on the sale of demonstrators.
Barnetts, which employs more than 130 staff, have recently redeveloped their Mazda showroom at Riverside.