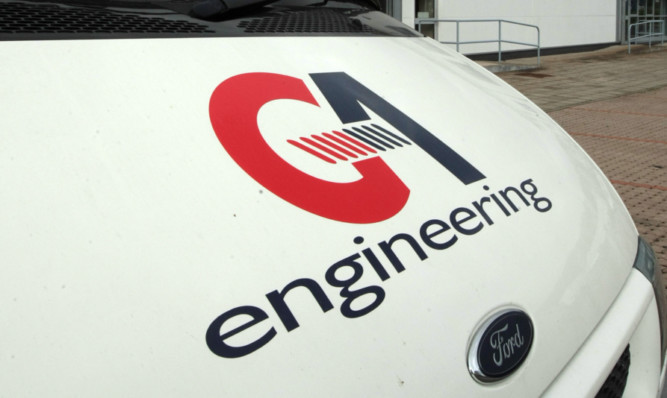 Dundee company GA Engineering has paid off 11 employees due to the downturn in the oil and gas industry.
The decision was described by company founder Gordon Deuchars as "one of the most difficult decisions I have had to make in 25 years in business".
He continued: "I am confident that this is a temporary setback and that the prospects for GA Engineering are good.
"This is purely due to the downturn in the oil and gas industry that has presently affected demand for our services.
"The expert opinion is that the price of oil will pick up again in 2017 and I am confident we will trade our way out of the present situation.
"This is a go-ahead company with expansion plans that we are determined to fulfil."
The redundancy of 11 of the 150-strong workforce was confirmed as the parent company of GA Engineering announced the acquisition of an English engineering concern.
Glass Acquisition, which owns 60% of the West Pitkerro company, bought MKW Engineering and its sister firms in Tyne and Wear.
The acquired companies will sit with GA as part of a larger manufacturing group backed by Simmons Private Equity.
Last year GA announced plans to grow from a £13 million to a £30m business in four years.
Its aim was to double in size and "take it to the next level" to achieve a total workforce of more than 200.
Mr Deuchars said that was still his firm's objective, and he was confident the acquisition of MKW would help by opening new markets and customers for GA.
Further evidence of GA's commitment to growth was provided by its 18 apprentices, who he said are being trained to the highest standards to help the company secure a bright future.
A new sales and marketing manager has also been appointed to spearhead efforts to bring in new business.
The founder said he tried to delay the redundancies for as long as possible.
He continued: "The whole industry is suffering and we have had to cut our cloth according to the coat as it is at present.
"The personnel we have released have been trained to the highest standards and we hope their experience will help them secure new jobs.
"Some of them have asked me to call them when the industry recovers as they would like to come back to work for us.
"We would very much like to do that."