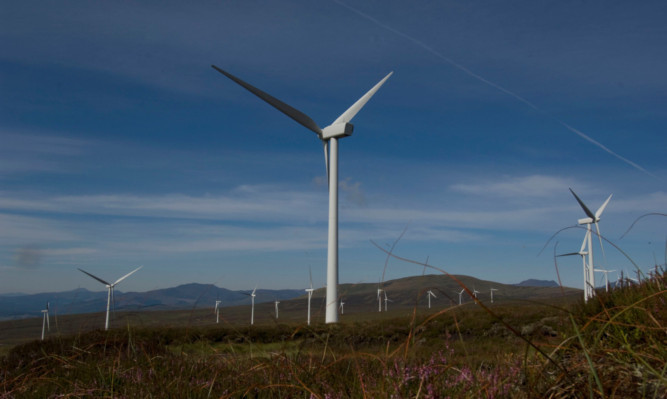 SSE has agreed to the £140 million sale of four windfarm developments to a new infrastructure investment fund planning to float on the stock exchange.
Greencoat UK Wind PLC yesterday announced its intention to launch an initial public offering in the hope of raising at least £205m.
If successful the firm which has the option to increase the shares issue by a further £55m will use the cash to complete the £140m purchase from SSE of its interests in the Braes of Doune and Carcant windfarms in Scotland and the Tappaghan and Bin Mountain arrays in Northern Ireland.
Greencoat will also acquire RWE's holding in two further windfarm sites.
As part of the deal, SSE will invest up to £43m in ordinary shares in the new fund and enter into power purchase agreements with Greencoat in which it buys electricity generated from three of the four windfarms it formerly owned.
SSE said the deal related to 79.5MW of its total onshore wind generating capacity.
The power supplier said it would be left with 1,351MW of onshore wind following the transaction with a further 277MW of capacity in construction or development.
The sale which is dependent on Greencoat successfully listing on the London Stock Exchange and raising the required capital is expected to be completed by the end of next month.
SSE finance director Gregor Alexander said the proceeds from the sale would go towards funding other green energy projects.
He said: "This agreement represents the latest step in a programme of acquisitions and disposals to optimise our windfarm portfolio.
"Fundamentally, SSE owns generation capacity to meet the electricity needs of its own customers, which is why we were pleased to be able to establish new PPAs before disposing of these assets.
"The proceeds from these disposals will support our investment in new renewable assets in the coming financial year and, in line with our commitment to financial discipline, represent an excellent example of SSE creating ongoing value from its investment pipeline while improving the liquidity of the market for investment in new renewable developments."
The new fund structured as a closed-ended infrastructure investment firm with an indefinite lifespan will be funded from launch with the UK Government Department of Business, Innovation and Skills committed to taking a £50m stake to sit alongside SSE as a cornerstone investor.
Stephen Lilley, a partner in Greencoat Capital which will manage the new fund, said the proposed new set-up was a first in Britain.
Although Greencoat will own the six arrays, day-to-day operations will be managed by SSE and RWE respectively.
Mr Lilley said: "Operating windfarms should make attractive investment assets, particularly for investors seeking long-term, predictable returns.
"Greencoat UK Wind represents the first opportunity to invest into a listed infrastructure fund, fully invest in operating UK windfarms."
business@thecourier.co.uk