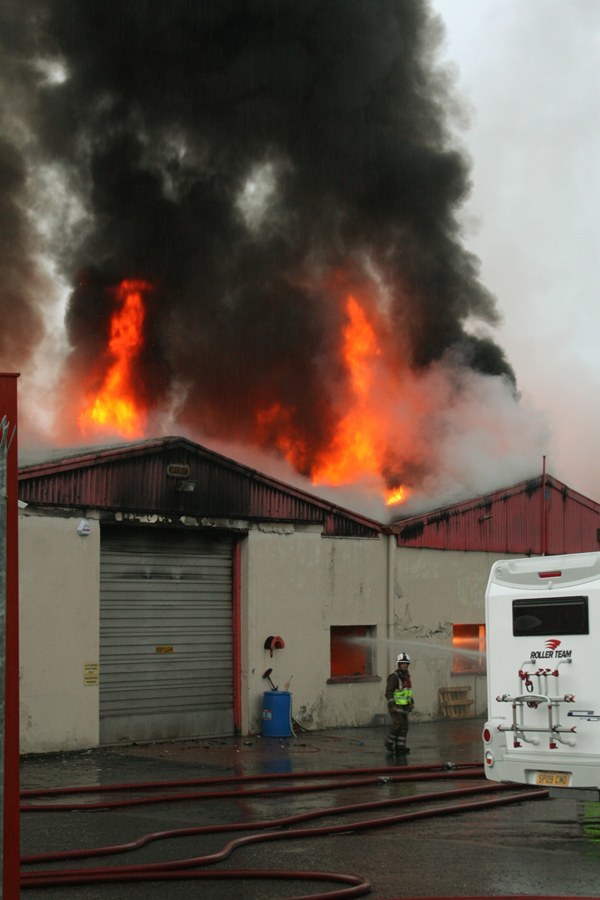 The owner of a landmark Perthshire business gutted by a devastating fire last year says the hard work of staff has helped it rise from the ashes.
It is exactly 12 months since a ferocious blaze ripped through Perthshire Caravans at Errol, causing millions of pounds' worth of damage.
The extensive showroom and workshop area, which could be seen from the A90, had to be torn down and sales were conducted from portable offices.
However, just in time to mark the important anniversary a new and improved building has opened for business.
Twice the size of the previous structure, it will put the area on the motorhome map.
Speaking exclusively to The Courier, company director Ian McCormack paid tribute to the efforts of his 42 employees.
He is now hoping to put the fire, caused by an electrical fault, "well and truly behind him."
He said, "It was a shock to lose everything in the blaze but we've all worked together to get back up and running.
"The staff really pulled together. If it wasn't for them we wouldn't have come this far so quickly.
"Business was done from mobile offices and staff constructed the vehicles in one of our other buildings."
He continued, "I'm really pleased with how it has turned out it looks pretty impressive from the road.
"It's twice the size of the old premises and houses a number of new offices.
He added, "You never think something like this will happen to you. I still remember seeing the plumes of smoke up to 40 feet in the air but just want to move forward now."
It took Perthshire contractors Algo (Blairgowrie) Ltd a total of 28 weeks to complete the £1.7m project.
Perthshire Caravans was established in 1936 by former Dundee fruit salesman Peter McCormack, the father of present owners Ian and Peter McCormack.
It also owns caravan sites at Loch Earn, Inchmartine and the Red Lion Holiday Park at Arbroath.