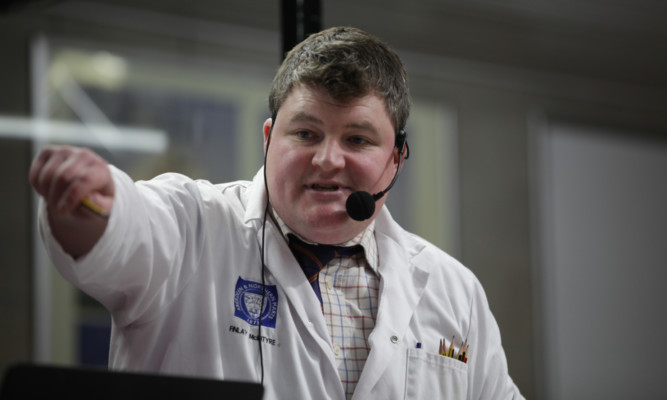 Rachel Bell, executive producer of BBC Scotland series The Mart, reflects on the show's impact:
The Aberdeen office of the BBC has always considered itself pretty countrified there's a set of wellies under every desk and most people have a pretty good idea where the meat in their burger comes from.
But even for such hardened country folk, making The Mart has given us new insight into farming life and has brought the smell of the byre right into the office.
That whiff of the farmyard has definitely been part of the appeal for the viewers: for some it's been a nostalgic reminder of home and childhood, for others it's been a delight to see their working lives reflected on the TV, but for many it's been an insight into a world they had no idea existed.
Most people are used to the idea that there's a pay packet at the end of a week's work discovering that for farmers their whole year's earnings depends on the price made in a single sale is fascinating.
The other surprise, for us as much as for the audience, is seeing how much farming is still a family business, and just how involved children often are, even when very young.
All of these things have been part of the success The Mart has had with audiences, not just in the north east but across rural Scotland and in the Central Belt.
Although some of the information seems pretty arcane to those who aren't farmers gimmers and stotts, tups and mules are not words that are in everyday use on Sauchiehall Street there is a lot in the series that speaks to everyone.
The importance of family life and working together, the hope that hard work will be rewarded by a pile of cash, and the entertainment value of a herd of skittish cattle they are all things everyone can relate to.
Perhaps it's pushing it a bit to say as one Twitter commentator did that "it's like Countryfile on acid" but there have certainly be been quirky moments in The Mart that the audience of 400,000 and more has enjoyed.
One of the other great joys of the series alike has been the terrific language.
The Doric is a fine thing and it's great to hear in its natural environment.
The everyday accents of many Scots from Aberdeenshire to Caithness, Orkney and Shetland are not that often heard on the TV and again and again the comments on Twitter, Facebook and by email have expressed pleasure in hearing these voices and words.
And the series has also been a real pleasure and privilege to make: in fact it's put a real feather in the bunnet of the whole of the BBC Aberdeen team.