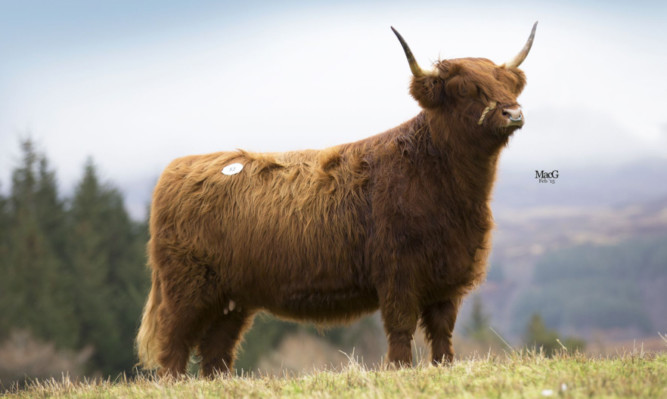 The Highland Cattle Society has reported a buoyant trade at its 124th annual show and sale held at Caledonian Marts in Oban on Monday.
Three Italian buyers bought 27 animals between them with a further nine headed to Germany and Austria.
This year's judge was Jochen Born from Wingeshausen, Germany, a regular visitor to the Highland sales.
The overall and senior champion was Sean 2nd of Killochries from the Killochries Fold in Renfrewshire.
By Sean Ghart of Ormsary and out of Fadadh Ruadh 4th of Killochries this bull was sold to Giovanni Reggiani from Varallo, Italy, for 5,800gns.
The reserve overall and two-year-old champion was Samvais of West Edmondsley from L & L Braines (Farmers), Sunderland.
He is by Samvais of Brunnila and out of Suisaidh Ruadh of Killochries and was sold to Agrigest, Bobbio, Italy for 5,000 gns.
Among the females the overall and three-year-old champion was Hazel 10th of Knockendon from Ronald and Frances Fergie.
By James Beusach of An Sidhean and out of Hazel of Knockendon she sold to the judge for 3,400 gns.
The reserve overall female and senior heifer champion was Gruagach 44th of Ormsary from Sir William Lithgow.
By Callum 2nd of Goldenberry and out of Gruagach 34th of Ormsary sold to Agrigest, Bobbio, Italy sold for 2,800gns.
Other leading prices:
Bulls Eoin Mhor 2nd of Miungairigh from Glengorm to S Janz, Germany for 3,000gns.
Seonaidh Mor of Ardura from Mrs Jon H Strickland to Braesgill Ltd, Sutherland for 6,000gns.
Logan of Muingairigh from AJ MacColl to Blairglogan Highlanders, Clackmannan for 2,600gns.
Hector of Cnoc Na Sith from Mr Iain Mackay to P Jessat, Germany for 2,500gns.
Callum 9th of Goldenberry from Mr Alan Kennedy to G and A Rockenschaub, Austria for 6,800gns.
Emperor Ruadh of Knockendon from Ronald and Frances Fergie to Julia Carr, N Yorks, for 3,800gns.
Seumas Buidhe of Eilean Mor from Karen and Michael Macgregor to Torosay Deer Farm for 2,800gns.
Females
Senior heifers Maighden Mor 13th of Glengorm from Glengorm sold to C Finnie, Peterhead, for 3,000gns.
Rhibin Og of Killian from Mr Donald MacNaughton sold to J and J Singer, Laurencekirk, for 1,800gns.
Shirley of Pennygown from DJ MacGillivray sold to C Drumgoole, Northern Ireland, for 1,800gns.
Alara Beg 9th of Miungairigh from Mr AJ MacColl to Agrigest, Italy for 2,000gns.
Te Bheag 3rd of Cnoc from Sydney and Maureen O'Hara sold to Agrigest, Italy for 1,900gns.
Three-year-old heifers Reserve champion from Ardura Estate sold to W Siebke, Germany, for 2,700gns.
Two-year-old heifers Ebony of Allanfearn from Maureen MacArthur and John Ashton to M Alford, Devon for 3,000gns.
Fern of Balemartine from Mark Armstrong to S Brown, Wiltshire, for 3,200gns.
Fraoch 19th of Ashmore from Ashmore and Strone Estate to G Easton, Forfar.
Seonag 3rd of Bien Esk from Patricia Smith and Paul Burns to Arthur and Suzanne Hill, Shropshire, for 1,900gns.
Yearling heifers Lily Ann of Mosscastle from Mr and Mrs AA MacDonald to K Brown, Kinross, for 1,800gns.
Heather 3rd of Edgerston from Edgerston Trading (2006) Ltd to S Brown, Wiltshire for 1,100gns.
Sale averages:
Senior bulls (5) £3,780, two-year-old bulls (13) £2,913, yearling bulls (3) £630, senior females (10) £2,121, three-year-old heifers (11) £1,743, two-year-old heifers (16) £1,482, yearling heifers (24) £795.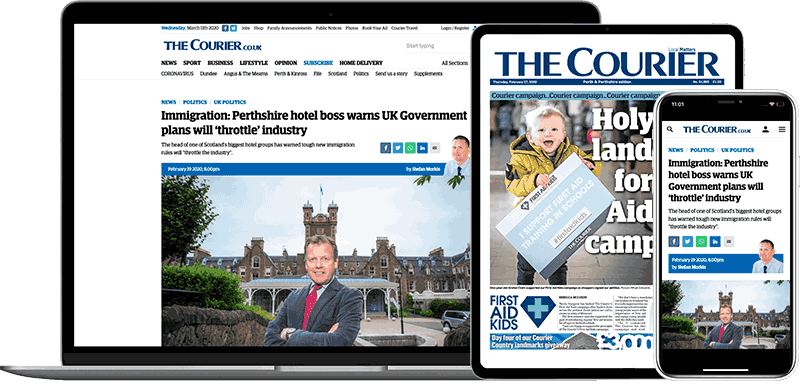 Help support quality local journalism … become a digital subscriber to The Courier
For as little as £5.99 a month you can access all of our content, including Premium articles.
Subscribe