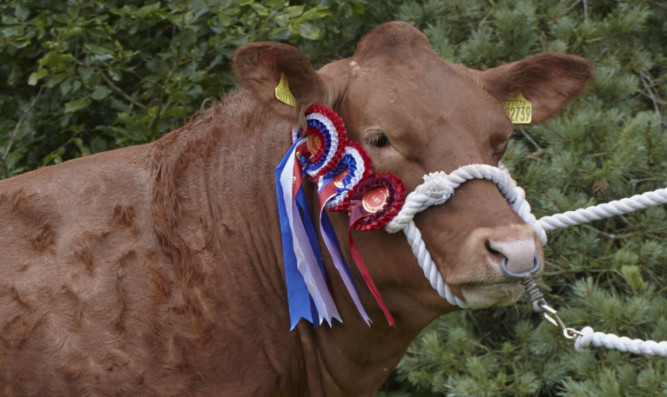 It was case of sunshine and showers at Braco Show on Saturday with the latter being heavy enough to send everyone scurrying for cover two or three times.
The judging schedule was unaffected though with the interbreed championships running to time.
Overall cattle judge Stewart Kennedy from Aberfeldy efficiently worked his way through a good line-up, picking the commercial champion from Wilson Peters, Crieff, as his champion.
Hoora-Effer, a 22-month-old Limousin cross then went on to collect the coveted champion of champions trophy in competition with the supreme sheep and horse champions.
His reserve was the Limousin cow and Sympa daughter, Ronick Emily, from the Dick family at Mains of Throsk, Stirling.
The beef pairs and groups of three competitions both saw Limousins from the Dicks come out just ahead of Commercials from Wilson Peters.
The sheep interbreeds, judged by John MacGregor, Kilsyth, saw last week's Blackface champion from Kirriemuir go one better to take the supreme. This was a one-crop ewe brought out by Billy Brady for Tay and Torridon Estate at Amulree.
This one has elite breeding on both sides being by an £11,000 Midlock and out of a ewe by a £2,800 Dalchirla sire.
The reserve sheep was a home-bred Sufolk ewe lamb from Robert Bryce, Chalmerston, Stirling.
January-born, this lamb is by Cairnnorrie Olympic Bolt, a sire which has provided Mr Bryce with a number of top prizewinners.
The sheep groups of three contest was won by a Beltex trio from Andrew Morton, Lochend, Denny, followed by a Bluefaced Leicester team from Duncan Jarvie, Cherryfield, Muthill.
The native horses were led by Clydesdale breed enthusiast Kevin Wilson, from Blackford, with his mare Westbank Ruby Tuesday.
"She is just a tremendous example of a broodmare," said Ali Christie, from Balfron, who had selected the mare as top of her section.
Shetland leader Charlotte of Transy from the Transy Stud, Dollar, was drawn forward as the three judges' selection for overall reserve.
RESULTS
CATTLE
Aberdeen Angus: Robert McNeil, Barns Farm, Auchterarder, with three-year-old cow Kincardine Castle Ermine by Blelack Crackerjack Lad and out of a previous Kincardine Castle Ermine. First at Fife and RHS. Shown with January-born heifer calf at foot. Reserve: Robert McNeil with the yearling bull Kincardine Castle Poacher by Kincardine Castle Endrigg, now owned by David Walker, Galcantray, and out of Kincardine castle Pride Jill.
Limousin: David and Ronald Dick, Mains of Throsk, Stirling, with six-year-old cow Ronick Emily by Sympa and out of Ronick Sexy. Champion at Drymen and shown with a heifer calf by Rathconville Eugene at foot. Reserve: Dougie McBeath, Lower Greenyards, Stirling, with 21-month-old heifer Poolehall Iris by Haltcliffe Ben and out of Lodge Flawless. Bought at Red Ladies sale and first at Great Yorks, second at Royal Welsh.
Charolais: Murray Lyle, Mid Cambushinnie, Dunblane, with 17-month-old bull Westcarse Jumbo by Mortimers Echo. Bought at Carlisle. Going to Perth next week and then out to work with cows. No reserve.
Simmental: Glenn Thomson, Fintalich, Crieff, with 23-month-old heifer Cairnview Rea. First at Stirling. No reserve.
Commercial cattle: Wilson Peters, Cuilt Farmhouse, Monzie, Crieff, with 22-month-old Horra-Effer, a Limousin cross heifer sired by Kype Elliot and out of a Limousin cross British Blue dam. Champion at Kirriemuir and Fife. First at Alyth, fourth at RHS and second at Angus. Reserve: Graham Cameron, Wester Bonhard, Scone, with a late March born bull calf by the Limousin sire Cristal and out of a black Limousin home-bred cow bought from Mackies,The Ross at UA Stirling. Reserve at Kirriemuir.
Highland cattle: Donald and Bryon McNaughton, Kelty, with two-year-old heifer Skye 4th of Rannoch by Fergus of Isle of Bute and out of Skye 2nd of Rannoch. Champion at Stirling and West Fife. Reserve: Mrs M O'Hara, Cnoc Lodge, Appin, with three-year-old heifer Iona 1st of Cnoc by Chieftain 5th of Glengorm and out of Iona 1st of Beinesk. Champion at Doune and Dunblane and third at RHS.
Any other breed: Highland Wagyu, Burnside of Balhaldie, Dunblane, with 14-month-old Beef Shorthorn bull HW Hazard by Quoiggs Extra Special and out of Woodend Lancaster Eilidh. First at Stirling and second at RHS. Reserve: Highland Wagyu with the 18-month-old Beef Shorthorn heifer Heathermade Irania by Quoiggs Extra Special and out of Quoiggs Irania. Calf champion at National Show in Carlisle and one of interbreed champion pair at Fife.
SHEEP
Blackface: Tay and Torridon Estate, Amulree, with a one-crop ewe by an £11,000 Midlock and out of a ewe by a £2,800 Dalchirla. Champion at Kirriemuir last week and interbreed at Kirriemuir in 2014. Reserve: Colin Paterson, Aberruchill Estate, Comrie, with a gimmer by a £40,000 Dalchirla. Bought as a hogg at Stirling for £1,700.
Scotch mule: James Campbell, Shields Farm, Milton of Campsie, with a home bred gimmer by a Blarnavaird sire and out of a home-bred ewe. Interbreed at East Kilbride and champion here in 2014. Reserve: W Adam, Shankhead, Stirling, with a pen of three ewe lambs.
Bluefaced Leicester: Colin Mundell, Rockfoot, Craigton, Fintry, with a suckled gimmer by the D3 Newbigging Walls tup and out of ewe by the A26 Dreva. Reserve at East Kilbride and first at Drymen. Bought privately from Dreva. Reserve: James Campbell, Shields, with an aged Dalpeddar ram by the 15,000gns Old Hemley bred The Tank. Bought for £1,000.
Border Leicester: Sandy and Alex Watson, Culticheldoch Cottage, Muthill, with a gimmer by 2013 RHS champion Didcot Drambuie and out of a ewe by Drennan Dodger. Reserve: Sandy Haggart, Muirmouth, Madderty, with a three crop ewe by Lammermuir King and out of a home bred ewe. Previously unshown.
Texel: Cameron Gauld, Cairn Farm, Auchterarder, with a one-crop ewe by Baltier Thunderbird and out of a ewe by Garngour Onyx. Previously unshown. Reserve: Cameron Gauld with Cairinum Warhorse, a ram lamb by Llitheny Usain Bolt and out of a ewe by Glenside Razzle Dazzle. Going to Lanark breed sale.
Commercial sheep: Michael Rattray, West Park, Auchterarder, with three home-bred gimmers by an Easter Ochtermuthill-bred Beltex sire and out of Beltex cross ewes. Reserve: John and Kirsty Guthrie, Cuiltburn. Muthill, with a Beltex cross ewe with Beltex-sired pair of lambs at foot. As a trio they stood champion at Doune and Dunblane and the lambs picked up a ticket as a pair at the Highland.
Beltex: Andrew Morton, Lochend, Denny, with a gimmer by Whitehill Too Hot To Handle and out of Dooley Rosalee, full sister to the 18,000 gns Dooley Nepal. Champion at Stirling. Reserve: Andrew Morton with the shearling ram Morton's Wifi by Kingeldores Rameses and out of Dooley Rosalee. First at Ayr and fifth at RHS.
Cheviot: Monzie Farms, Crieff, with a previously unshown gimmer by a Hethpool sire and out of a ewe by a Balnakeil sire. Brought out by shepherd Steven Paterson. Reserve: J and A Mitchell, Victoria Farm, Muthill, with a three-crop ewe bought at Lairg as a ewe lamb. Shown with a single lamb at foot.
Any other breed: Robert Bryce, Chalmerston, Stirling, with a home-bred January born ewe lamb by 2013 Perth champion Cairnnorrie Olympic Bolt and out of a home-bred ewe. First at Doune and Dunblane, Drymen, Gargunnock and Stirling. Reserve: Robert and Maimie Paterson, Upper Auchenlay, Dunblane, with a home-bred Charollais one-crop ewe by a Southfield sire and out of a home-bred ewe.
GOATS
Kim Falconer, Westfield House, Duntrune, Dundee, with five-year-old pygmy milker Moorview Kelseya by Marshview Heath and out of Moorview Gypsophila. Reserve: Florie and Melissa Mitchell, 3 Cleikumin Cottage, Airntully, Perth, with the pygmy kid Cleikumin Iain. Bought in Ayrshire inside her dam Cleikumin Izzy. First outing. The goatling section was won by Curtis McDermott, Lindores, Muthill, with the Golden Guernsey, Boulsworth Katie.
INDUSTRIAL TENT
Baking and produce: 1 Heather Walker, 2 Leanne Walker; best handicrafts exhibit Carolyn Gillot; most points in handcrafts 1 Julie Whyte, 2 Carolyn Gillot; floral art Mandy Rimmer; handcrafts and floral art (under 26) Rachel Elder; Braco and Greenloaning Community Shield Greenloaning School.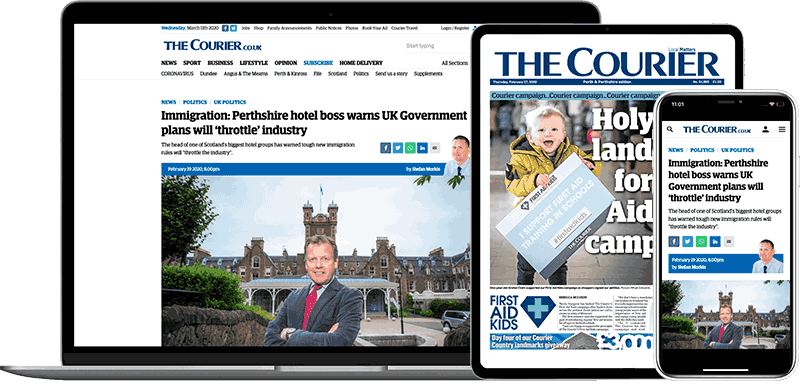 Help support quality local journalism … become a digital subscriber to The Courier
For as little as £5.99 a month you can access all of our content, including Premium articles.
Subscribe