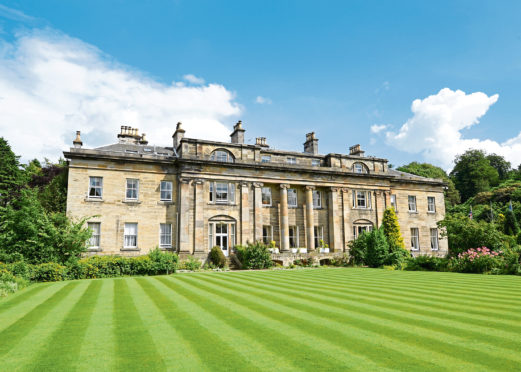 A luxury Fife hotel has bounced back into the black as it pursues its goal of becoming Scotland's first cashless hotel.
Award winning Balbirnie House Hotel in Markinch, saw turnover grow from £2.8 million in 2018, to £3m for the year ending April 30 2019, an increase of 8.3%.
The Grade A listed hotel, which dates from the 18th century, moved from a pre-tax loss £76,491 in 2018, to a £124,007 profit in 2019.
In the annual report for the hotel, managing director Nicholas Russell said the directors were "very happy indeed to see a return to profit in this financial year".
He said: "As at winter 2019, the hotel is investing in the installation of a complete technological upgrade across the entire span of reservations systems and operations, the directors feel this is a very significant step towards the stated aim of becoming Scotland's first cashless hotel."
The hotel is investing around £45,000 in new Guestline technology, which will then pave the way to a completely new "digitalised ecosystem"at the venue.
The hotel has won a string of awards, including 2018's Global Best Destination Wedding Retreat and the 2019 Global Best Destination Wedding Hotel via Haute Grandeur.
However, Mr Russell expressed concern about the impact of Brexit, as well as the rising costs of the minimum wage.
He said: "Due to Brexit, there will continue to be accelerating costs, and similarly and specifically stemming from Brexit, there is very significant general uncertainty in the UK hospitality and tourism sectors.
"The directors are also saddened to see the loss of ability to employ EU nationals, as a significant proportion of company employees have always previously originated from within the EU."
Staff numbers at the hotel have reduced from 115 in 2017 to 94 in 2018.
The number has further reduced to 81 this year.
The move is aimed at providing more working hours to fewer individuals in a bid to reduce staff turnvoer and increasing consistency.
Mr Russell added the measures were introduced as a result of the losss of staff from the EU.
Wages and associated costs also fell from £1.27m in 2018 to £1.23m in 2019, a drop of 3.6%.
Mr Russell said: "Looking ahead, core trade diaries continue to be excellent and the directors remain fully committed to ensuring this equilibrium and status quo is successfully maintained."
jimillar@thecourier.co.uk