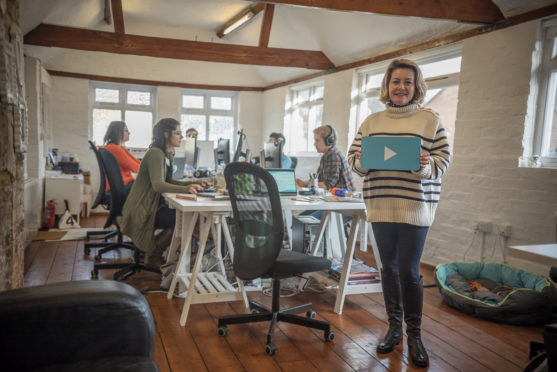 An Eton based animation and design studio is eyeing greater market share after opening a studio in Dundee.
Salamandra, founded by serial entrepreneur Christine MacKay in 2014, specialises in conveying complex information through animation and design on any platform.
Using a range of formats including 2d, 3d, stop animation and live footage, Salamandra says that visual communication stays in the long term memory, so people are more likely to understand and remember the message.
Ms MacKay said: "We all remember product jingles, some from many years ago – in some ways, what we do is produce jingles for the 21st century.
She added that immersive and engaging animation is a great way to get across, "in a snap", what a business does.
Ms MacKay said the move to the city was part of a strategy to achieve 50% year on year growth for the firm.
She said: "We opened our Dundee studio recently and have a team of three here, with an overall headcount of 12.
"Ultimately, we are looking to increase that figure to 20.
"It's early days for us in Dundee, but we have already seen a very good calibre of animators."
Ms MacKay paid tribute to Dundee City Council for their pro-active approach to helping the firm find premises in the city and said the city had been very welcoming "with an open mind."
Part of the decision to open in Dundee was it meant staff recruited in the city, either from existing firms, or from the universities would be able to remain locally rather than move elsewhere."
The firm is also hoping to work with a number of games firms in the city.
Ms MacKay said:"The games produced here are absolutely first class, but doing promotional features for a product, including games is something different, and its what we do."
The firm already works with a broad range of businesses, from start-ups to FTSE 100 companies.
One of the key projects Salamandra completed was an interactive map of the Albert Hall.
Without any blueprints, the firm had to hand-draw every floor of the building, taking photographs and converting them into stylised 3D visuals.
The final product was a 3D architectural map of the building with interactive information on the facilities.
jimillar@thecourier.co.uk