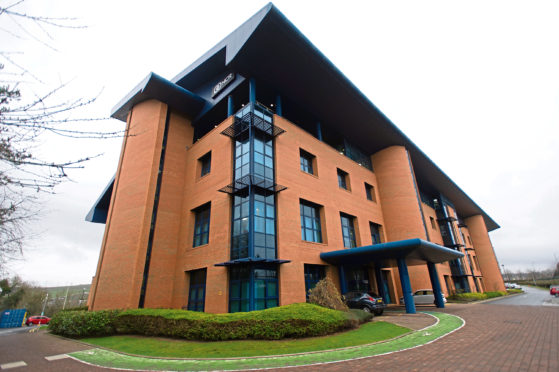 Major Dundee employer NCR has taken "proactive steps" including wage cuts as the ATM specialist looks to protect its global operation during the coronavirus crisis.
Base salaries of the company's senior leadership team have been temporarily reduced by either 100% or 50% while salaried employees globally have seen their pay temporarily cut by between 5% and 20%.
Based at Fulton Road, NCR is one of Dundee's largest private employers, with more than 500 staff employed at its research and development centre of excellence.
The company said its role as an essential technology provider has never been more important as its software underpins many businesses such as retailers and grocery stores who are trading through the Covid-19 pandemic.
NCR is the largest player in the retail self-service marketplace in the UK, with all the Big Four supermarkets using its technology.
NCR said it would seek to address potential business impacts with spending cuts as it aimed for "neutral" cash flow. These measures will include suspending stock buybacks, limiting merger and acquisitions, salary reductions and fewer capital projects.
NCR vice-president Adam Crighton, who heads up the firm's Dundee site, said: "We continue to take proactive steps to keep NCR strong and to keep our focus on taking care of our employees, taking care of our customers and taking care of our company.
"NCR is focused on preserving jobs and staying strong.
"Our company is an essential technology provider. NCR is keeping commerce running for banks, retailers and restaurants, and is busy as always with our customer engineers, maintenance and consulting services as well as service centres.
"Now more than ever banks need NCR's expertise in ATMs, interactive teller machines and digital banking services.
"Retailers, grocery stores in particular, are busy and relying on NCR to run the store. Restaurants are relying on NCR to go online and have order takeout and delivery capabilities.
Mr Crighton said the majority of employees in Dundee were working remotely.
"At this time, NCR have reduced onsite working to only a very small number of employees performing business critical roles in support of our customers that cannot effectively be performed from home," he added.
The Dundee NCR site covers all of the firm's corporate functions, with research and development making up more than half the workforce.
NCR's recent annual results showed growth across the group of 10% to sales of $6.92 billion.
Among the business units with the greatest growth was the banking division which grew 13% to $3.51bn, with ATM sales growing 33% year on year.
This was largely due to the global marketplace embracing NCR's latest product range, the 80 Series, which was entirely developed in Dundee.
rmclaren@thecourier.co.uk