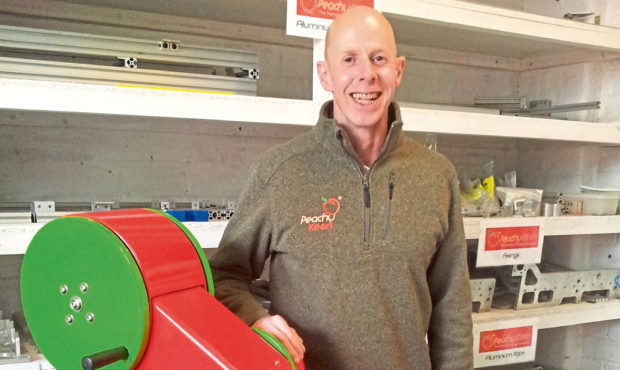 What does your business do?
PeachyKeen specialises in Human Energy Systems, namely the design and manufacture of mechanical and electronic units to generate and store electricity, which in turn power a range of devices and applications.
It is similar in principle to renewable sources of energy such as wind or solar, except PeachyKeen's initial power source is human movement.
The focus of our products is the creation of electricity in an enjoyable, interactive way that enables people to improve their fitness and have fun at the same time.
The technology we have developed can be applied to a variety of applications.
PeachyKeen's shop window is the event side of the business and you will often find us in the middle of a field as part of an agricultural show or sports event, powering a variety of fun devices!
Why did you start in business?
Combining my love of sport with my passion for helping people achieve more than they ever dreamed they could.
That drove the inception of PeachyKeen, inspiring the concept of a boutique style, human-powered gym.
The company name is a positive Antipodean phrase meaning fantastic.
How did you get to where you are?
By surrounding myself with people who are a lot smarter than me!
Who has helped you along the way? Numerous family, friends and suppliers have been absolutely brilliant. This year the biggest impact has been the involvement of Business Gateway Fife, particularly our adviser, Sarah Howarth, who has been wonderful in instigating the assistance required to grow the business.
This is evidenced by the partnership between Business Gateway and K2 Marketing to completely rebuild the PeachyKeen website, which in turn has revolutionised our marketing strategy.
Currently, Business Gateway is assisting PeachyKeen through its DigitalBoost initiative, which will help us concentrate on optimising the search capabilities of our website.
Your biggest mistake?
I have made some real howlers – the secret is accepting them as learning steps that lead on to greater things. Sometimes when things are going wrong they are actually going right!
Your greatest achievement?
Winning a Technology Strategy Board competition which allowed the development and production of an energy storage system that immediately stores all the electricity produced by our PeachyKeen equipment – it has culminated today with our A1-Beer Box.
Hopes for the future?
To establish PeachyKeen as the "go to" company for Human Energy Systems internationally.
The path to this goal is being ably assisted by Business Gateway Fife who in turn has connected PeachyKeen with experts within Scottish Enterprise who are assisting with our aspiration to exhibit at Expo 2020 in Dubai.
Do you want to recruit in the future?
Yes – the goal is to build a permanent team of talented innovative people who are passionate about PeachyKeen with the ability to take it to new levels.
The hardest thing about running your own business?
Remembering that although there can be times you feel lonely, you are never alone and the solution is always there.
Advice to wannabe entrepreneurs?
Your energy is everything, so please look after yourself.
Focus on what is important.
Believe in your goal and always see the positive even in the most challenging of situations.
Have fun and just do it!
How would your friends describe you? Loyal, authentic, driven, with the ability to see hidden talent in others.