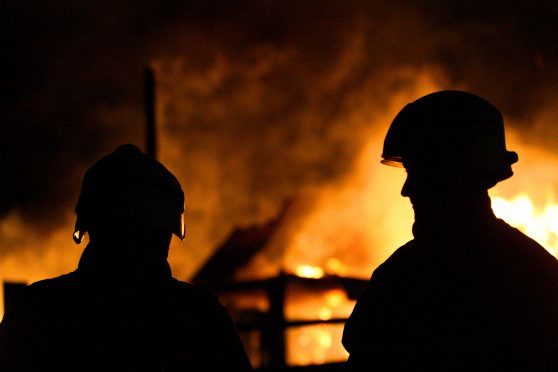 Electrical faults and fire-raising were the main causes of farm fires in Scotland last year, with claims costing £1.8 million.
The figure was down 48% from £3.8 million in 2015. and while rural insurer NFU Mutual has welcomed the improvement, it has urged farmers to check their fire prevention and evacuation procedures.
Electrical faults were responsible for almost half of 2016 fire claims.
NFU Mutual regional manager for Scotland, Martin Malone, said fire remained one of the greatest hazards to the lives of farmers, with claims peaking in February and December.
"The scale of these claims shows how important it is to take all possible steps to prevent fires breaking out, and to have clear plans to evacuate people and livestock safely in the event of a fire," he said.
"Also, it's vital to make sure you have the right sort of fire extinguishers maintained in good order so you can fight small fires safely."
In Northern Ireland fire claims in 2016 totalled £3m and in Wales the figure was £1.6m.
Risk management consultancy services exist to help farmers manage the risk to their businesses and comply with health and safety legislation.
Key pointers include ensuring there are sufficient fire extinguishers for the size of buildings and that materials stored are inspected and regularly maintained; ensuring staff and adult family members know the location of fire extinguishers and how to use them; reducing the risk of arson by fencing-off straw stacks and farm buildings; storing hay and straw at least 10m from other buildings; putting an evacuation plan in place for staff and livestock; storing petrol, diesel and other fuels in secure areas; scheduling regular electrical safety checks; and invitinmg the fire and rescue service to visit to check water supplies and access routes
If a fire breaks out, as well as calling the Fire and Rescue Service without delay farmers are encouraged to send someone to the farm entrance to direct emergency vehicles to the fire to help save time. Farmers should be prepared to evacuate livestock should the fire spread and be ready to use their own farm machinery to assist the Fire and Rescue Service.
nnicolson@thecourier.co.uk