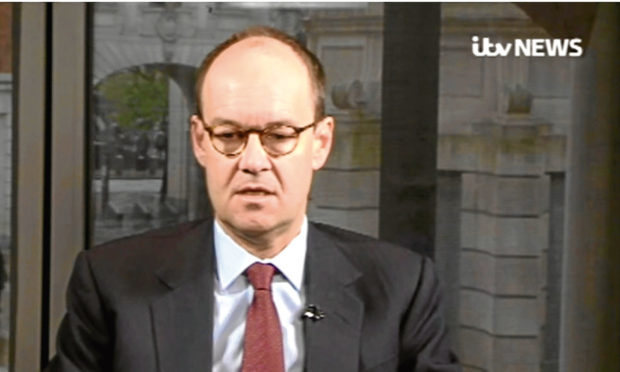 An agonising, toe-curling, excruciating, painful, awful watch.
How else to describe Sainsbury's boss Mike Coupe's car crash karaoke moment as he did the rounds of the TV stations to talk about the potential for his supermarket to complete a multi-billion pound merger with Asda?
This made my day 😆 😆😆#Sainsburys Boss #MikeCoupe" perhaps a tad premature? pic.twitter.com/80Rngc1GgU

— Richard Stewart (@Richard_GJS) April 30, 2018
His mumbled on-camera version of We're in the Money from 42nd Street while waiting for his interview to begin suddenly became the talking point.
No longer were people so transfixed on the merits of a proposal that could change the grocery landscape in the UK forever.
The story was the gaffer's gaffe.
The five seconds it took Mr Coupe to utter "We're in the Money, We've got it Sunny, Lets lend it, Spend it, Send It, Rolling Along" will haunt him for the rest of his career.
But while it was cringeworthy, it was certainly no Ratner-esque calamity.
And I actually bought Mr Coupe's explanation of it simply being an unguarded moment as he nervously awaited a national broadcast interview.
But context is key and the visuals couldn't have been much worse when announcing a merger that could severely impact on the lives of tens of thousands of low-paid retail workers across throughout Britain.
And it is the merger where the focus should lie here.
If it does get the regulatory green light, the coming together of these two giants of the supermarket world is a game-changer.
The logic behind the move is clear.
Sainsbury's – currently just ahead of Asda on a market share basis – is hungry for further growth after its audacious 2016 acquisition of the parent group of Argos, while Asda's own parent – US behemoth Walmart – is neither used to nor comfortable with playing second fiddle in the market.
According to the latest statistics from retail analyst Kantar Worldpanel, the duo currently control more than 31% of the UK supermarket sector.
In simple terms the combined business would control something in the order of £1 in every £3 spent on food and drink in the UK and, at a stroke, would knock Tesco off its perch as the UK's leading grocer.
That's certainly an enticing prospect – and one which I doubt Tesco will take lying down.
But what will a merger mean and and at what cost will it be achieved?
Mr Coupe has already stated both the Asda and Sainsbury's brands will remain post-merger, no stores will close and prices will be driven down by around 10% on some popular items.
But lower prices can only be achieved through more efficient operations, with the two companies targeting a £500 million strip-out of costs as they come together.
That inevitably means jobs will go.
And then there's also the possibility the competition regulator will force store sales in locations where both companies have a strong presence.
As with all of these things, the devil is in the detail – and much of that on Asda / Sainsbury's is yet to emerge.
But there will be winners and losers.
What many City analysts would love to know right now is if Mr Coupe will be humming a happy tune or singing the blues when this process is complete.
ghuband@thecourier.co.uk