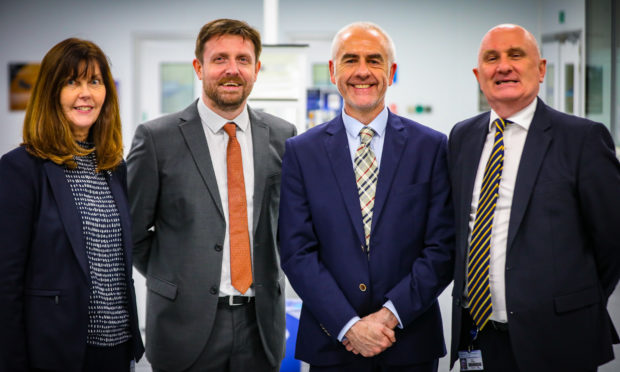 A significant investment has been made in a space and defence specialist's Dundee facility.
Smiths Interconnect has invested heavily in a series of large test laboratories which the firm said will give it a unique testing capability in Scotland.
The Dunsinane Avenue firm, which previously traded as TRAK Microwave, designs and manufactures microwave products for antennas and transmit and receive systems.
The new lab will give it the ability to certify products used in space that are produced in Dundee and at Smiths' other facilities worldwide.
Market vice-president aerospace and defence Alan McNeill said: "We have refitted the centre of the factory and we have built a series of large test laboratories with test equipment giving us an unusual capability in the industry, certainly in Scotland.
"Work has been under way on site for the past three months.
"We are absolutely delighted to see this investment.
"It comes after years of demonstrating to the investment community in Smiths that we were a sound investment."
The Dundee facility, which employs 72 staff, can replicate deep space in terms of vacuum and heat with high power amplifiers and vacuum systems.
It also has a machine that can replicate the G-force for a rocket launch.
"Imagine the highest-tech hammer you've ever seen – it's eight metres long, by three metres high by about two metres wide," Mr McNeill said.
"It can generate the force of greater than 5,000G to assess what happens to products when they are launched.
"We can also use radioactive sources to simulate the sun's radiation, which is quite a complicated test."
The Dundee site does each stage of the manufacturing process on its high-tech equipment, from research and development, to design, manufacturing and qualification.
"We'd like to see our workforce expand and grow to meet the future demand of the space market," added Mr McNeill.
"We are also investing in better jobs and investing in robotic assembly for the first time – not robots but co-bots which work with people to take out some of the repetitive, physically challenging work."
The Dundee manager also said Smiths Interconnect is keen to win work in the satellite constellation market –satellites that work together as a system – as well as continuing to serve its global customer base.
Since opening in the late 1960s the Dundee site has been a centre of excellence designing and producing microwave and related products for a broad range of applications.
In the three decades since supplying its first space product, the site has produced almost 190,000 parts used in more than 600 satellites and probes
rmclaren@thecourier.co.uk