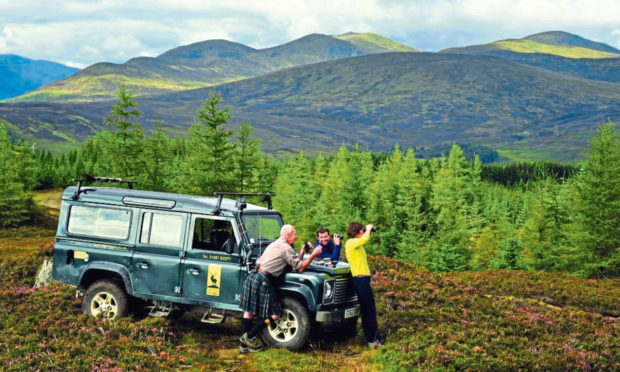 Increased numbers of international tourists helped Highland Safaris pass £1 million sales last year.
The Aberfeldy-based visitor attraction offers guided tours among stunning Perthshire scenery on foot, by 4×4 vehicle and by bike.
Two years ago Loch Tay Safaris was launched after the £150,000 purchase of a rigid inflatable boat to allow people to explore the history and folklore of Perthshire's largest loch.
Director Donald Riddell, who runs the company with his wife Julie, said: "We had a superb summer last year with a 50% increase in trade from European and Asian markets.
"We're seeing the benefit of investment in a number of European Development Meetings with VisitScotland.
"Launching Loch Tay Safaris has also helped boost turnover.
"At one point we thought if we got to £500,000 turnover a year, we would be delighted and potentially hang up our boots. So to be at our current turnover of £1 million is a huge achievement."
The business was started with a single ex-Army Landrover in 1992, taking visitors to the top of hills to watch red deer.
Television shows like BBC's Springwatch were a big turning point for the business, helping it grow and expand its seasonal 'watch' safaris.
It now employs 42 people and runs its own Red Deer Centre, complete with shop, café and children's trail.
For the year ending October 2018, the company estimates a turnover of £1.1 million, with pre-tax profits of £170,000.
"We're in no doubt that that the natural environment of Highland Perthshire, in which we operate, is our biggest asset," Mr Riddell added.
"The business has gone through definite growth spurts over the years.
"We didn't really start to formulate a company structure until 2013.
"Now we are exploring a management function within the business to free up more time."
rmclaren@thecourier.co.uk