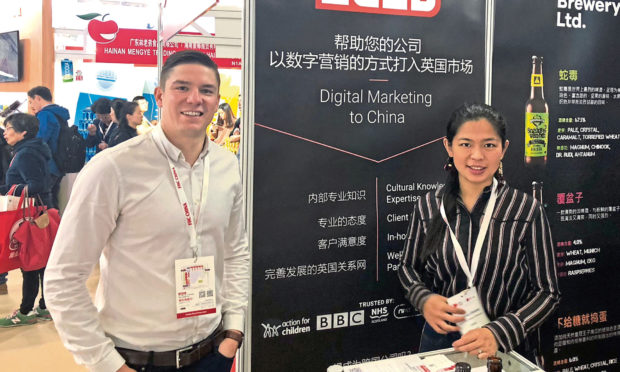 A Dundee businessman has claimed Scottish companies are missing a huge opportunity by not targeting the burgeoning Chinese market.
James Buchan, managing director of app development and website design company Zudu, recently returned from exhibiting at one of the country's biggest trade shows.
The Food and Hotel China event attracted 91,000 trade buyers and 2,450 exhibiting companies from 69 countries.
However, Mr Buchan, who is vice- president of Dundee and Angus Chamber of Commerce, said Scottish companies at the event were "conspicuous by their absence".
He said: "Food and drink is one of Scotland's most important export sectors, with an estimated £6 billion sales in 2017.
"But you would not have known it from Scottish attendance at what is one of the major events in the sector calendar.
"We would have liked to see a lot more Scottish companies ready to take advantage of the opportunities on offer, especially since there are so many support networks available to help companies to navigate new markets.
"This is particularly important in food and drink, but there are many more areas where innovative and expansionist Scottish exporters could be driving growth by targeting Chinese consumers."
Zudu's participation at the trade show was supported by the UK's Department of International Trade and Dundee City Council.
The firm is tailoring its digital strategies for breaking into the lucrative Chinese sector.
The exhibition focuses exclusively on imported and top-quality products, making it the benchmark event for international companies wishing to collaborate with markets in China and the wider Asian sphere.
Next year's event will host 120,000 buyers and 3,500 companies.
Mr Buchan added: "Another one of Zudu's main areas of focus is tourism, which generates around £12bn of economic activity for the wider Scottish supply chain, contributes around £6bn to GDP and supports more than 217,000 jobs.
"We are at the dawning of the Chinese tourism explosion with a middle class who are increasingly independent travellers.
"Scottish cities and tourist attractions have not typically focused on targeting Chinese consumers and there are steps they can take to attract visitors and transform their experience."
business@thecourier.co.uk