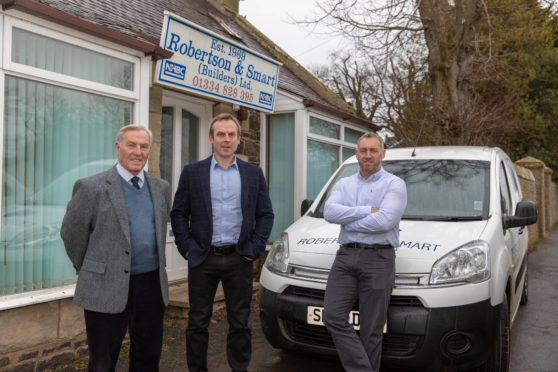 Fife housebuilding company Robertson & Smart has celebrated 50 years in business – with the company's founder still first in the office each morning.
James Smart founded the award-winning Ceres firm in 1969 with his friend Grant Robertson after they had a chat after playing rugby.
Mr Robertson had recently sold his family's farm and had a lot of contacts in the farming community while Mr Smart had experience as a joiner and surveyor.
Mr Smart, 77, said the partnership worked immediately.
"Initially we did maintenance work but quickly moved into doing bigger projects for farmers like renovations and extensions before moving onto housebuilding," he recalled.
"The business grew from word of mouth as people got to know us. We've never had much problem finding work.
"Over the years we've done everything – one-off houses, flat developments and work on hotels."
During the 1980s, the firm employed up to 40 staff and all the trades.
The company today subcontracts electrical, plumbing and painting work and has 13 employees.
Mr Smart's son Stewart joined the firm in 2001 and is now managing director, while his father remains a director. Mr Robertson retired 14 years ago.
Stewart said: "Over the past five years we have trebled our turnover and have work lined up for the next two years.
"We've progressed a lot over the past 20 years and grown to where we want to be.
"My dad is still there every morning at 7.40am – nobody else starts until 8am."
rmclaren@thecourier.co.uk