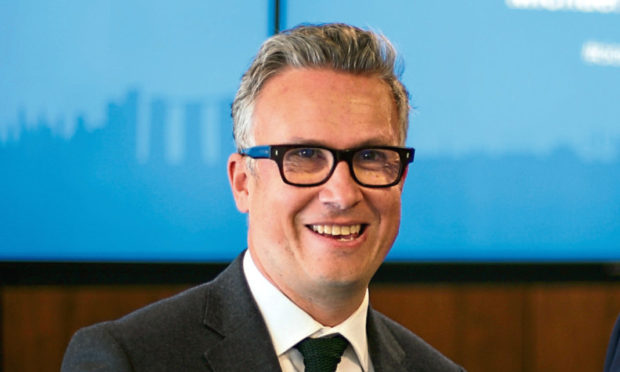 Aberdonian business chief Iain Anderson has joined a prestigious line-up of speakers for Entrepreneurial Scotland's annual conference at Gleneagles.
Mr Anderson is the co-founder and executive chairman of London, Dublin and Brussels-based communications and market research agency Cicero Group.
His 25 years and more in the communications industry have followed schooldays at Robert Gordon's College in Aberdeen, studies in economics and politics at St Andrews University and a postgraduate degree in journalism at the University of Wales.
It was in St Andrews that he was introduced to the media industry, and he went on to work as a business journalist for The Courier newspaper and The Herald in Glasgow.
On his way to co-founding Cicero, in 2001, he became a founding shareholder at Incisive Media and worked for politicians including Kenneth Clarke MP, who he helped with a Conservative Party leadership bid.
Around 300 entrepreneurs will join him at Gleneagles on April 25.
Mr Anderson, 50, said he expected all those attending, including aspiring entrepreneurs and current business leaders, to take a great deal from the event.
He added: "I'm always interested in learning what improvements to consider and hear ideas that I could not only take into my own business but use in other ways as well.
"You need to have that mind-set and restless curiosity. The entrepreneurial mind is always looking for the next idea.
"The conference is a great opportunity to get a sense of how all the different sized firms are performing right now, and I think it makes everyone consider what could be done to make their business perform better."
Mr Anderson's career achievements to date have earned him several prestigious accolades, including being ranked among the first 25 of a league table of the UK's top 100 lobbyists.
He is a Freeman of the City of London, Arsenal season ticket-holder and self-confessed "opera nut".
Other Entrepreneurial Scotland conference speakers include Shortlist Media co-founder Mike Soutar, chocolate entrepreneur Jo Fairley, Monreal London founder and chief executive Stefani Grosse, Crop One Holdings CEO Sonia Lo and ROVOP CEO Steven Gray.
Mr Anderson said: "I'm keen to hear what Jo Fairley (the founder of Green and Blacks) has to say.
"I get passionate about brands that I enjoy, so it'll be interesting getting an insight into what the journey has been like for her and how she has dealt with the many challenges that entrepreneurs face.
"Each and every speaker will bring something different and unique, and I think all the attendees will benefit from the day in more ways than one."