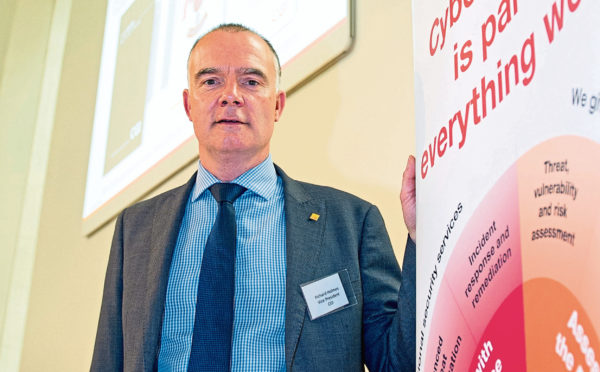 Ahead of an £11.7 million Dundee based cybersecurity hub as part of the Tay Cities Deal, experts gathered in the city to highlight the growing need for a cyber-skills enabled workforce.
Based on the Abertay campus in Dundee and run with core partners the Scottish Business Resilience Centre, the city's new 'cyberQuarter' will be a cluster of academic and industry activity.
Jointly funded by Scottish and UK governments, it will offer expertise in applied research and access to a range of public-sector support for local businesses and public bodies.
Global IT services firm CGI hosted a cyber security event yesterday to underlined the opportunities the industry presents for Tayside.
Justene Ewing, vice president at CGI, said: "Cyber security is so much more than that cliched picture of a guy in a hoodie sitting in a darkened room ready to ping a virus-ridden email into your inbox.
"The range of threats to business and the sophisticated hacking methods used to breach their defences are growing by the day in the world of mobile devices, Internet of Things, 5G and cloud."
The Internet of Things refers to every-day, often domestic household objects such as fridges and light fittings which are embedded with electronics and internet connectivity that can be remotely monitored and controlled.
The event addressed a range of issues including ethical hacking, automation, sophisticated data analytics and cyber governance.
Ms Ewing said: "Cyber governance may sound dry, but everyone, from the boardroom to the shop floor must be clued up, because if a breach does happen, the impact can be devastating, the costs could be very significant and hugely damaging to a firm's reputation."
The need to encourage young graduates into the world of cyber security was identified as an issue because "more tech brings the need for more security".
Richard Holmes, vice president of cyber security services at CGI, said: "With rapid developments in technology, a workforce with cyber skills can help a firm expand more quickly."
CGI, who have 17 offices and around 6,000 experts across the UK, also said they had plans for an increased footprint in Scotland.
The firm is already involved with Scottish local authorities and the oil and gas industry but were aiming to do more to support businesses.
The event was run in collaboration with Dundee City Council, Abertay University and the Scottish Business Resilience Centre.