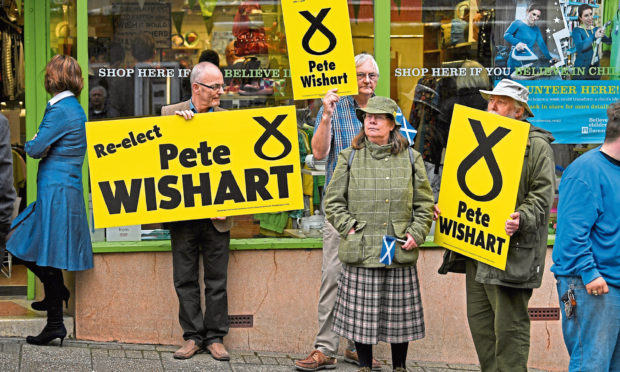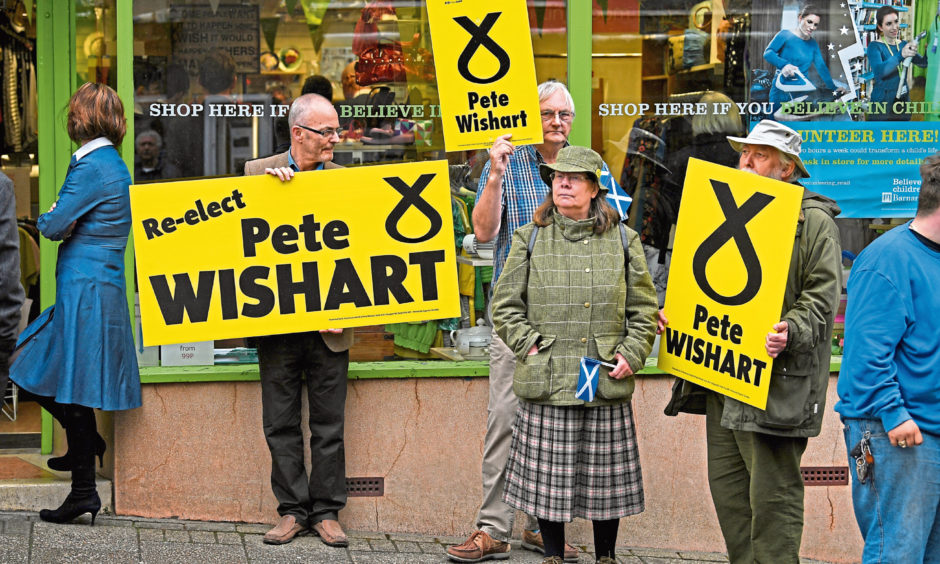 When Pete Wishart announced last week that he was hankering after the speaker's job, if John Bercow ever quits, he was mocked and mostly by his own side.
Fellow Scottish nationalists were appalled that an SNP politician should want to lead the establishment so hated by separatists.
And they were even more outraged when he apparently said he would vote against independence if it came to a casting vote for the status quo, as is the custom.
He has since backtracked on this, but what his ambition reveals, apart from his ambition, is his acceptance that Scottish independence is not going to happen on his watch.
With all his political experience – having held on to his Westminster seat for 18 years (though he only squeaked home in 2017 by 21 votes) – his judgment must be worth something.
So, for him to bank, for the foreseeable future, on the continued presence of Scottish MPs in the Commons is a blow to the troops.
But maybe Wishart is not the only seasoned nationalist now reappraising the SNP's prospects, nearly five years after losing the independence referendum.
Is it a coincidence that Nicola Sturgeon's departure has been flagged up on several occasions recently, and not only by her foes?
Jackson Carlaw was just the latest, at last weekend's Scottish Tory conference in Aberdeen, to suggest the first minister's career – her political one at least – had an end date.
The deputy Scottish Conservative leader had earlier brought up the subject in First Minister's Questions and even hinted that a possible UN job was in the offing for Sturgeon. Does he know something?
Jackson's theory is that the looming case against her predecessor, Alex Salmond, on sexual assault charges, will inflict collateral damage on Sturgeon.
The one-time SNP Justice Secretary Kenny MacAskill agrees, writing in a newspaper article last week that "some leading SNP reputations could be well and truly burnt" in the fallout from the case.
MacAskill, a Salmond ally, went on to say the court case would be "the most significant factor" in the future of the party's leadership.
Other senior nationalists have allegedly been dropping similar hints and the notion that Sturgeon is considering a life beyond Bute House suddenly appears plausible.
Courier columnist, and former Salmond policy chief, Alex Bell wrote last week that she was packing for her own escape, her announcement on Indyref2 "her cover for ending her leadership".
While there have been SNP denials to this speculation, who could blame her?
She has been forced by her party activists to step up the pace of the independence campaign, although she knows the timing is not right.
She made it plain after the 2014 defeat that there would have to be the momentum to break up Britain before risking a second referendum.
This clearly hasn't materialised, but she cannot play the long game because grassroots nationalists are impatient.
This was evident at the SNP conference in Edinburgh when Sturgeon's sensible ploy to hang on to sterling in the event of independence was rejected by delegates desperate despite the dire economic omens, for a Scottish currency.
The SNP leader must feel power slipping away at such moments. When her request to Theresa May for permission to rerun the 2014 ballot is refused, as Sturgeon knows it will be, the diehard secessionists are unlikely to settle down and wait for a generation.
After five years in the top job – leading her party and country – she may not have much of a domestic record to trumpet, and she has failed to deliver on her life's crusade.
But, aside from those two fairly major caveats, she has established herself as a formidable political operator, respected outside Scotland – especially outside Scotland maybe – and could probably name her next job, so long as it was not in frontline politics.
In a sign that the party could survive her exit, a successor is warming up in the wings, taking the initiative on an issue Sturgeon has been wary of tackling – the "cybernats".
It was former SNP deputy leader Angus Robertson, and not the party leader as voters might expect, who urged fellow nationalists to "adopt a new open and welcoming tone", according to a newspaper report over the weekend.
"The immediate challenge for the wider Yes movement is to reach out to the open-minded and undecided voters," Robertson said.
"However, if the environment online is poisoned by aggressive, shouty, insulting, often anonymous, keyboard warriors, this is unlikely to persuade anybody and more likely to turn people off entirely."
Robertson's new think tank, Progress Scotland, is seeking to convert the moderate middle to the independence cause, a break with the present, when the lunatic fringe has been allowed to dominate the agenda.
It may have been unintentional by all involved, but passing the baton has begun.