I'm working at the top-end of the low-end market.
A Lecturer at Duncan of Jordanstone College of Art & Design, I'm also a bass guitar-maker of international renown. From my workshop in Dundee, I design and build beautiful, bespoke, hand-crafted basses. The care and passion that goes into each guitar has seen my company Eve Guitars build a worldwide clientele of exponents of what I view as a misunderstood and under-appreciated instrument.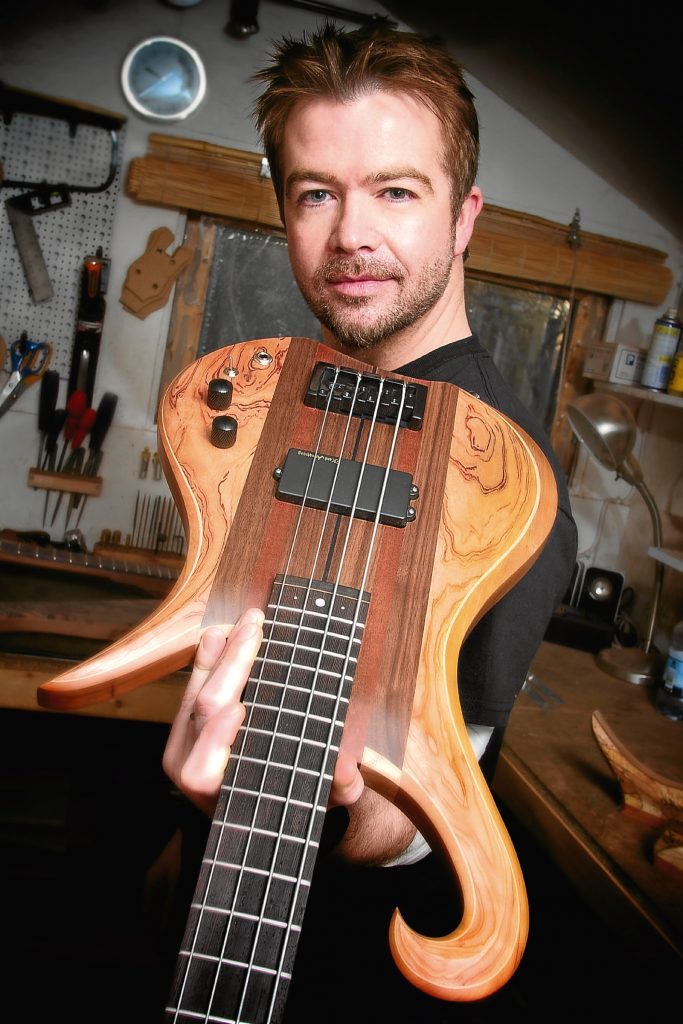 People see a bass as normal guitar stretched up but technically it is a completely different animal. It originates from the double bass and was transposed to an electric guitar design. Because of its size, there are problems with weight, balance and scale. Bassists have to spend too much time worrying about holding their instrument up rather than just playing it freely. These are things that haven't been addressed properly so I'm trying to redesign these components so it fits the individual better.
My first experience of being a luthier – someone who builds guitars – came at high school in Glasgow. Like many teenage boys, I formed a band with friends, though my parents were reluctant to shell out for expensive equipment lest this latest interest fall by the wayside.
The limitations of my first bass became apparent fairly soon so I got to work in the school's woodwork lab. I wasn't particularly good at woodwork and this was in the late 80s/early 90s when there was no internet to tutor me so it was all trial-and-error and best guesses. It worked out well and I won a couple of design awards for the guitars I built.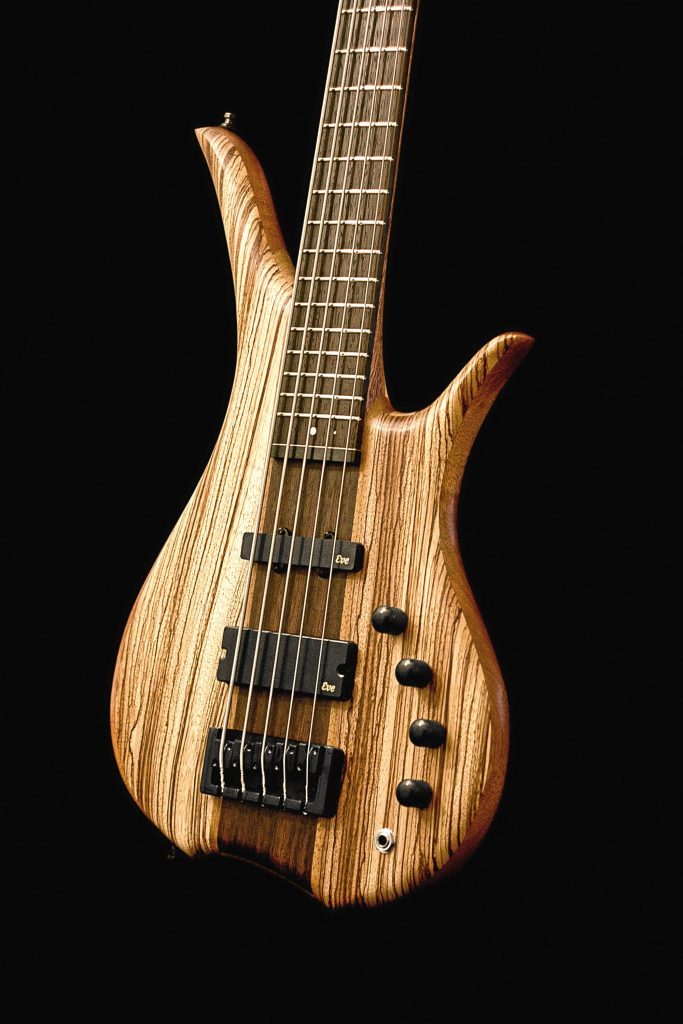 My burgeoning manufacturing career was then forgotten when I matriculated at Duncan of Jordanstone as an undergraduate. After graduating I worked as a freelance graphic designer and in teaching before a chance conversation with a friend led me back to the life of a luthier.
Someone asked me "what happened to those bass guitars you used to make?" and it sparked the interest again. I got thinking that if I wanted to do it then I had to do it properly, to really commit to the craft. There were a lot of mass-manufactured cheap imports around in the 90s and that pushed a lot of luthiers out of business but the temperature has changed now, and there are people looking for more individual and bespoke instruments.
Since then I've built hundreds of instruments for clients ranging from professional musicians to passionate amateurs looking for an instrument that reflects their personality. My custom guitars begin selling from around £2400 and take at least 12 painstaking weeks to build, while stock instruments cost from £1200. I discuss every aspect of the process with my customers before confirming an order, using my expertise to design an instrument that, first and foremost, sounds exactly as the buyer wants it to. My years of experience in the world of commercial design also stand me in good stead.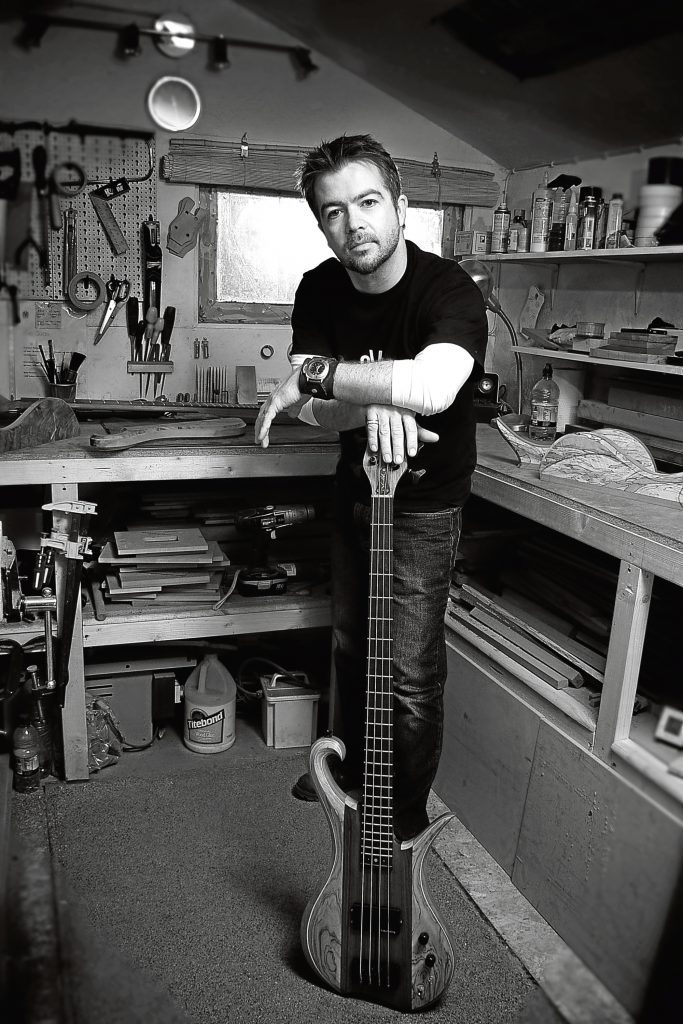 I spend months designing every aspect to make sure that it is functional first then consider the aesthetics later. Good design is not about how something looks, but how it functions. Every single Eve bass is made by hand, which is very labour intensive, but we try to keep prices at a human level. We produce around 20 instruments a year, which is testament to the amount of handcraft in every single bass.
All instruments I produce are made of natural materials and eschew the type of finishes associated with mass-market competitors. I believe that if something is to be built with high quality materials and precise workmanship, then it should be shown in its natural state rather than buried under paint and lacquer. It is this dedication to the beauty of my products that sustains me though the arduous days and nights at the coal face. If I can, I'd like to introduce a course in Dundee teaching people how to make their own instruments.
If someone asked me about making guitars for a living I'd tell them not to do it if they wanted to get rich and retire at 40. I'd also tell them how it's not very rock n roll when you're stuck in the workshop for hours on end covered in dust.
But like most creative endeavours it is very rewarding on a number of levels. It's definitely a vocation. If you don't have the passion, then you shouldn't be doing it.
---
Douglas Mullen is a lecturer at Duncan of Jordanstone College of Art and Design, as well as being a guitar maker. He also writes a luthier column for the international music magazine, Bass Guitar Magazine, exploring the philosophy, design & practice of instrument building.