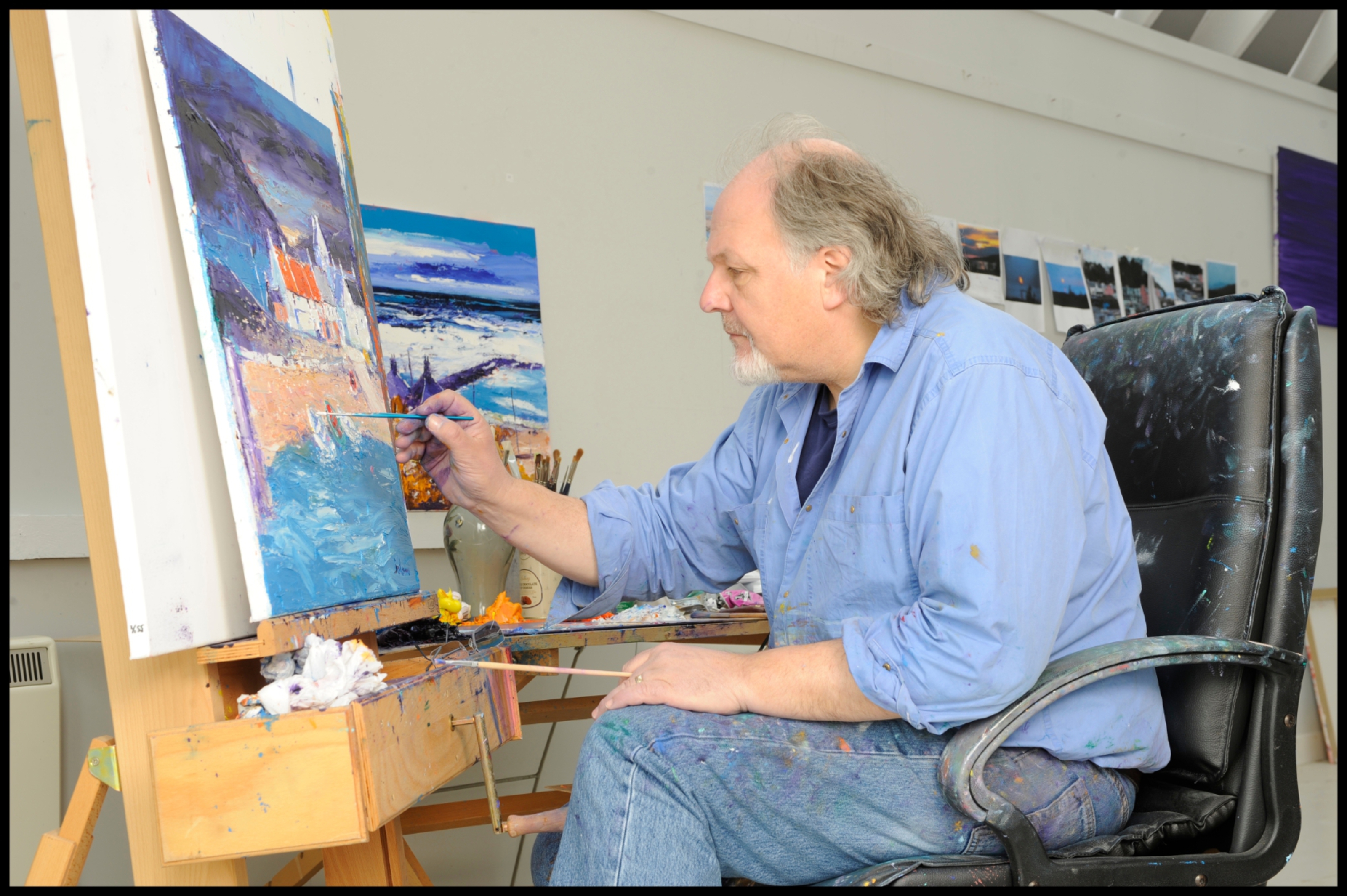 His art touches everyone, from A-listers to Oor Wullie. Jolomo steps out from behind the easel to tell Gayle Ritchie how it feels to be Scotland's best-loved painter
A tiny red-roofed croft crouches against the wind as burnt orange clouds whip through the sky.
In another painting, early morning smoke drifts from the chimney of a snow-covered cottage while a pale moon dips down over the horizon.
These atmospheric, vivid landscapes are instantly recognisable as the work of John Lowrie Morrison, one of Scotland's best loved and most prolific artists.
Prized by celebrities and loved by the wider public – his official website features cards, calendars, mugs and even umbrellas – the artist, who famously signs his work Jolomo, was in Dundee at the weekend for the launch of his latest exhibition.
The collection, Seasons of Argyll, features new paintings which celebrate the landscapes of Argyll through all four seasons, from blue skies and wild flowers in summer, to stormy skies and winter snows.
"I'm always drawn back to painting Argyll," Morrison tells me.
"The light here is wonderful and it changes so much from season to season, from minute to minute, from day to day, and I love trying to paint all that.
"Every time I look at the landscape, there's something new to see. Even in winter, there's a lot of colour – the light creates surprising colours on the snow and in the sky."
For more than five decades, Morrison has painted Argyll and the Hebrides, depicting coastal landscapes, crofts, lighthouses, boathouses, people, and the magnificent light of the west coast.
Drama and passion exude from his paintings; they capture the eye, the heart and the imagination, and proud owners of Jolomo originals include Madonna, Sting, Rick Stein and Simon Le Bon.
And the celebrity links don't stop there. Among the works on display at Dundee's Gallery Q are two which feature the road which inspired the Beatles' hit, The Long and Winding Road.
The road in question is the B842 which runs to Skipness, Carradale and on to Campelltown, near Paul McCartney's farmhouse on the Mull of Kintyre.
Morrison, who lives in Tayvallich, Argyll, used to see the McCartney family in Lochgilphead and Ardrishaig.
"They had an old Jepson Interceptor and nobody ever bothered them," he remembers.
"As a Beatles and McCartney fan through the 1960s, it was always a great connection for me.
"Paul said the Skipness road was what he was writing about and I've painted the beginning of the road, where there's a red roofed cottage.
"You look over to Arran and see the Sleeping Warrior (the profile of the north Arran hills) and the light is amazing, no matter what time of year or day."
They are undeniably stunning, but many of John's paintings are more moody than pretty – skies vivid and stormy with purples and blues.
"It's funny – I'll go out in the village on a wild day with a sketch book or a camera and people will say, 'What are you doing out? It's a bit stormy,' but it's the other way round for me.
"I like the wind, the rain and the snow. A lot of people have tried to analyse all that and asked, 'Are you stormy inside?'. The answer is no, I'm not. I just love painting storms. I get more joy out of painting a moody picture than a nice summer sky."
Morrison, 68, also enjoys capturing the beauty in flotsam and jetsam, "junk" lying around, and charting the demise of ruined crofts.
"I tend to like painting the detritus of humans," he muses.
"If there's stuff lying around I paint it, whether that's lobster creels, rubbish on the beach, crumbling peat stacks or leaning telegraph poles. I love old broken gates and ruined houses and a lot of the croft houses I paint are partially ruined and just gable ends.
"Every time I see a croft, I've got to paint it, even if it's just a gable end. I'm from Harris and the family croft, which used to be a blackhouse, is still there, so I think crofts are in my psyche."
The croft featured in his painting, "Heavy Snow at Skipness", says Morrison, has been closed up for five years since the man who lived there died.
"It's really sad because his stuff is still inside. It's just beginning to get saggy. The white of the walls is not so white anymore. Eventually the roof will fall in and that'll be it."
Artistic inspiration
Brought up in a tenement in Glasgow in the 1950s, Morrison knew he wanted to be an artist from a young age.
Drawing and painting his way through childhood, copying chocolate box pictures his mother brought home from work, he painted on art trips and family holidays.
In 1967, he went to Glasgow School of Art, developing an expressionist style, influenced by artists such as Oskar Kokoschka, Marc Chagall and Chaim Soutine.
In his final year, he learned about art therapy, spending much of the year at a residential home in Maryhill for children with severe disabilities.
He taught art for more than 20 years at Lochgilphead High School, appointed along the way as art adviser for Strathclyde.
In 1996, at the age of 46, he took voluntary severance from teaching and started to paint full-time. There was a huge appetite for his brightly coloured oil paintings and his career took off almost instantly.
Morrison's artistic process is simple – he drives around, stopping to take photographs and draw sketches, takes them back to the studio and paints.
"I've got a photographic memory as far as landscape is concerned so I rarely look at the sketches and piles of photos – they're aide-memoires that spark things off.
"When people ask how long it takes me to do a painting, I tell them it started when I was driving about Mull, Iona, Harris, Islay or wherever. There's so much involved although the end product might not have taken that long.
"The small paintings take only an hour or so but the big ones can take several days. I work fairly quickly and spontaneously and I like to get it done in one sitting. If I get pulled out by an urgent phone call, I can't go back to it – I'll just paint over it and start again."
Each month, Morrison spends a week at his second studio on Mull where sweeping views across to the island of Staffa, with its striking basalt columns, never fail to inspire.
Despite the economic downturn, his paintings continue to sell well – "people want to invest in art to cheer them up" – and he has an annual turnover reputed to be around £2 million.
Some critics slate Morrison for being too commercial, a charge he strongly refutes.
"Years ago, Harrods asked me to give them 20 beach scenes and demanded 80% commission," he recalls.
"I told them, 'no way, that's not how it works', and stopped dealing with them. I don't paint for fashion, or to churn out work. I paint to stay fresh and to make the next painting even better than the last one."
A lay preacher for the Church of Scotland, he has been awarded honorary doctorates from the universities of Abertay and the West of Scotland and was made an OBE in 2011 for his services to art and charity.
Privately, Morrison and his wife Maureen became carers for his older brother Murdo, who had learning difficulties, and for his mother, who suffered from dementia in her final years.
Financial success enabled the couple, who have three sons, to work as Patrons of the Princess Royal Trust for Carers as well as supporting many other causes.
Since the devastating fire at Glasgow School of Art in 2014, they have helped fund the GSA Mackintosh Campus Appeal to restore the building.
Last year, Morrison was commissioned by Glengoyne Distillery to paint a collection of seasonal paintings, each printed on limited edition whisky gift tins, in return for which Glengoyne would make a a donation to the appeal. The paintings will be auctioned and it's hoped around £50,000 will be raised.
Here in Courier Country, he was responsible for one of the Oor Wullie statues which made up the hugely popular bucket trail around Dundee and the wider Tayside last summer.
His creation, Jolomo Oor Wullie, sold for £15,000 when it was auctioned in aid of the Archie Foundation at the end of the project, and was put on display at Perth Royal Infirmary in October last year.
In 2006, he founded the £35,000 Jolomo Award, the largest art prize in Scotland, aimed at emerging artists painting the Scottish landscape.
Many assumed it was an anti-Turner prize – Morrison had previously stated he "just didn't get unmade beds and bananas on windowsills", referring to the work of Tracey Emin and Andreas Slominski – but he insists otherwise: "As a former art teacher, all art for me is grist to the mill. I might not like it but if that's what folk are doing, I'm not going to pooh-pooh it. It's all about taste and all art is important."
info
Jolomo: Seasons of Argyll, is on at Gallery Q, Nethergate, Dundee, until April 1. www.galleryq.co.uk