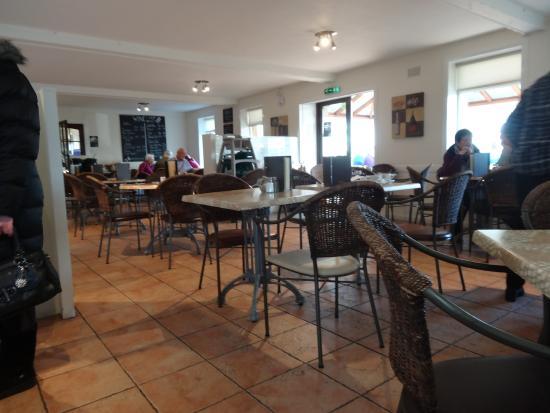 What is it?
Cafe within Dobbies at Turfhills, Kinross. we were driving to Glasgow and decided to pop in here for breakfast.
First impressions?
Spacious, light-filled conservatory area, as well as a large main restaurant. A pleasant member of staff showed us to a table.
What did you have?
Dad had the full Scottish breakfast (£8.50), Mum opted for French toast American style dusted with icing sugar and served with maple syrup and streaky bacon (£5.95) and our son asked for a pancakes and maple syrup at £4.95. With drinks the total came to a little over £25.
Much of a wait?
The drinks appeared quickly and the food arrived about 10 minutes later. It was about 10am and the cafe was quite busy – obviously a popular stop-off for regulars and travellers alike.
How was the food?
The full breakfast – sausage, bacon, fried egg, beans, tomato, and potato scone, toast and jam – was just what was needed on a chilly winter's morning. It was all declared very tasty and great value for money. The only downside was the bacon could have been a bit crispier but that was just personal preference. The meal also came with a fresh orange juice and a filter coffee, included in the price. The French toast was absolutely delicious and melt in the mouth, and the pancakes and maple syrup went down a treat. There's also a great selection of meals for lunch and yummy looking cakes for afternoon tea.
Good for kids?
There's a nice kids' menu and the garden centre is full of lovely gifts and toys for children.
Good for the rest of the family? 
It's a great good value menu and a perfect stop-off if you're on a long journey. The staff were really friendly and welcoming. The only downside was that because the floor is tiled and the tables are wrought iron and mosaic, it was rather chilly, especially on a January morning. We found a table near a heater but were still cold which took the edge off the enjoyment of our meal. The garden centre is dinkier than many Dobbies but a treasure trove of goodies and well cared for plants and shrubs.
Would you go back?
Definitely. Next time we're on the way to Glasgow, we will make a special stop here to sample more of the menu.
Score: 4/5
Contact: :Le Jardin, Dobbies Garden Centre, Turfhills, Kinross, KY13 0NQ. T: 01577 863308. W: www.cafekisa.co.uk