Rachel, husband Chris and her brother-in-law Andrew run Ballintaggart Farm in Perthshire
Sunshine
The recent sunshine has been such a blessing and we have enjoyed lots of time in the garden. We have revelled in homemade al fresco breakfasts of granola or sourdough with lashings of butter and blackberry and gin jam and been kept busy watering our raised beds and new herb garden daily. We've also been creating simple evening menus for our family and friends – sausages, garlic and bay marinated lamb and homemade burgers with dandelion potato salad and pretty violas, home-grown peppery nasturtiums and the first of our mizuna and rocket leaves with herbs and chive pom pom flowers from the garden all finished off, between splashes in the paddling pool, with fluffy pavlovas. Scottish crème fraiche or yogurt, sprigs of mint and mountains of locally grown berries.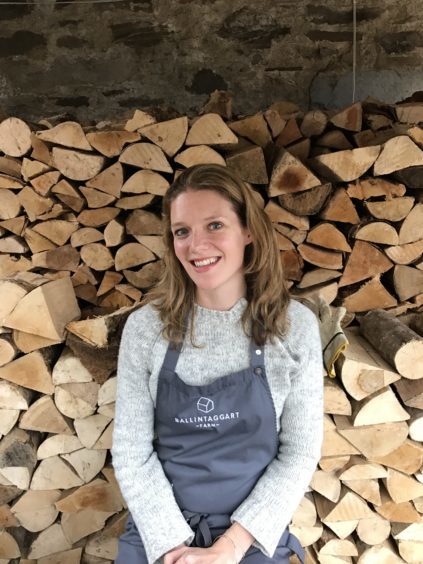 BBQ
The biggest seasonal treat has to be asparagus, vibrant and tender, served simply on our dinner menus – griddled with burrata and toasted almonds or as part of our new Sunday lunch menus in tarts and salads or as graceful sides. The bbq has seen at least a summer's worth of action too with marinated bavette steaks, stems of broccoli and even strawberries gracing the griddle in recent weeks. For pudding, the most popular choice has been our delicately infused gorse crème brulee with coconut macaroons and we have enjoyed foraging in the sun for the yellow blooms and the not-so-easy to spot St George's mushrooms too.
We eagerly anticipate sweet peas, gooseberries, beans, fennel. Spring onions and radishes too all growing well in our beds and hopefully in time for our summer feast here at the farm on June 16.
Music to cook to
The Greatest Showman soundtrack – uplifting and great for dancing round the kitchen or the garden to!
@ballintaggartfarm (Instagram)