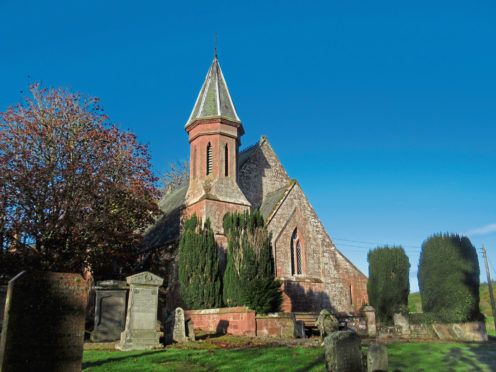 Built in 1859 on an elevated spot overlooking the River Isla, Ruthven Parish Church is very much the archetypal rural kirk, a beguiling wee red sandstone building adorned with octagonal bell tower and buttresses set in a graveyard of antiquated headstones.
Appearances, however, can be deceptive for it is a few years now since it last served as a place of worship but, rather than lie empty and abandoned, the building remains very much at the heart of the community, enjoying a new lease of life as a thriving village hall.
While the church may no longer be a church, there was little doubt what I would find across the river in Oak Wood, a mixed plantation with a healthy population of this venerable native species.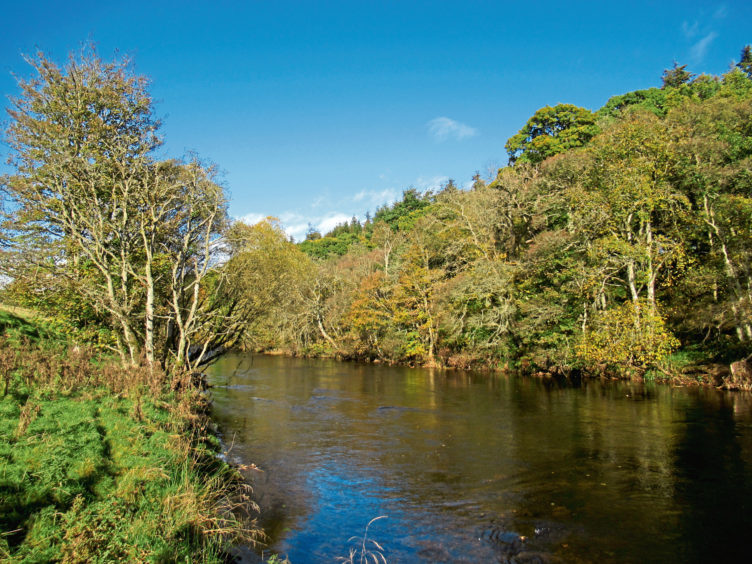 Setting off through the churchyard, past a pair of ancient carved crosses set into the west wall of the building, a grassy track led me up to the main road which I wandered down to cross Bridge of Ruthven, built in 1855 to replace a 17th century crossing, parts of which survive below the parapet. Care is required on the main road as the verges are slender and, in parts non-existent, but the traffic is forced to slow for the bridge.
Just up from the stone span, after the last house in the hamlet, a track branches left into a field, the grassy trail running along the lower margin to Oak Wood, the Isla coursing through a rocky defile down to my left.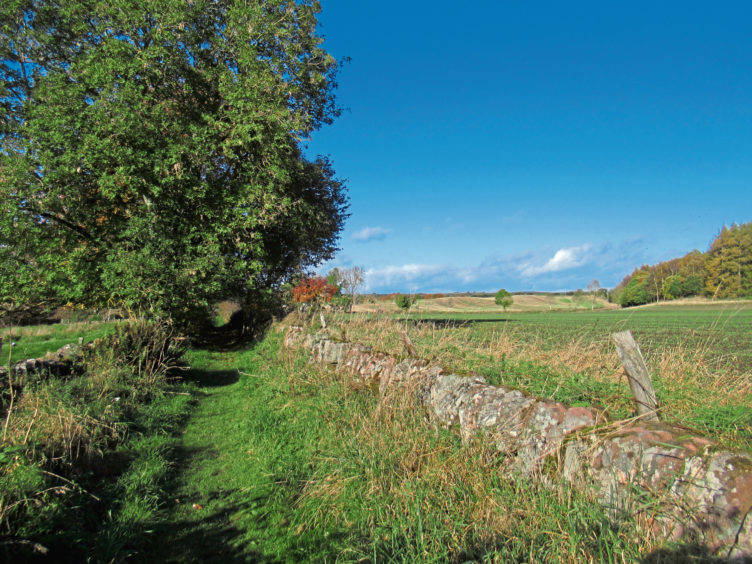 During the autumn, work was undertaken to thin out and harvest some of the conifers – predominantly larch and firs – and efforts are ongoing to restructure the woodland with the planting of native broadleaves. Oak is very much in evidence, particularly along the eastern fringe here and on the slope dipping steeply to the river.
Rising gently through the trees, the route enters an area of new planting and, skirting the edge of a fenced enclosure, a veritable feast of oak greeted me, leaves brushed by the golden palate of autumn drifting down on to brittle and broken bracken.
Morning sunlight filtering through the twisted branches and boughs, it was a delightful, enchanting scene.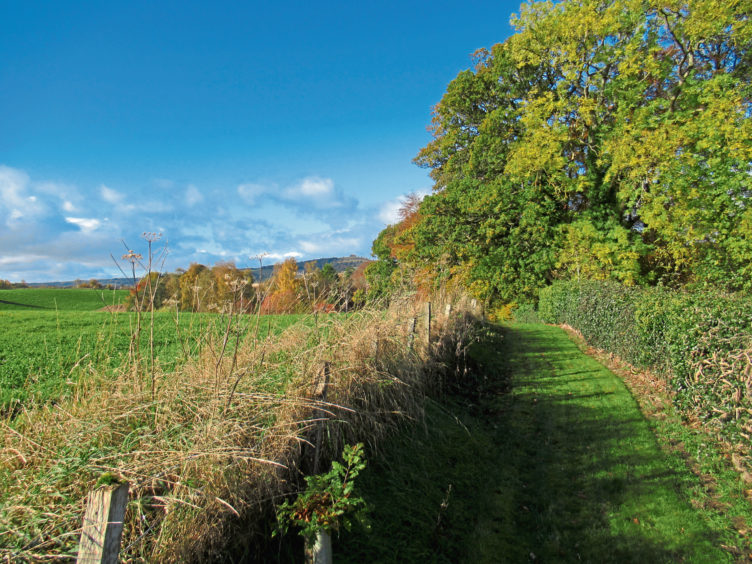 The forest may be enchanting today but for centuries it was an important local resource, the oak coppiced here was a source of timber and charcoal for the tiny, scattered parish of Ruthven.
The way curves on through the woods, meeting up with a grassy track that cuts across a clearing and climbs by conifers, ground to the east recently felled of its evergreens, affording views over the fields to the hills of Glen Isla.
Passing stacks of the axed timber awaiting loading on to lumber trucks, I hiked east to Dryloch before turning south along the quiet country lane, roaming between fields and plantations and carefully crossing the A926 as I tramped on to Islabank Farm.
Passing agricultural sheds, the way curves up between estate cottages, avoiding the grounds of Ruthven House but revealing a pleasant grassy trail running north through a band of mixed woodland.
With views across fields of stubble towards the now more distant channel of the River Isla, pheasants picking over the harvested ground, I meandered through the trees and between fields beyond, heading upstream, through the cluster of cottages at Balbirnie, back to Bridge of Ruthven.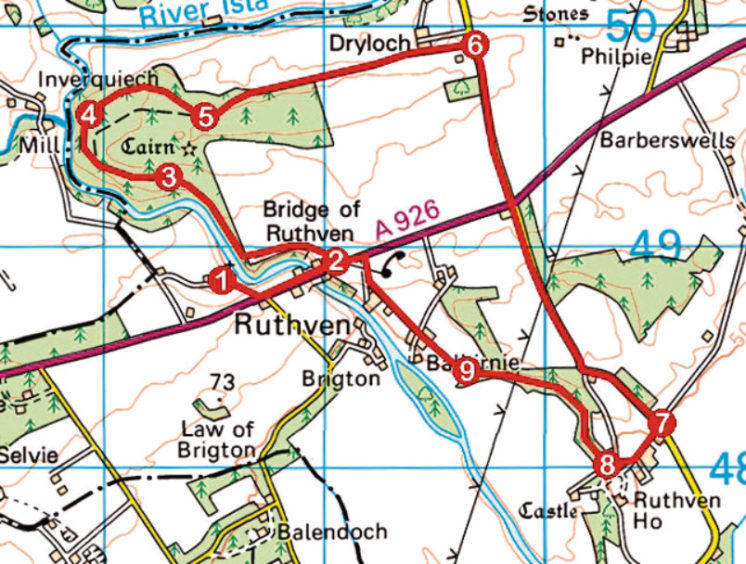 ROUTE
1. Pass through church yard, exit south gate and follow track up to A926. Go left along road, cross Bridge of Ruthven and continue 150m up road.
2. After last house on left, go left along field edge track to Oak Wood. Bear right, following path north through wood.
3. Where trail splits by fenced ground, continue ahead, fence running along the right-hand side of the path. Where fence ends, bear left.
4. Turn right, following grassy track through clearing. Approaching felled ground, bear right, ascending to junction.
5. Turn left and follow track east to meet road beyond Dryloch.
6. Turn right and follow minor road 2km south, crossing A926.
7. Turn right, following surfaced roadway past sheds of Islabank Farm, and, after hut, go right on track passing between cottages.
8. As track descends, branch right through gate, following woodland path north.
9. Exit woodland at gate and follow path then track north through Balbirnie to A926. Turn left and retrace steps to start.
INFO
Distance: 8.5km/5¼ miles
Ascent: 140m/460ft
Time: 2-3 hours
Grading: Easy, low-level route following woodland paths, tracks and minor roads. Stout footwear recommended and keep dogs on lead where signs request
Start/finish: Ruthven Community Hall (formerly parish church), accessed by minor road from Little Acre, 650m west of Bridge of Ruthven on A926 (Grid ref: NO 285488)
Map: Ordnance Survey 1:50,000 Landranger sheet 53; Ordnance Survey 1:25,000 Explorer sheet 381
Tourist Information: Dundee iCentre, 16 City Square, Dundee DD1 3BG (Tel 01382 527527)
Public transport: JP Coaches bus service 128 from Kirriemuir to Alyth stops in Ruthven (no Sunday service)