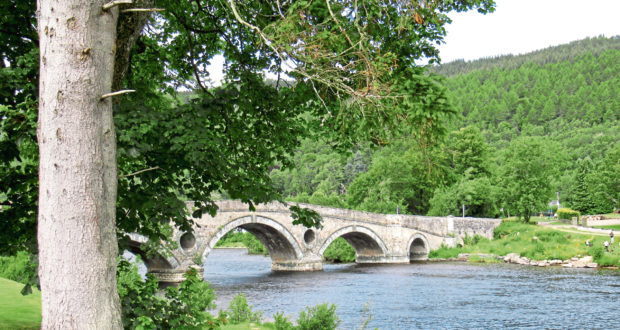 When Queen Victoria first visited Scotland in the autumn of 1842, she was initially less than impressed, describing the scenery of Fife as 'flat' and the mountains of southern Perthshire as 'rather horrendous', on her drive north from Edinburgh.
However, three days spent at Taymouth Castle, near Kenmore, exploring the hills and glens and rivers and lochs of Breadalbane, softened her outlook and she returned south, noting in her journal that Scotland was a 'really delightful country'.
While husband Prince Albert spent much of his time shooting during the stay at Taymouth, Queen Victoria was content to explore the countryside on foot, or pony, admiring the scenery and sketching.
One route she might have taken – now named Queen's Drive – crosses wooded slopes to the south of the castle, proffering spectacular loch and mountain views and leading ultimately to the Falls of Acharn, complete with hermit's cave.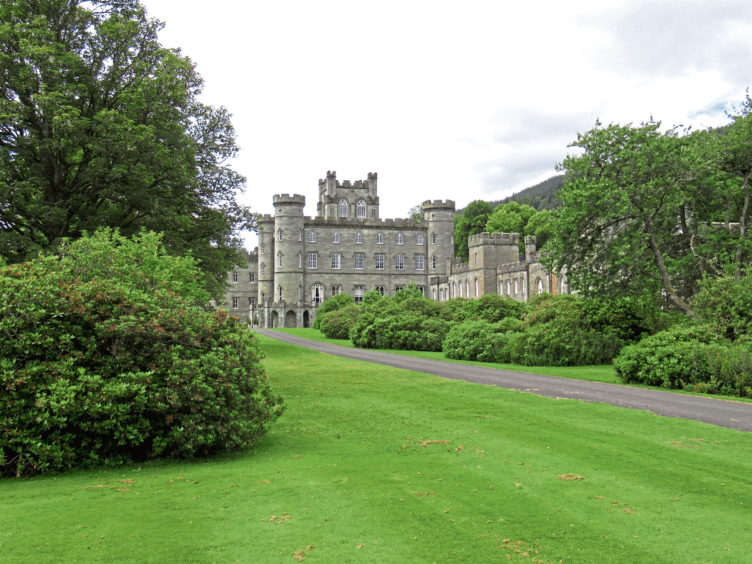 From 18th century Kenmore Bridge, at the eastern end of Loch Tay, a sheltered, wooded path follows the River Tay downstream to the castle.
Dating from the 1730s and built on the site of an earlier tower house occupying a bend in the river, Taymouth Castle has been significantly altered and extended over the years, serving as a hotel, wartime hospital and boarding school during the 20th century. More recently, it has been undergoing a lengthy restoration but remains an impressive edifice.
Skirting the adjacent golf course, the castle driveway rises to the East Lodge with its arched gateway beyond which a short tramp along the roadside verge led me to Croftmoraig Farm where there is a well-preserved stone circle.
A good track climbs steadily from the farm, passing through bands of woodland and crossing open pasture above Appin of Dull and the River Tay to reach a remote cottage at Tullichuil.
Turning west here, I joined the Rob Roy Way, a long-distance trail linking Pitlochry with Drymen, in Stirling, and followed it through the forestry plantations and mixed woodlands of Bolfracks Estate.
I am not sure whether this section of the route constitutes part of the Queen's Drive but, leaving the trees, the vista over Loch Tay to Ben Lawers in the west and north to distant Schiehallion would unquestionably have received the Royal seal of approval.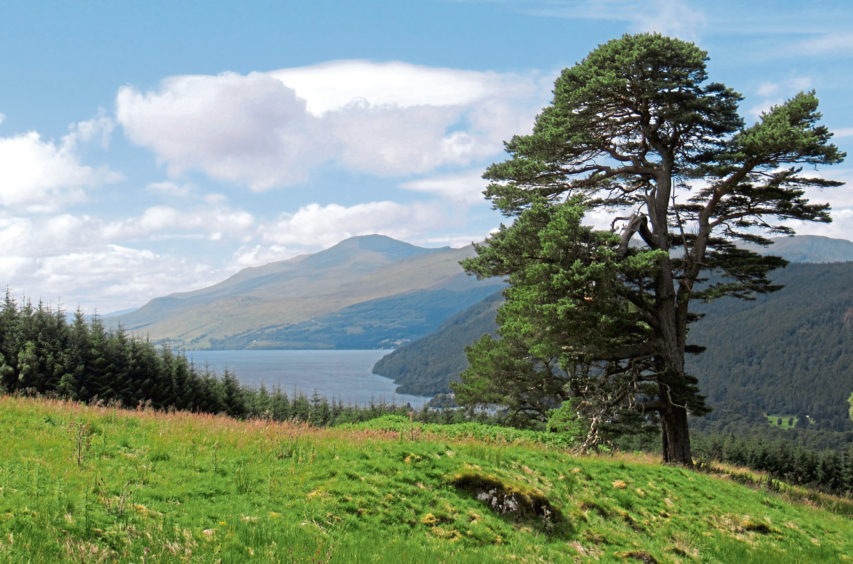 Spotting Taymouth Castle below me, I dipped back into woodland briefly, emerging to cross open hillside, the track climbing to Tombuie Cottage where I joined the single-track road descending to Kenmore.
This steep, slender strip of asphalt offers a short cut home but, part way down, what is officially regarded as Queen's Drive branches left, an unmissable stroll through woodland and over fields and meadows sloping down to the rippling southern shoreline of Loch Tay.
Maintaining its modern-day connection with the Rob Roy Way, the regal route runs west, crossing Remony Burn and then, beyond Queen's Wood, Acharn Burn.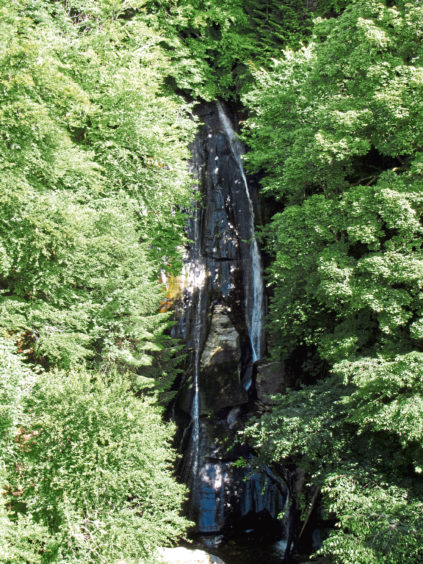 Wandering downstream, the way crosses the burn before descending to Hermit's Cave, a wee subterranean passage leading to a viewing platform overlooking the long, slender white tails of Falls of Acharn.
The cave is pure folly – dating from the late 18th century – and while bard Robert Burns and poet William Wordsworth and his sister Dorothy are known to have visited the falls, there is no real evidence they enjoyed Royal patronage, although that does nothing to detract from their scenic majesty.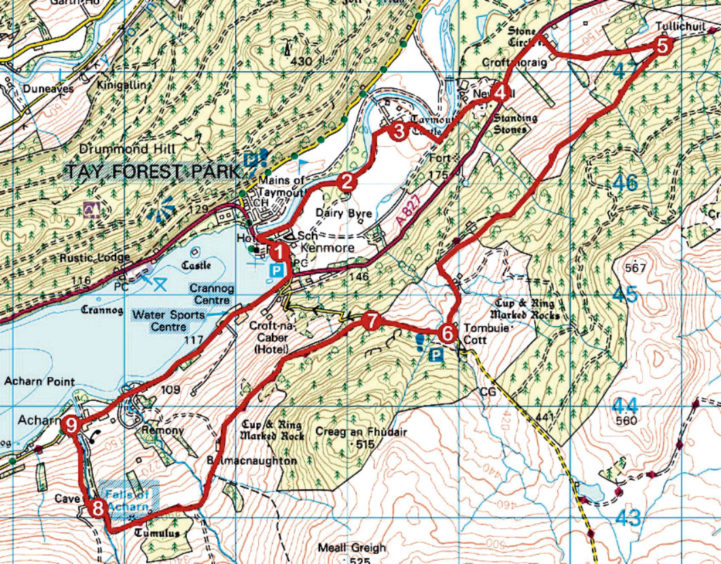 ROUTE
1. Follow Aberfeldy Road (A827) through Kenmore to Kenmore Bridge. Ahead of bridge, go right between stone gateposts then turn left immediately on arrowed path leading east along bank of River Tay.
2. Ascend to join estate road and go left to Taymouth Castle.
3. Pass front of castle and swing right at next junction, following driveway over bridge then left up to meet A827 beyond gate lodge.
4. Turn left and walk 600m along A827 to Croftmoraig Farm. Turn right and ascend track to junction at Tullichuil.
5. Turn right (signed Kenmore) and follow Rob Roy Way south-west to meet road at Tombuie Cottage.
6. Turn right (signed Kenmore) and walk 750m down road.
7. Branch left (signed Acharn) and follow Queen's Drive/Rob Roy Way south-west to Acharn Burn.
8. Swing right and descend to cross burn. Continue down, past Hermit's Cave and Falls of Acharn viewpoint, to Acharn.
9. Turn right and follow minor road to Kenmore.
INFO
Distance: 16km/10miles
Ascent: 380m/1250ft
Time: 4 hours
Grading: Moderate route following good tracks and paths through woodland, over open hillside and across farmland with some sections of strenuous ascent and two short stretches of road walking. Keep dogs under close control/on the lead where signs request
Start/finish: Public car park on Pier Road, Kenmore (Grid ref: NN 773453). £3 Pay and Display parking charge
Map: Ordnance Survey 1:50,000 Landranger sheet 52; Ordnance Survey 1:25,000 Explorer sheet 379 and OL48
Tourist Information: Perth iCentre, 45 High Street, Perth PH1 5TJ (Tel 01738 450600)
Public transport: Sweeney's Garage bus service 91 (Mon-Fri) from Aberfeldy to Kenmore