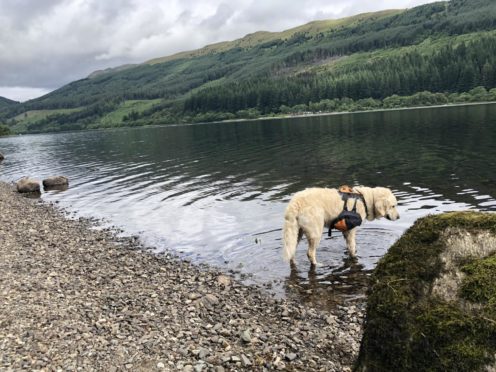 With foreign holidays cancelled by coronavirus, 2020 is an opportunity to explore closer to home. Jack McKeown and his dog Bracken follow in the footsteps of Scotland's most famous outlaw when they walk the Rob Roy Way.
No one would argue 2020 has been a difficult year. One of the silver linings of Covid-19, however, has been getting to know my immediate area better.
During the first few months of lockdown my golden retriever Bracken and I explored places within five miles of Dundee that I'd never been before. Old streets in Dundee, the hills around Wormit, Tay trails near Balmerino, new routes in the Sidlaws and, once the limit increased to 10 miles, the riverside path from Errol to Port Allen.
It made me realise what a glorious part of the country we live in – and whetted my appetite for more exploring.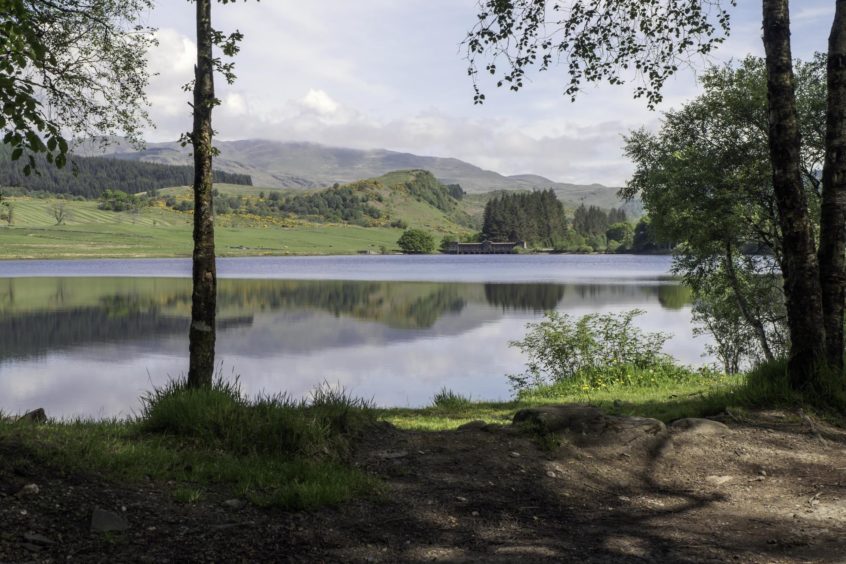 Chancing a foreign holiday felt like too big a risk so when lockdown eased I decided to tackle one of Scotland's long distance trails. My initial thought was the Great Glen Way from Fort William to Inverness but there was a dearth of dog-friendly accommodation along that route and I didn't fancy carrying a tent and sleeping bag on my back. I wanted a holiday not a military try-out.
The Rob Roy Way starts in the Stirlingshire village of Drymen and winds its way along country lanes, forest trails and over mountainsides until it crosses the Tummel and deposits you in Pitlochry, 79 miles later. Although loosely inspired by the wanderings of Rob Roy, in reality it is an exploration of some of the southern Highlands' finest scenery.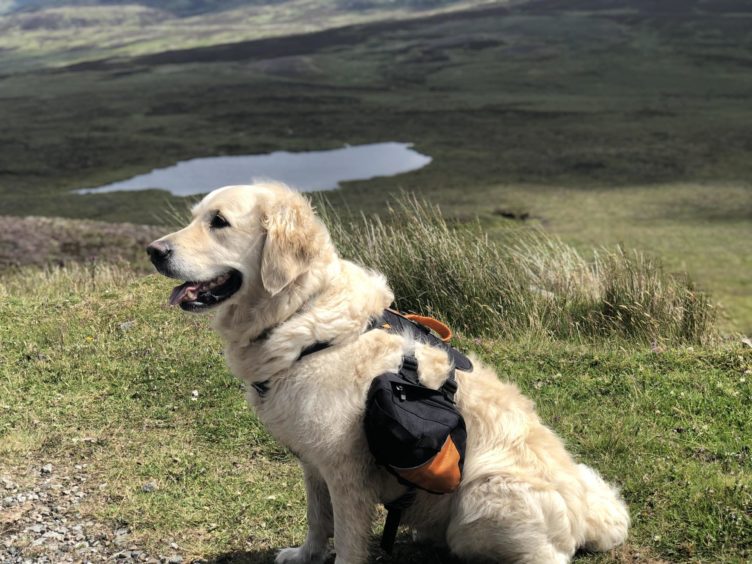 It's recommended to take between five and seven days but I decided to tackle it in four. Unfortunately it couldn't be spliced into four equal distances with dog friendly accommodation so I was faced with a 21 mile day, 22 miles, a beastly 27 mile stretch, then an easy nine mile final day from Aberfeldy to the finish line at Pitlochry.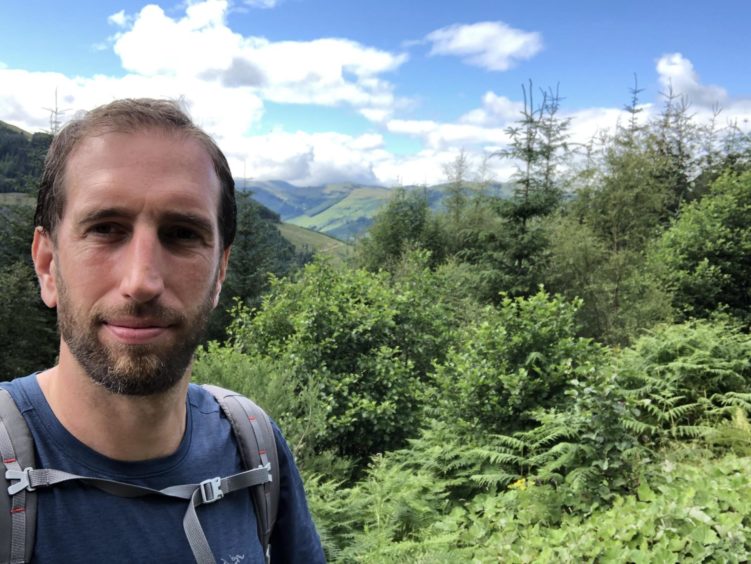 After being dropped off on a Tuesday evening by my other half, Bracken and I woke to a wet Wednesday morning. The rain was lashing down outside and it was going to be a soggy first day.
I travelled as light as possible, with my gear fitted into a 35 litre backpack. A couple of changes of clothes, snacks, two litres of water, a small washbag, a travel towel for cleaning Bracken and a book were stashed in there. And a hipflask with a few drams of the Balvenie.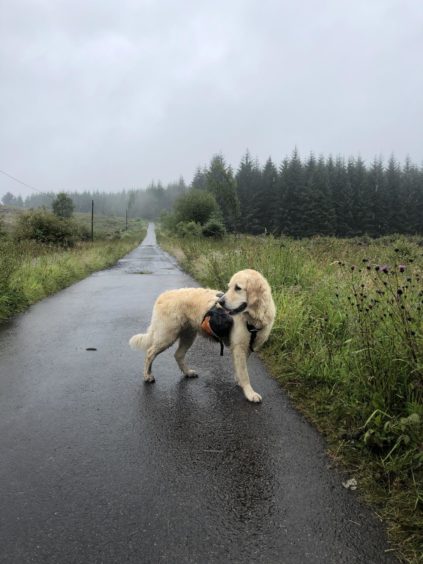 I also brought a doggy backpack for Bracken – dubbed the Brackpack. This was the first time she'd done a long distance, multi-day walk, and she is nearly six years old, so I didn't want to overload her, but she carried poo bags, treats, a folding water bowl and, when necessary, her own bagged-up poo.
I had a couple of bags of dog food in my pack but I couldn't fit four days' worth in so I relied on the generosity of hotel staff. This was given out in spades and Bracken was presented with no fewer than five sausages by the chef at the Drymen Inn on the first morning. I let the delighted dog scoff three of them and wrapped the other two for a lunchtime snack.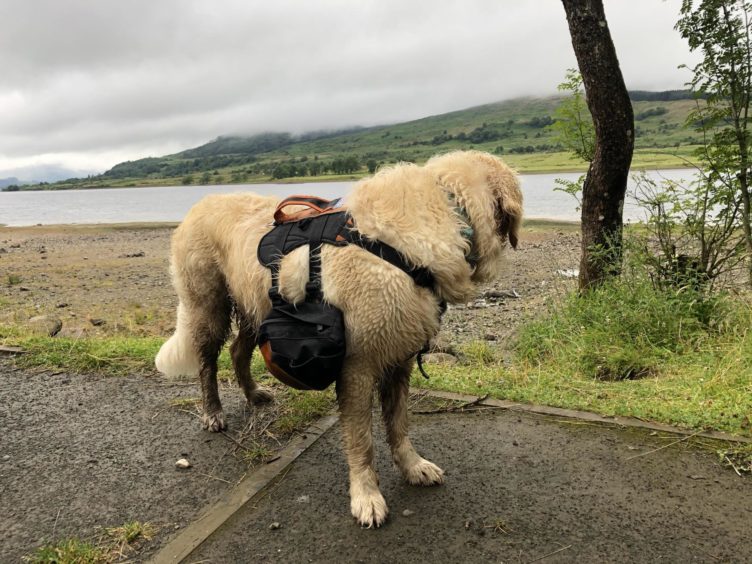 We set off into a steady drizzle that would hold up until the end of the day. Fortunately I'd brought waterproof trousers and jacket, and Bracken is weatherproof so we were both quite happy.
The first few miles of the Rob Roy Way meander along quiet country lanes and crosses Scotland's most famous long distance route, the West Highland Way, where it enters Garadhban Forest.
After four miles the road delved off into Lochard Forest and I began to truly settle into the walk. There's something quite special about hiking in wet weather. The trees muzzle the sound of the rain, mist hangs in the air, and you have the world all to yourself.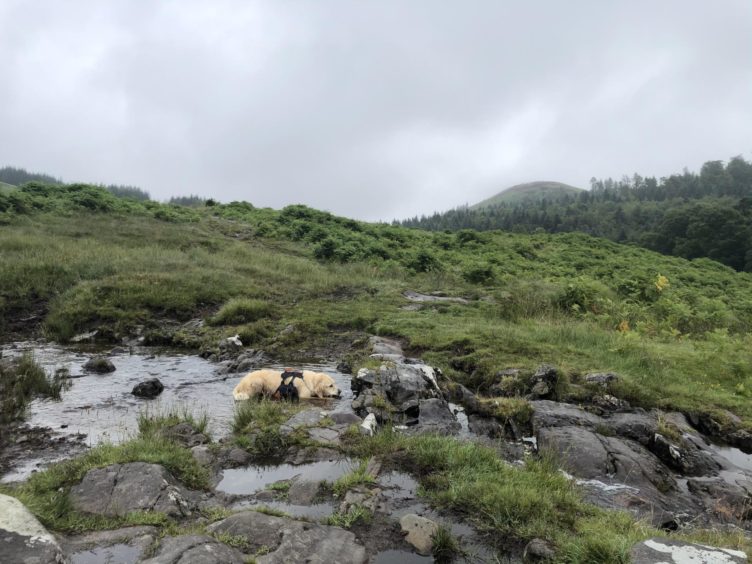 Of course, hiking in nice weather is better, and I would be glad when the sun showed its face again. Lunch was had in the pretty little town of Aberfoyle – a chicken burger for me and two cold sausages for Bracken – before we struck out into the Menteith Hills towards Callander.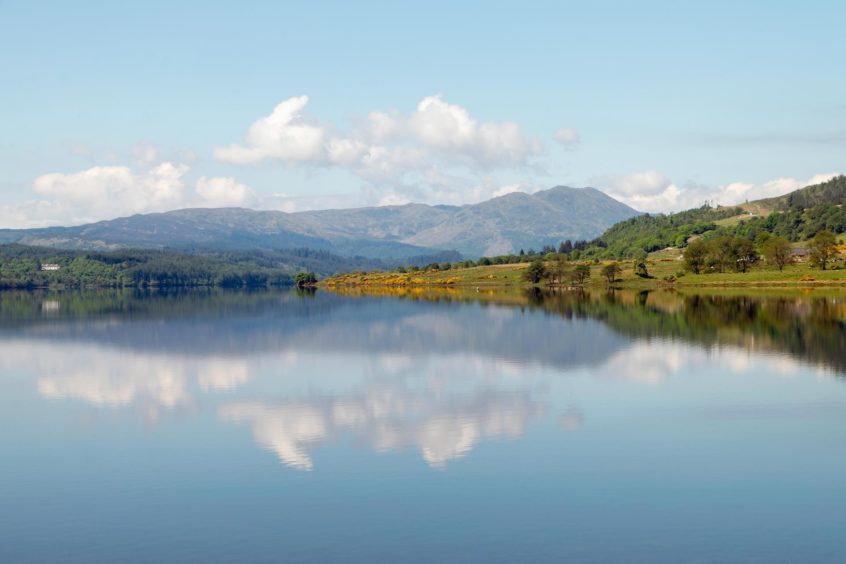 This is where the scenery truly begins to get special. A long ascent through forest, made a couple of miles longer by me missing a turnoff, brought us to a plateau with a fine view down towards Loch Venachar. The path descends to the water's edge and a lovely loch-side walk then another stretch of woodland carried us to a bridge over the River Teith and on to Callander's high street. My map reading mishap had increased our day's distance to a little over 23 miles.
A quick shower and change, a meal and two pints and I was fast asleep in bed before 10pm.
Sunshine streamed in my window the next morning. The seemingly relentless drizzle had abated and sunshine and cloud would accompany me for the rest of my journey.
Filled with sausages we set out from Callander, our destination Killin, 23 miles distant.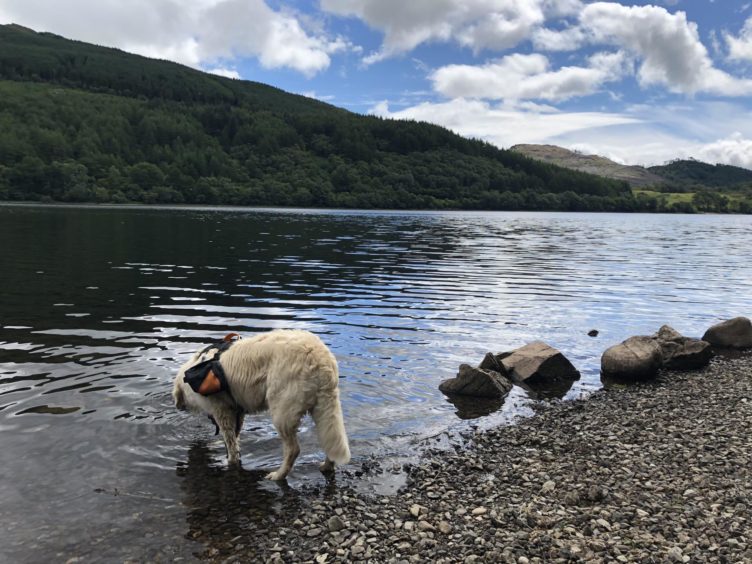 For most of this section the way follows National Cycle Route 7, a 547 mile route from Sunderland to Inverness that takes in two national parks and is now on my list of future adventures.
From Callander it meanders through open countryside then beside a river through some woodland until it hits the shores of Loch Lubnaig. This is a beautiful stretch and there are plenty of places to scramble down to the water's edge. I stopped to bathe my feet while Bracken enjoyed a paddle and lapped up some loch water.
After passing through the scenic Victorian village of Strathyre, the Rob Roy Way leaves the cycle route and pushes through old woodland onto Forestry Commission hillside. It rejoins Route 7 at Monachyle Mhor – formerly the Kingshouse Hotel – and branches left just before Lochearnhead for another of its most scenic sections.
An old railway bridge towers at least 100 feet over the valley below. Half an hour of strenuous climbing later the bridge itself was just a speck laid out below me. I gazed out over the pretty village of Lochearnhead and across the expanse of Loch Earn itself before turning my back on the vista and heading along the Glen Ogle viaduct.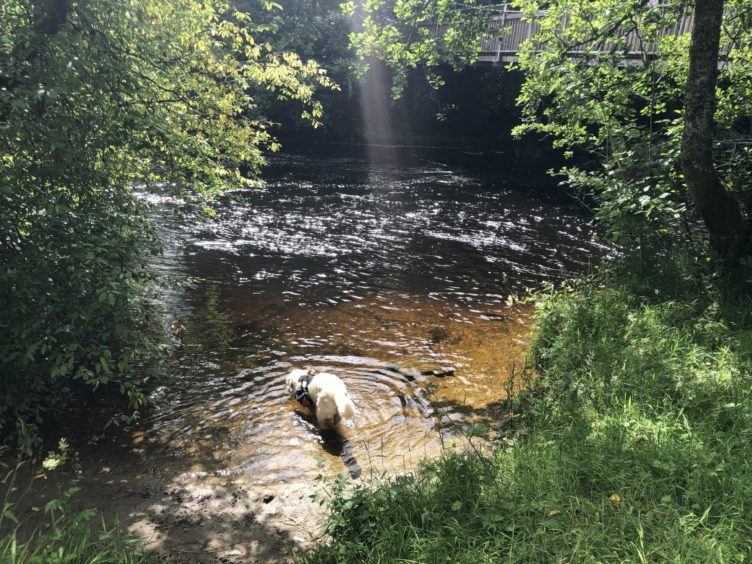 Following the route of a defunct railway line, the trail runs along the eastern hillside and has striking views of the valley below and the mountains opposite. After crossing the A85 a few miles of pleasant woodland path bathed in evening sunlight brought me to the Falls of Dochart and Killin. Surely one of Scotland's most beautiful villages, Killin sits on the spur of land where the rivers Dochart and Lochay meet and flow into Loch Tay.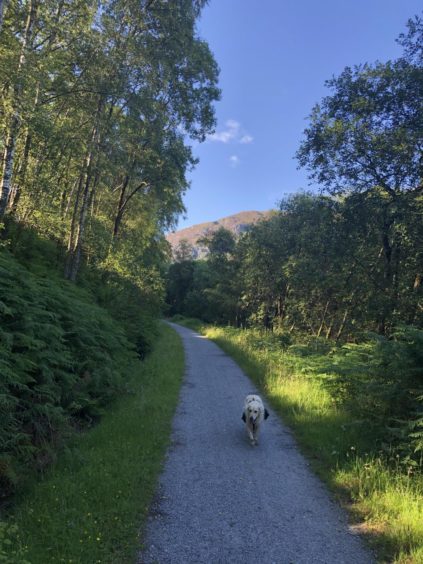 We had walked not far shy of 50 miles over two days and the thought of a cold beer was all that kept my sore feet moving in the final hour. I kept Bracken fairly close all day so she didn't tire herself out but once we were past 20 miles I let her do what she liked and she happily dashed off into the trees in pursuit of some rabbits. So far she's handled the distances much better than I have.
A terrific meal at the Killin Hotel, a refreshing beer, a glass of wine and a whisky – don't judge me – later and I felt a whole lot better. Which is just as well as the next day looked to be the most challenging yet.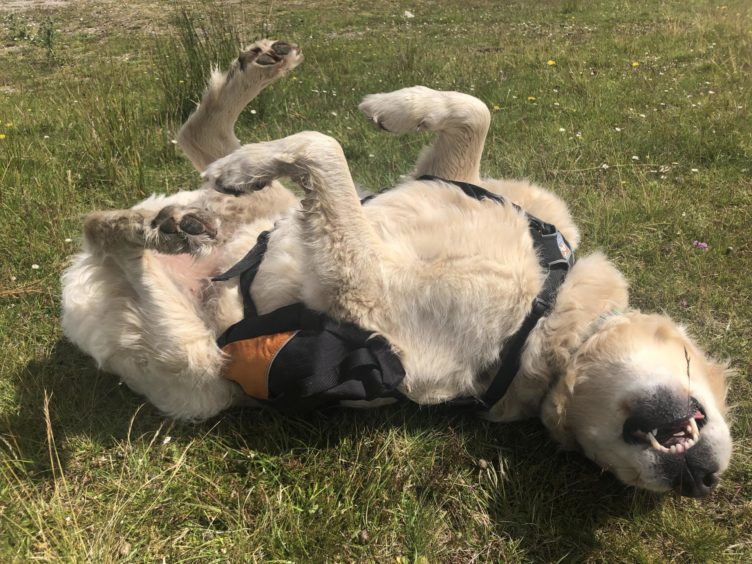 I had booked my accommodation before my Rob Roy Way arrived so I was aware of the distances but had forgotten one thing – hills. When I pored over the contour lines I saw an awful lot of them. At the same time as walking 27 miles I also had to climb and descend more than 3,000 feet along the hills above Loch Tay.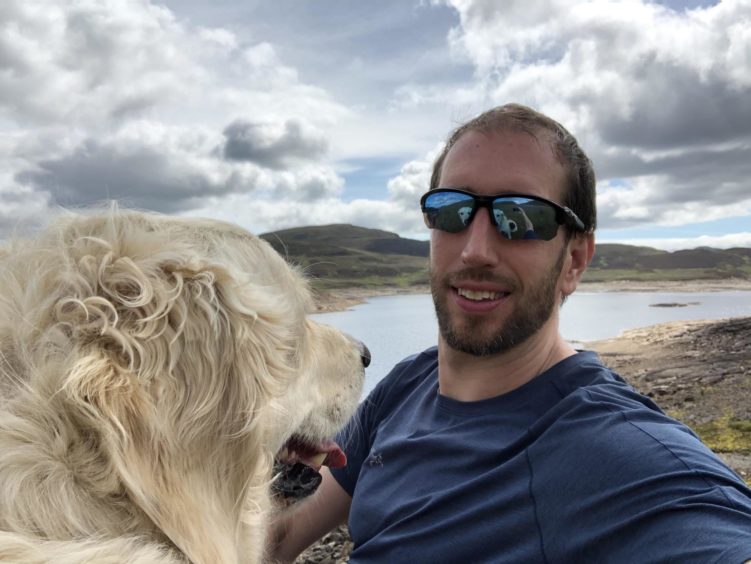 This proved impossible. Between setting off from Killin at 10am and sitting down at 6pm I walked a little over 20 miles and reached the village square in Kenmore, from where I got a taxi the last six miles to Aberfeldy. I can't tell you how good it felt to be sitting in a pub at 7pm enjoying a pint of Schiehallion and a look at the menu, instead of still slogging away on the trail as I was 24 hours previously. I didn't feel any guilt about skipping a few miles. I've walked this section before and, besides, this was a holiday and I could do what I like.
The final day. Seventy miles down and just nine to go. That called for a lie in and a languid breakfast in the superb Habitat café, and it was nearly 11.30 before we got underway. Just outside Aberfeldy a fantastic path dips away from the road and follows the contours of the River Tay for a few miles. It was a warm, sunny day and I was in no particular hurry so I spent a happy few minutes on a peaceful stretch of riverbank doing nothing more strenuous than watching the water flow by.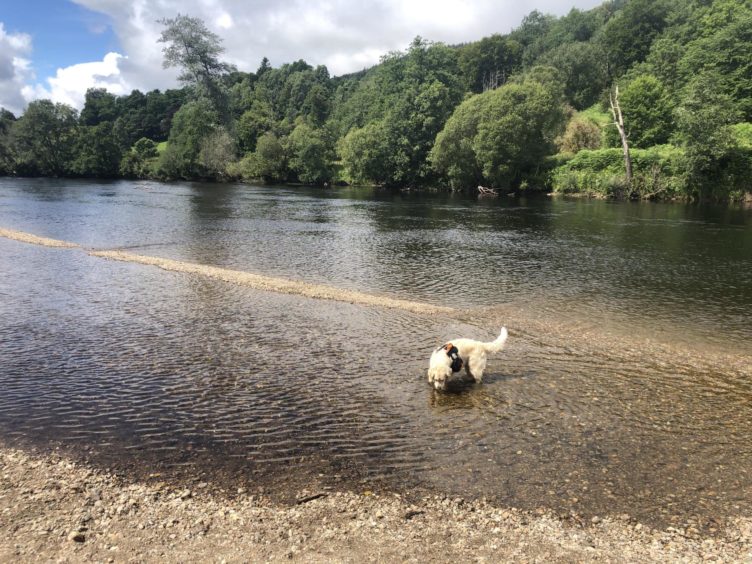 Eventually the path pulls away from the river, running along the route of an old railway until it reaches Strathtay. From here, it was the final push up and over the hill that divides the Aberfeldy and Pitlochry valleys.
Two hours later my girlfriend discovered Bracken and I sprawled on a park bench in Pitlochry, both on the verge of nodding off. For us the war was over.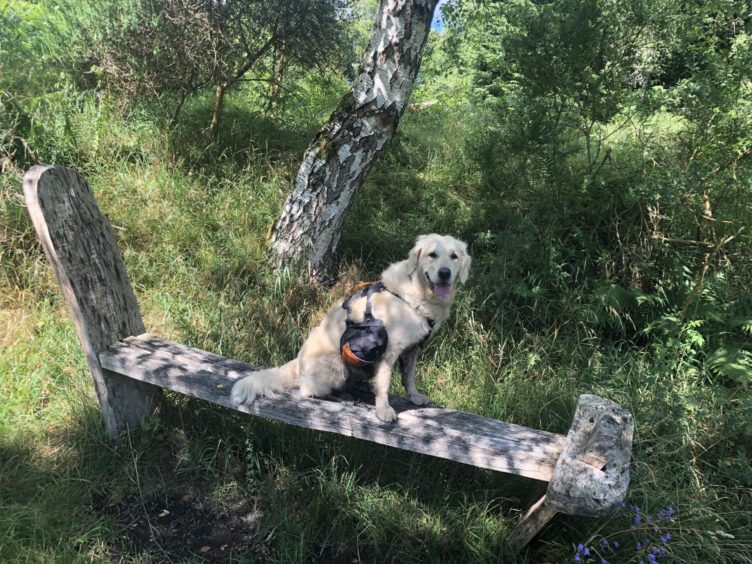 It had been a fantastic few days exploring some of Stirlingshire and Perthshire's most wondrous scenery and there are so many places I want to return to and explore more thoroughly.
As I write this back home in Dundee, Bracken's asleep on the carpet beside me. Her paws are twitching away and little yelps and whimpers keep escaping from her. My guess is she's dreaming of being back on the trail again. I'm looking forward to our next adventure too.