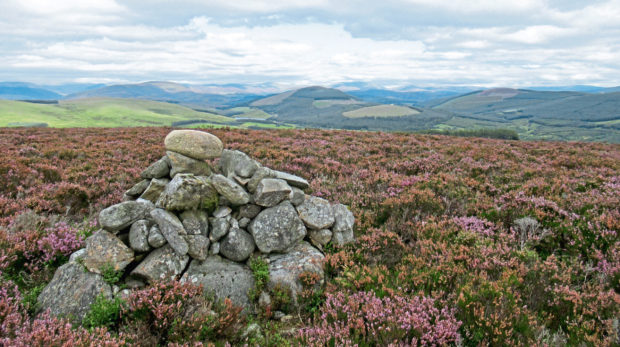 Hiking established trails and well-walked paths safe in the knowledge there should be no obstacles along the way inspires confidence and offers a comforting level of safety and security when exploring the great outdoors.
There are days, however, when I enjoy branching off the beaten track, studying maps and aerial photographs to find potential routes in out of the way places that may or may not translate well on the ground.
Some flounder in impenetrable forestry criss-crossed by frustrating fences, are washed out by bridges lost to streams in spate, or simply get entangled in the stinging nettles and prickly thistles of overlooked and overgrown paths.
Fortunately, other trips are more successful – and satisfying – and my ascent of Druim Dearg via Broom Hill over a route with a rather macabre history was one of these.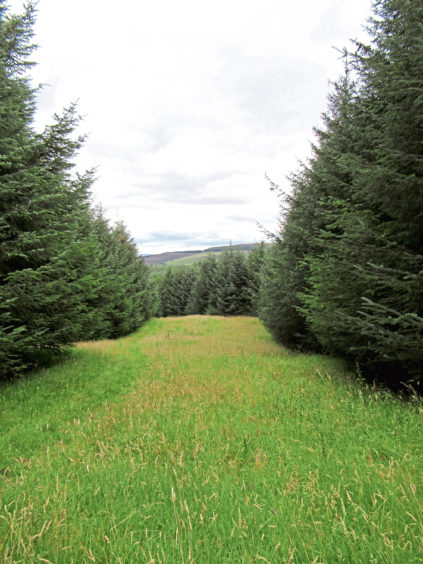 The 453-metre high peak is a potentially easy hit, the summit only 400 metres from the nearest road, a half hour there and back hike were I in a hurry. But as hurry is not something I tend to do in the hills, I set off a couple of kilometres to the south, from a layby on what feels like one of the most remote roads in Angus, the single-track Kilry to Brewlands Bridge byway.
A gravel road led me to the base of Broom Hill where I spotted, pinned to a fence post, a ScotWays (Scottish Rights of Way and Access Society) waymarker arrow, a promising sign I would find a way through the trees cloaking the peak.
A little research revealed I was travelling an old coffin road, a route over which the folk of Kilry and the surrounding glen carried their dead to the church and burial ground in Kirkton of Glenisla, perhaps as far back as the 17th century.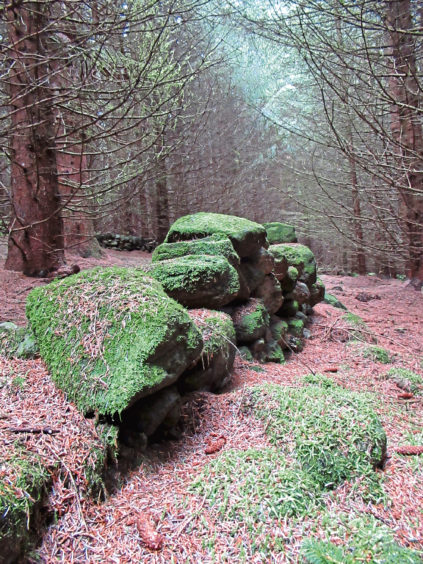 It must have been quite a challenge for the pallbearers as the road, now a grassy path cutting through a break in the conifers, climbs steadily, passing over the unmarked summit of Broom Hill before descending to a broken gate.
The next section rather moist underfoot, I trotted down to a spindly observation tower where the modern-day forest track swings right. The coffin road continues dead ahead, tunnelling through the conifers.
Hidden amid the trees, there are moss-encrusted walls and the remains of long abandoned enclosures and steadings lost when the forest was planted.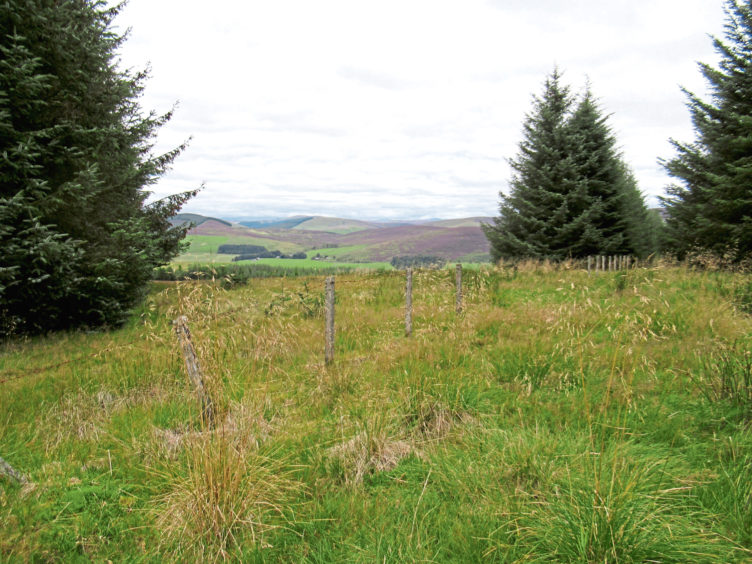 Crossing a track higher up, the coffin road soon emerges from the confines of the established plantation on to more recently felled and replanted ground where views open out across Glen Isla.
While the old route progresses north, descending over moorland to cross the River Isla by a suspension bridge dating from the 1820s, around the same time as the kirk was rebuilt in its present form, I branched left at the next junction, a track ascending between ranks of young conifers to a mast perched atop Druim Dearg.
The summit cairn sits on the other side of a high fence, but I managed to duck through this and, from this heathery vantage point, I was treated to a magnificently mountainous vista.
A track laid to service the mast dips west to a locked gate and, after clambering over this metal barrier, I follow the fence down to another gate before crossing the moor to meet the road home.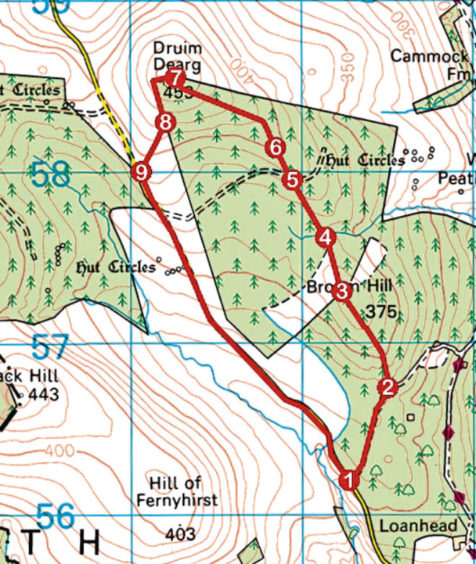 ROUTE
1. Cross road and walk 600m north along track leading to Scruschloch.
2. Branch left at Scotways arrow marker and ascend grassy path north-west through break in trees to summit of Broom Hill then descend to broken gate in old fence.
3. Continue ahead (north), descending heathery, often marshy, path through break in trees to junction below scaffold tower.
4. Ignore track branching right and continue ahead, ascending path through trees to meet track.
5. Cross track and continue ahead, ascending to edge of established plantation
6. Progress ahead to next junction, turn left and ascend track through more recent planting to mast on top of Druim Dearg.
7. Descend track west to exit plantation at gate. Go left along fence line, descending to another gate.
8. Bear right and follow rough track over moor to road.
9. Turn left and follow road back to start.
INFO
Distance: 6.4km/4 miles
Ascent: 170m/560ft
Time: 2-3 hours
Grading: A moderate upland hike over low hills, the route follows sheltered tracks and paths through forestry, generally well-graded ascents rising to a viewpoint summit, before returning along a minor road
Start/finish: Layby 1km north of Little Kilry on the single-track Kilry to Brewlands Bridge road, Angus (Grid ref: NO 222561)
Map: Ordnance Survey 1:50,000 Landranger sheets 53; Ordnance Survey 1:25,000 Explorer sheet 381
Tourist Information: Dundee iCentre, 16 City Square, Dundee DD1 3BG (Tel 01382 527527)
Public transport: None