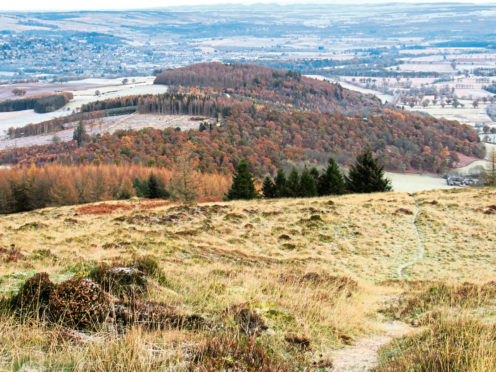 Torlum is a wee hill to the west of Crieff, prominent enough to both present a reasonably challenging day out and offer some marvellous views from the top, once the trail clears the trees.
Forest tracks on the eastern flank afford uncomplicated access, although there is little in the way of parking at the base of the peak so I chose to start in the Perthshire town and approach via a lower but no less interesting top – Knock Mary which, peaceful today, has a bloody past.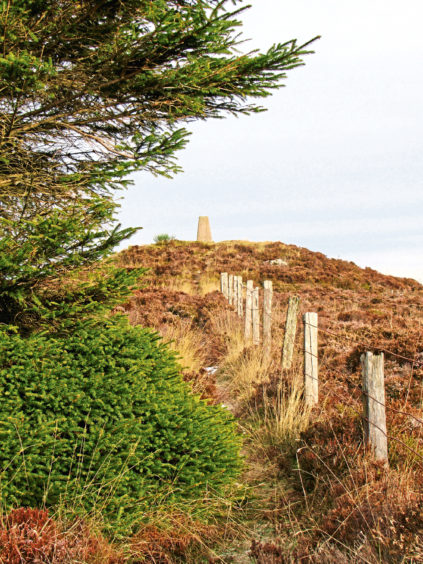 The public car park in Union Terrace is a convenient place to begin but, wherever you don your boots, all roads lead first to the A822 which heads south to the River Earn and over 19th century Crieff Bridge.
Once across, the second road on the right – Alichmore Lane – is the gateway to open country, rising past new and under construction housing to meet a path that skirts the edge of pony paddocks before climbing by woodland to a junction.
Swing right here across the top of the pasture and, beyond a couple of stiles, the way enters a band of mature trees, popping out by the steading at Newbigging to continue along the northern field edge, where I spotted roe deer grazing.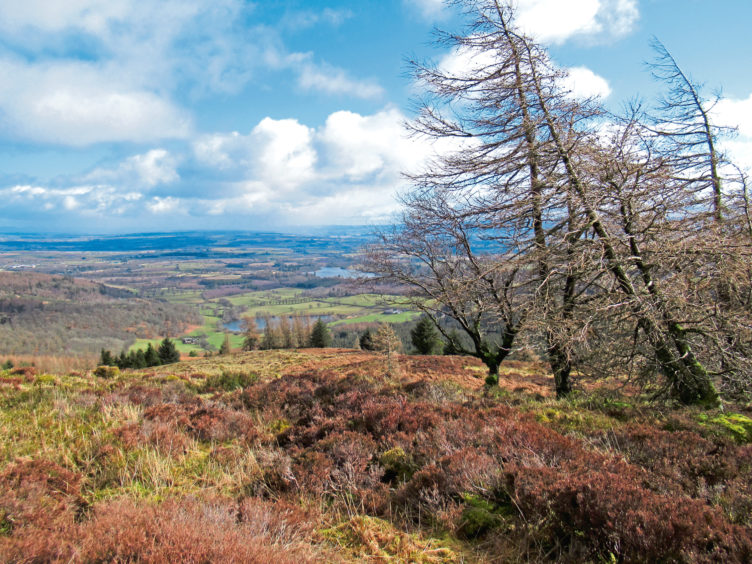 Knock Mary rises abruptly ahead, a steep track climbing through deciduous trees then pine and larch, past an aerial mast, to the top of this shapely round hillock.
It was the scene of a clan battle (the date of which varies from 1490 to 1511) between the Drummonds, of Strathearn, and Murrays, from Ochtertyre, over cattle taken from the Drummonds to settle a debt. Joined by warriors from the Clan Campbell, the Drummonds won the fight, forcing their enemy to flee.
Licking their wounds, the Murrays took refuge in the kirk at Monzievaird, a few miles to the north, but the Campbells, heading home to the Highlands, massacred them, setting light to the church and burning to death all inside.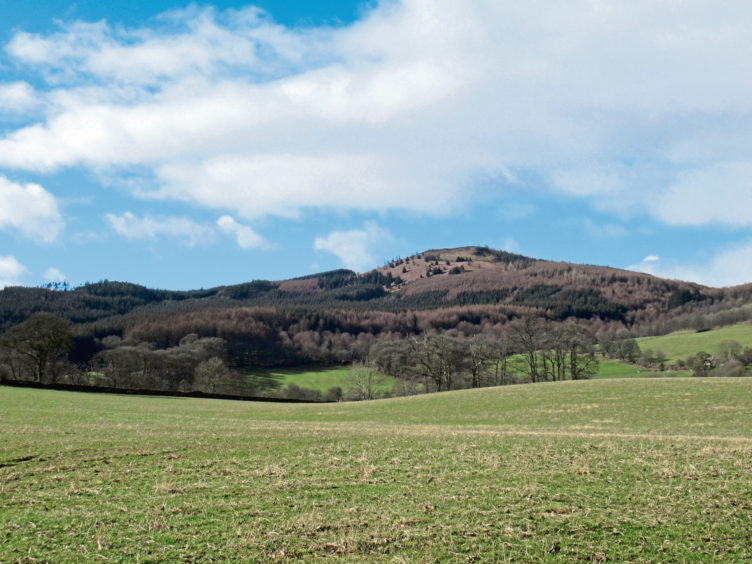 Thankfully debt management is less brutal these days and, with the woodland quiet but for the birds and an occasional scampering squirrel, I descended Knock Mary and tramped a track west to meet the rural road leading south to Drummond Castle, ancestral home of the victors.
Descending between mossy walls and old oaks, I followed it as far as Balloch Cottage where I found my access point to Torlum Wood and, above the trees, the top of Torlum.
A trio of roughly parallel tracks climb from the roadside gate through the plantation (I opted for the most southerly as it is the most straightforward), all converging by a high metal gate from where a single gravel strip weaves up to a second high gate.
Here the outlook becomes more open, the trail snaking through airy Scots pine and larch on to open, bracken and heather-clad hillside, an obvious path branching left, the final stiff ascent to the summit.
The top of Torlum is marked by a trig point perched atop a wee mound and from here, I spied the still snowy flanks of Ben Chonzie and Auchnafree Hill to the north.
To the south, the view extends over Loch of Balloch and Pond of Drummond towards the distant Ochil Hills while Knock Mary immediately below leads the eye to Crieff and the road home.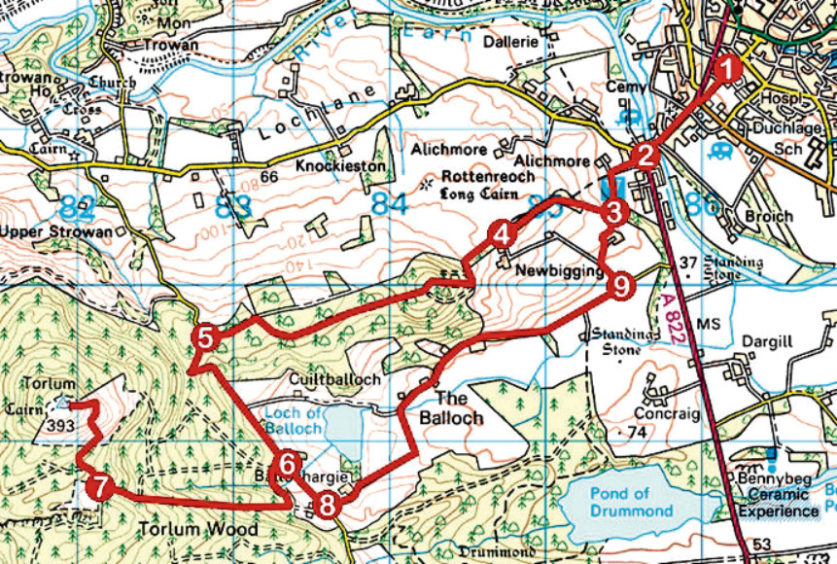 ROUTE
1. Go right along Union Terrace then left along A822 to cross River Earn.
2. Go right (signed Muthill), along Alichmore Lane, to junction. Turn left (signed Crosshead), progressing through kissing gate and up by woodland to junction.
3. Turn right, along top of field, to enter woodland at stile and bear right along path.
4. Exit woodland and continue ahead along field edge to gate. Go through gate, take second track on right, ascending over Knock Mary and continuing west to meet road.
5. Turn left and descend road to Balloch Cottage.
6. Turn right into forest, passing round gate. Go left at next junction then, in 300m, turn right and ascend track to metal gate. Go through gate and continue up to second metal gate.
7. Go through gate, turn right and ascend track through woodland on to open hillside then branch left, ascending path to summit. Return to point 6 and go right, along road.
8. Turn left (signed Balloch) and follow minor road 2.5km east.
9. Go left up track (signed Crieff) and fork right to farm. Go left around back of steading, pass through small wooden gate and cross field to point 3. Retrace steps to start.
INFO
Distance: 16km/10 miles
Ascent: 600m/1980ft
Time: 5 hours
Grading: Moderate route following generally good tracks, paths and minor roads through woodland and up to hill summit with some prolonged sections of both steep and strenuous ascend. Stout footwear recommended
Start/finish: Public car park, Union Terrace (next to Co-op), Crieff (Grid ref: NN 861214). Free parking
Map: Ordnance Survey 1:50,000 Landranger sheets 52, 57 and 58; Ordnance Survey 1:25,000 Explorer sheet OL47
Tourist Information: Perth iCentre, 45 High Street, Perth PH1 5TJ (Tel 01738 450600)
Public transport: Stagecoach bus service 15 from Perth to Crieff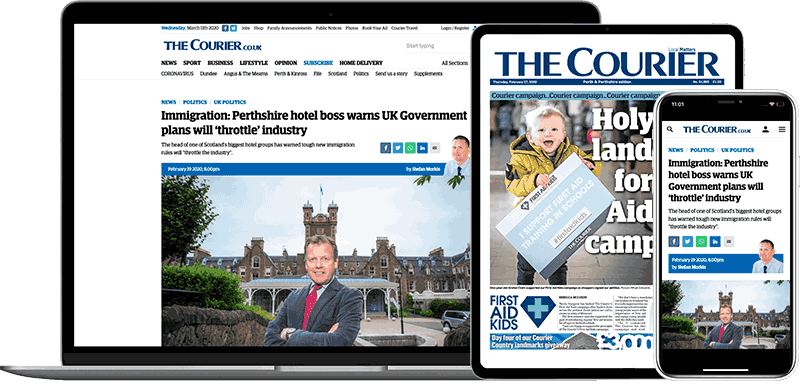 Help support quality local journalism … become a digital subscriber to The Courier
For as little as £5.99 a month you can access all of our content, including Premium articles.
Subscribe