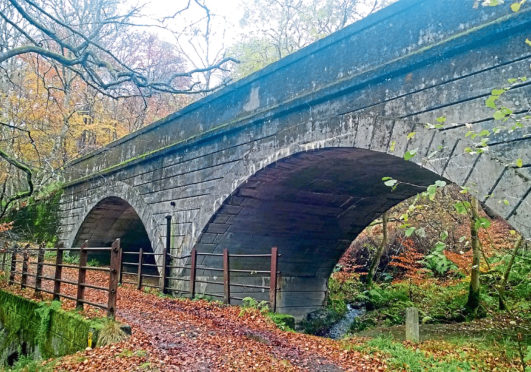 Glentarken Wood, St Fillans, Perth & Kinross
Perched on grassy slopes overlooking Loch Earn, there is a long-abandoned croft with an unusual moniker, for the old stone steading is named after the holy city of Jerusalem.
The reason for this remains something of a mystery, although it may be a nod to the early Christian influence of Saint Fillan, who arrived in Scotland from Ireland in the eighth century.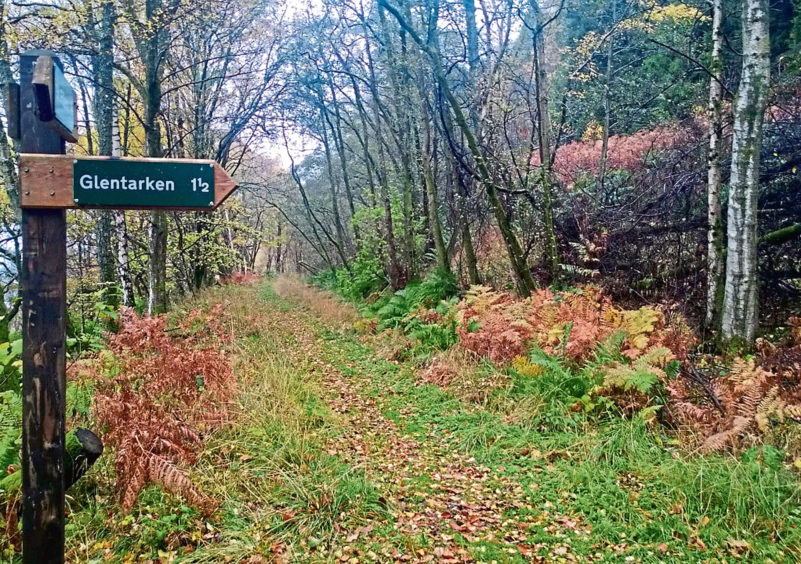 While he travelled widely across the country, he is most closely associated with the lands of Breadalbane, in Highland Perthshire, and is credited with establishing a mill in the village of Killin and a priory in Strathfillan, where he was laid to rest.
To the south, the old settlement of Port of Lochearn, at the eastern end of the loch, was renamed St Fillans in his honour in the early 19th century and it was from here that I set out on the road to Jerusalem and the abandoned townships of Glen Tarken.
The trail begins at the western edge of the village, rising from the lochside past a small subterranean hydro-electric power station to meet the trackbed of the former Lochearnhead, St Fillans and Comrie Railway which, until its closure in 1951, conveyed travellers through the beautiful countryside of Strathearn.
Rails long lifted, the permanent way still links the three communities, revived as a route for walkers, cyclists and horse-riders, and I followed it west for a while before branching into Glentarken Wood.
A steady incline led me through mixed woodland, the path dipping briefly to cross the feisty Allt an Fhionn before climbing once again below autumnal oaks to meet a hairpin bend in a forestry track.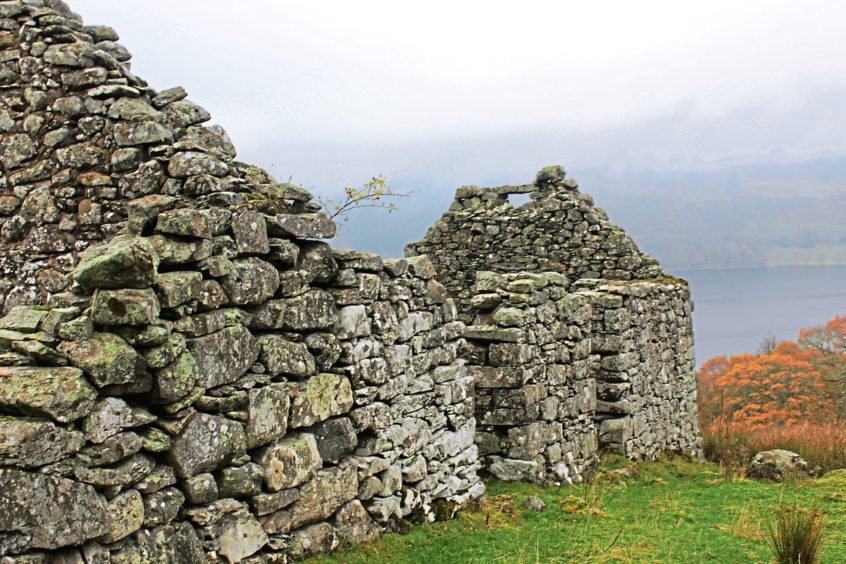 Continue up, enjoying glimpses of Loch Earn to the south, and where the track peters out a reedy path progresses over slopes dotted with young conifers to the ruins of Morell, a township abandoned during the Highland Clearances of the early 19th century.
The outlines of numerous buildings remain, an eerily peaceful place to wander amongst the ghostly stones of once lively crofts and savour fine views across the loch to the mountains of Ben Vorlich and Stuc a'Chroin.
Beyond a high wooden gate, the waymarked path, which can be quite wet and muddy underfoot here, leads through bracken and across rough pasture to a cottage and, behind it, Jerusalem.
While the cottage, now a bothy used by shepherds, remains wind and watertight, Jerusalem has fared less well over the years, the tiny home and adjoining barn just a ruin, albeit one full of character. Together they formed part of the farming community of Easter Glentarken which, incorporating Morell, included 18 buildings, four kilns, various enclosures and a school said to have accommodated up to 60 children.
Across the valley, on the other side of Glentarken Burn, Wester Glentarken comprised 14 buildings and nine enclosures, of which only one cottage and its outbuildings and a neighbouring barn are still in use.
The others lie either derelict or ruined, sad but simple monuments to a time when sheep and cattle took precedence over people on estates not just here but across the Scottish Highlands, changing the face of the landscape forever.
Weaving my way down through Wester Glentarken, I re-joined the old railway line for the return journey to St Fillans, where at least some of these displaced families resettled, creating a new life.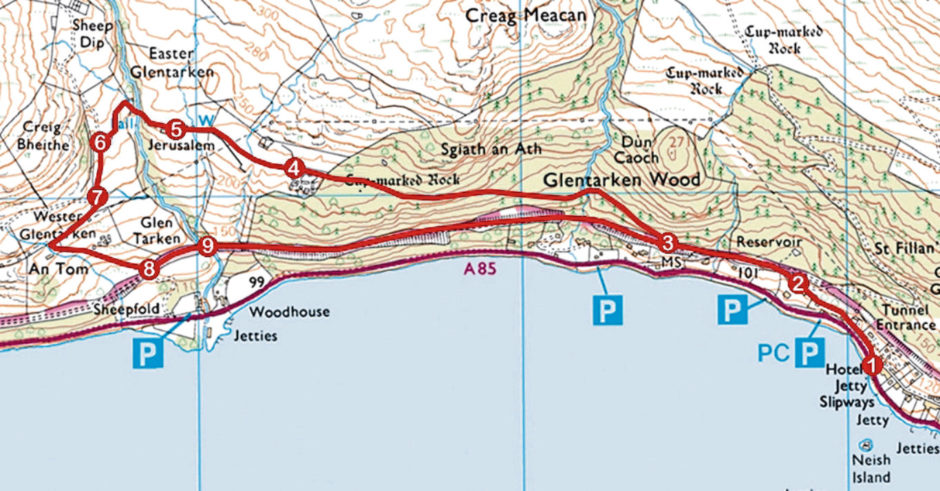 ROUTE
1. Walk north from hotel, ascending minor road (signed Wester Glentarken) past power station. Where road curves right, continue ahead to railway viaduct.
2. Climb past viaduct then go right between wooden gateposts to join former railway line. Turn left and follow line 500m west to signed junction.
3. Branch right (signed Glentarken) and ascend path through Glentarken Wood to ruins of Morell.
4. Go through high gate and follow waymarked path to cottage at Jerusalem.
5. Descend grassy track, cross bridge spanning Glentarken Burn, and ascend to junction.
6. Turn left (signed Railway path) and follow track south.
7. Ignore track branching right and continue down through Wester Glentarken to former railway line.
8. Turn left (signed St Fillans) and follow line east through cutting.
9. Cross footbridge over Glentarken Burn and continue east along line, forking left at junction beyond lineside hut to reach junction at point 3. Retrace steps to St Fillans.
INFORMATION
Distance: 6km/3¾ miles
Ascent: 250m/825ft
Time: 2 hours
Grading: Easy route following waymarked paths and tracks through woodland and across open hillside with some prolonged but well graded ascent. Wear stout, waterproof footwear as some sections can be wet/muddy underfoot. Keep dogs under close control over open ground where sheep graze
Start/finish: Four Seasons Hotel, St Fillans (Grid ref: NN 690244). Park in A85 laybys opposite
Map: Ordnance Survey 1:50,000 Landranger sheet 51; Ordnance Survey 1:25,000 Explorer sheet OL47
Tourist Information: Perth iCentre, 45 High Street, Perth PH1 5TJ (Tel 01738 450600)
Public transport: Stagecoach bus service 15 runs from Perth to St Fillans via Crieff