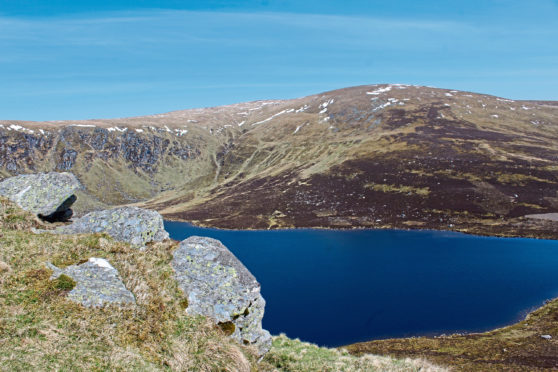 Loch Wharral is one of two spectacular glacial corrie lochans carved into the hills above Glen Clova.
It is perhaps less well known than its neighbour, Loch Brandy, but is equally impressive and marks a staging post on the ascent of Ben Tirran, the highest point on the exposed plateau between Glen Clova and Glen Esk, to the north.
Robust tracks and a well-walked hill trail offer a straightforward if strenuous ascent of the Corbett, from the summit of which the route crosses open hillside, circling the headwall of the corrie before descending by an old stalkers' path on Shank of Catstae.
The last time I climbed Ben Tirran, I set off from the Clova road, cutting through swathes of bracken on a path leading up the western edge of Adielinn Plantation, a coniferous woodland that has now largely been cut down.
On this occasion, I opted to start a little way to the east, at an estate car park that hillwalkers are welcome to use and, wandering west along the road, I branched on to the Loch Wharral track by the farm steading at Wheen.
The gravel road, upgraded in recent years, presents a leisurely gradient at first as it passes newly planted slopes of woodland before crossing rough pasture and moorland, rising above the remnants of Adielinn Plantation to a junction.
From here on, the incline becomes increasingly steep and, in parts, it is a gruelling climb to a prominent cairn where the craggy headwall of the corrie in which Loch Wharral lurks looms into view. The water, however, remains concealed for now.
From the cairn, a pleasant hike over a broad heathery crest follows before the loch finally reveals itself in all its glistening glory. Rottal Estate maintains an open bothy by the water, the perfect place to pause, catch breath and refresh.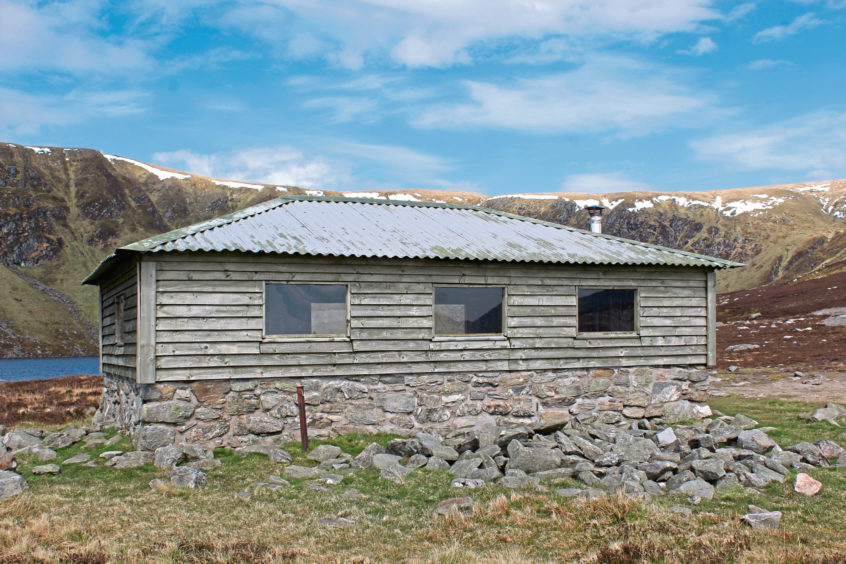 A slender and, in places, indistinct trail through the heather rises east from the bothy to meet the well-defined path which climbs steadily to a cairn perched atop the southwest flank of Ben Tirran.
Curving left, the way flattens off and continues over a broad ridge leading to the bottom of a short slope on top of which sits the summit trig point, surrounded by a crescent of stone, a useful windbreaker.
On a clear day, views extend west over the corrie of Loch Brandy towards Glen Doll, east towards the hills encircling Glen Moy and north over Glen Esk to Mount Keen, a prominent landmark.
A fence line close to the trig point guided me down the north-west slope of Ben Tirran to a small pool and on to White Hill where I turned west, following another fence towards Green Hill.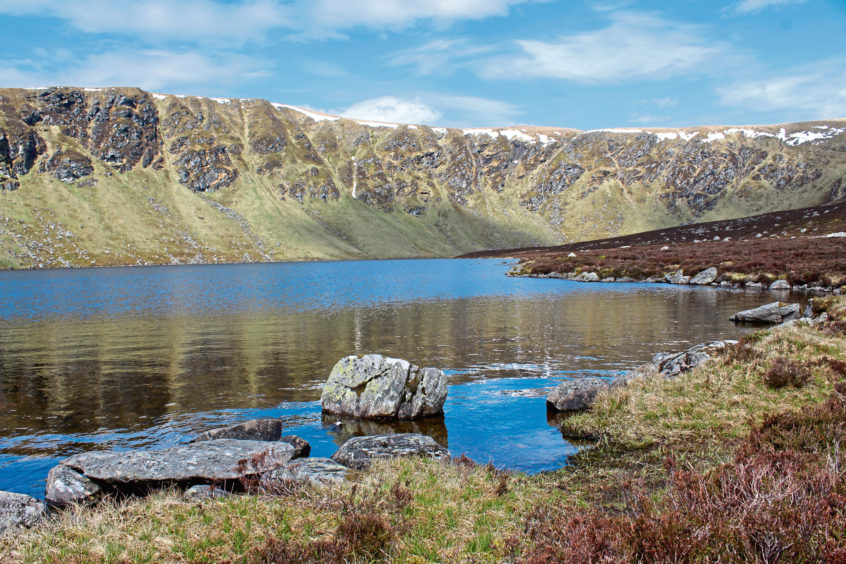 There is no path as such, but the going is generally good, although along the way there is exposed peat, some marshy ground and a few small streams to negotiate before the fence rises and veers left to a gate and stile where the track down Shank of Catstae is joined.
Descending grassy slopes, the way briefly skirts above the corrie, where there is a bird's eye view over the loch towards Ben Tirran, before dropping by a line of stone grouse butts to the col where the track swings left, a path leading ahead on to Rough Craig, the last high point of the day.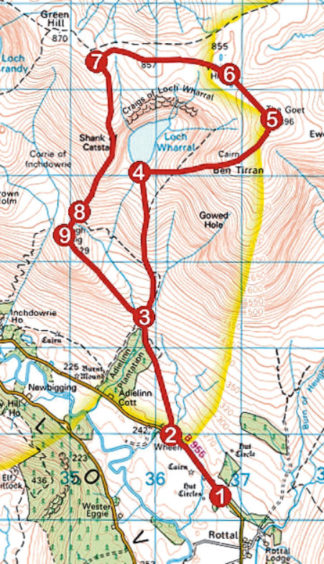 ROUTE
1. Exit car park on to B955, turn right and follow road 900m north-west to Wheen.
2. Go right through double metal gate and ascend track 1.4km north to junction.
3. Fork right and ascend track north to Loch Wharral.
4. Head east from bothy, ascending narrow trail through heather to meet more distinct path climbing to summit trig point.
5. Descend north-west by fence line to pool and meeting point of fences.
6. Cross stile by gate, turn left and follow fence line west for 1.6km to meet track at gate and stile.
7. Cross stile and descend Shank of Catstae south by grassy track, passing line of grouse butts lower down slope.
8. At foot of slope, where track swings left, continue ahead on path, dipping through mossy gully before ascending to meet track on Rough Craig.
9. Turn left, following track over Rough Craig and down to junction at point 3. Retrace steps to car park.
INFORMATION:
Distance: 14km/8¾ miles
Ascent: 700m/2300ft
Time: 4-5 hours
Grading: A challenging upland hike with some strenuous ascent, the route follows tracks and paths with a pathless section over exposed high ground. Suitable for fit, experienced hillwalkers. Keep dogs under close control to protect livestock and ground nesting birds
Start/finish: Car park 700m north of Rottal Lodge on B955, Glen Clova (Grid ref: NO 368703)
Map: Ordnance Survey 1:50,000 Landranger sheet 44; Ordnance Survey 1:25,000 Explorer sheet OL53
Tourist Information: Dundee iCentre, 16 City Square, Dundee DD1 3BG (Tel 01382 527527)
Public transport: None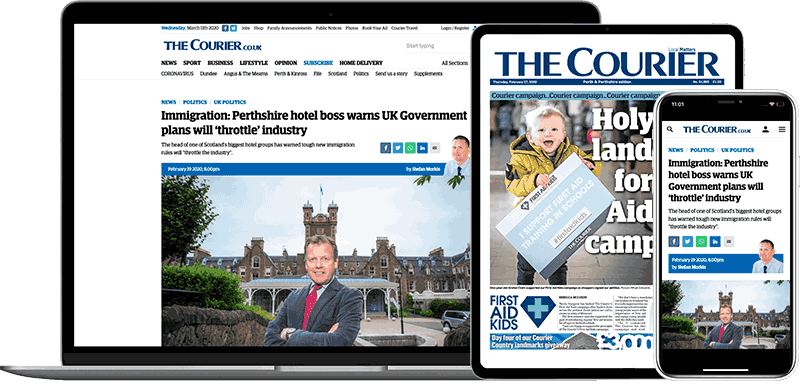 Help support quality local journalism … become a digital subscriber to The Courier
For as little as £5.99 a month you can access all of our content, including Premium articles.
Subscribe