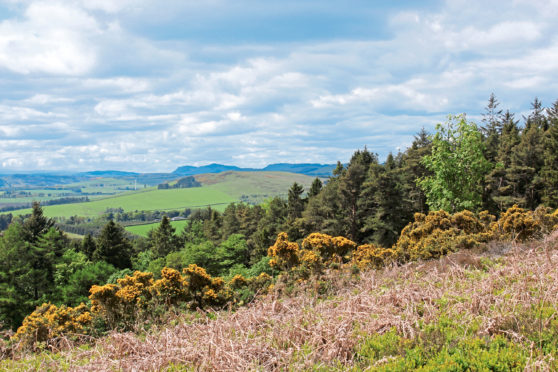 After enjoying a Spring stravaig through the Sidlaw Hills earlier in the year I returned to this popular stomping ground for a more structured saunter, the summit of Auchterhouse Hill in my sights this time around.
Enjoying close proximity to the city, generations of Dundonians will be familiar with this peak and its near neighbours, Balkello Hill and Craigowl Hill, the highest of the Sidlaw tops.
However, from the exposed apex of Auchterhouse Hill, I planned to follow a less well trod route over the heather moorland of Scotston Hill from where there are fine views along the rest of the range as it stretches west towards Perth.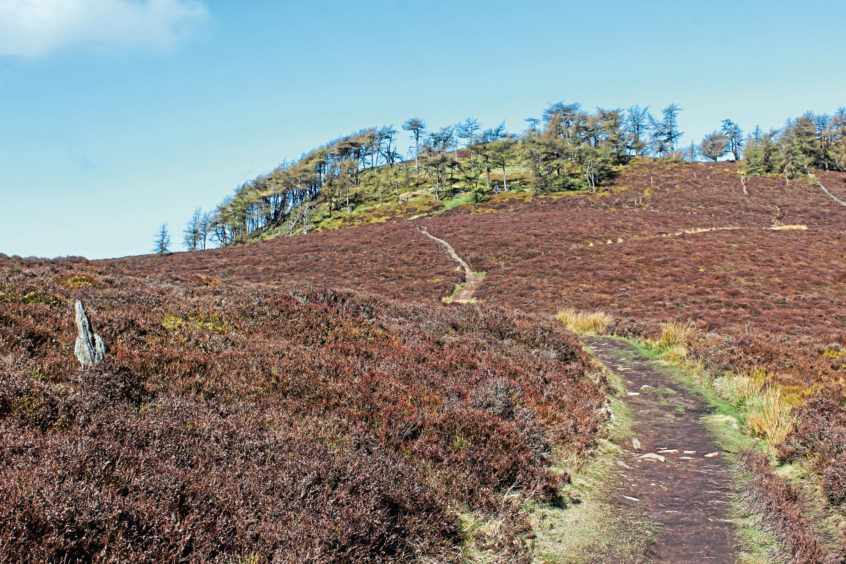 The Forestry Commission car park at Balkello Community Woodland, from where a trio of short waymarked trails radiates, was my start point and, hiking up through the trees, which were planted out in the 1990s, I reached the rocky base of Balkello Hill.
Here the ascent proper begins, the way rising by a wall, first towards an electricity pylon perched atop a prominent mound, before swinging right up through banks of thick gorse to a gate.
The approach forks left at this point, a well-walked trail climbing steadily out of the cleft that lies between Balkello Hill and Auchterhouse hill and over the southern shoulder of the hill.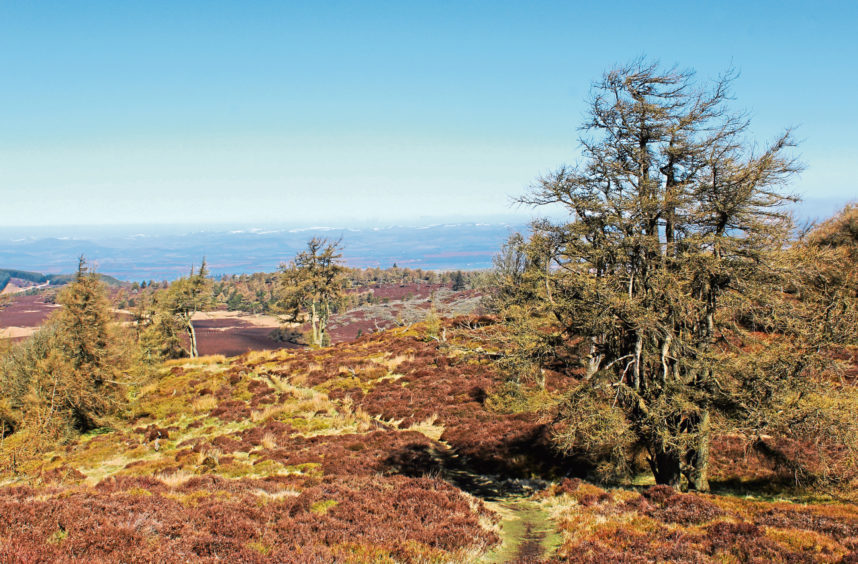 It is a fairly spirited ascent and, higher up, the way loops left, right and then left again (ignore paths branching left and then right off the main route) before the gradient eases a little and the path makes a beeline for the summit, now visible ahead.
Fork left at the next point where the path splits and the top beckons, the route rising through a band of windswept larch and over the grassy remnants of ramparts that protected an Iron Age hillfort.
The ancient stronghold commanded a prominent position in the landscape and, on a clear day, the outlook is every bit as impressive today with views over the surrounding hills and south towards Dundee, the River Tay and the Kingdom of Fife beyond.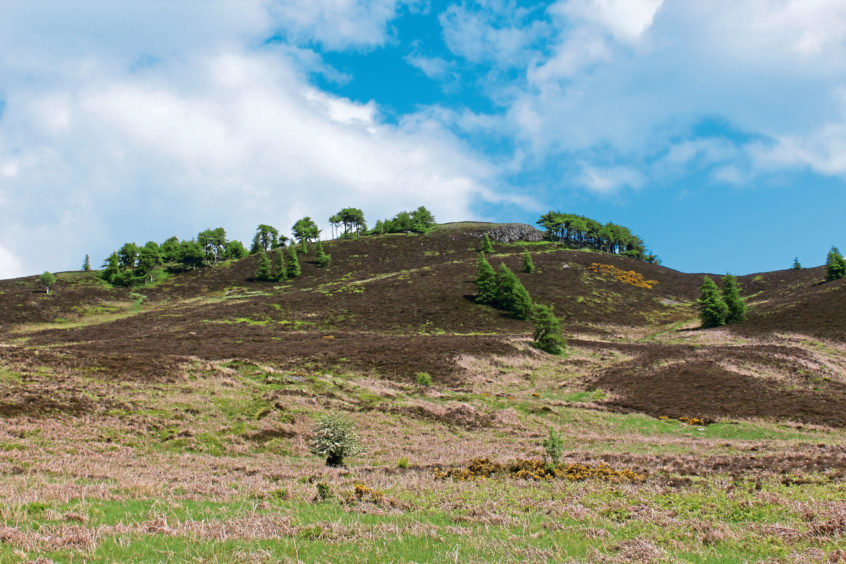 Under scattered trees, there are plenty of peaceful places to perch around the plateau, peer out across the land and enjoy a spot of refreshment before embarking upon the descent.
Although my onward line of travel was west, the way off Auchterhouse Hill leads east initially, curving right as the path dips below the summit to a gate in the fence line beyond which it swings left, descending through pleasant patchy woodland before rising to meet the Denoon Glen track, a long-established right of way crossing through the Sidlaws, linking Kirkton of Auchterhouse with Glamis.
Joining it briefly, I soon branched left up the gully of a trickling wee stream, emerging on to a swathe of moorland above which the trail skirts the fringes of a woodland of larch and Scots pine.
Soon the time comes to leave the shelter of the trees and strike south across exposed ground, a peaty track, initially a bit muddy underfoot, cutting through the heather, passing over the top of Scotston Hill before looping down an escarpment towards a wind turbine and pylon line.
A path runs below the high wires towards the western flank of Auchterhouse Hill where I re-joined the track to Denoon, following it down past long abandoned quarries on my hike back to Balkello Wood.
ROUTE
1. From information board, follow path bearing left to pond then right to junction. Fork left and follow path up through break in wall to northern edge of woodland.
2. Bear left up through gate and continue by wall to junction in col.
3. Turn right, ascending path through gorse to gate. Don't go through but fork left, ascending path to summit of Auchterhouse Hill.
4. Descend, curving right, to pedestrian gate below summit. Go through and bear left, descending north-west to meet track.
5. Go right, descending to cross stream then go left up path parallel to steam, crossing fence by stile. Continue along edge of woodland to junction.
6. Turn left, following track south over Scotstoun Hill, ignoring paths branching left. Curve right in due course, descending by wind turbine.
7. Bear left along path above hut and continuing east below pylon line to meet track.
8. Turn right and descend to junction.
9. Turn left (signed Balkello Wood), follow track east to point 3 and retrace steps to car park.
INFORMATION.
Distance: 8km/5 miles
Ascent: 300m/990ft
Time: 2-3 hours
Grading: Moderate route following good moorland tracks and paths with some prolonged but well-graded ascent to viewpoint summit
Start/finish: Balkello Community Woodland Car Park, two miles east of Kirkton of Auchterhouse on minor road to Tealing (Grid ref: NO 365385)
Map: Ordnance Survey 1:50,000 Landranger sheets 53 and 54; Ordnance Survey 1:25,000 Explorer sheet 380
Tourist Information: Dundee iCentre, 16 City Square, Dundee DD1 3BG (Tel 01382 527527)
Public transport: Xplore Dundee bus service 138 from Downfield to Kirkton of Auchterhouse (no Sunday service)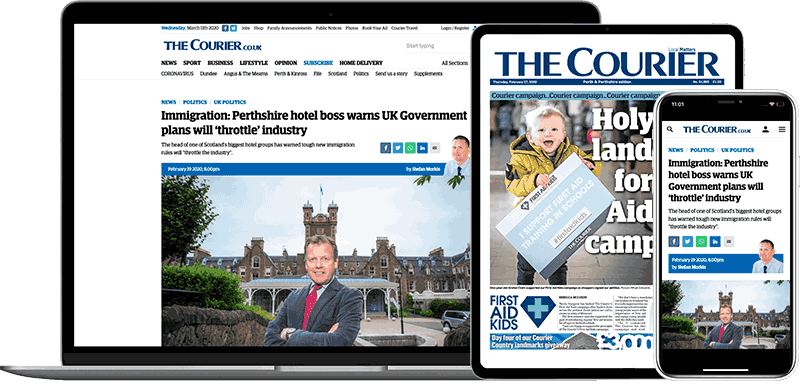 Help support quality local journalism … become a digital subscriber to The Courier
For as little as £5.99 a month you can access all of our content, including Premium articles.
Subscribe