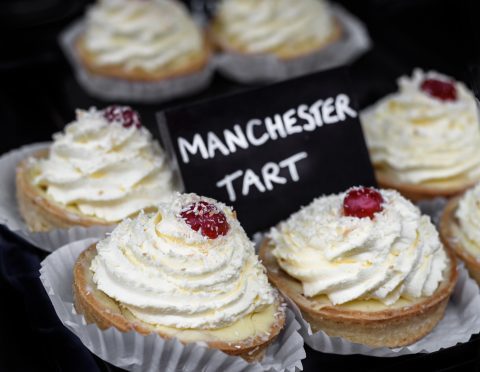 Youthful, diverse, energetic and bursting with character, Manchester is one of the most exciting places to visit in the UK, as Bridget McGrouther discovers
Are you – like me – a Cold Feet fan? I'm not referring to chilblain-inflicted toes, but rather to the TV comedy drama about the ups and downs of a group of 50-something Manchester friends.
I have been an avid viewer since the series began – err, 20 years ago – but enjoyed the recent episodes even more as, having just been in Manchester, I managed to recognise some of the locations the programme was filmed in.
This included the impressive lobby of the luxurious property I stayed at – the Midland Hotel and Spa (www.qhotels.co.uk), an iconic grand dame that has stood gracefully in the heart of the city since 1903.
I shouldn't have been surprised that such a prestigious establishment was chosen as a TV star. After all, over its long and colourful history, the doormen in top hats and tails have greeted countless celebrities, royalty, political leaders, sportsmen and rock legends. This is even rumoured to be the very hotel where Posh and Becks had one of their first dates…
So I'd suggest that if you're looking for a pre-Christmas or weekend break, then this might be the very place. The hotel has recently enjoyed a multi-million-pound makeover to restore it to its Art Deco glory and boasts award-winning restaurants, bars, stylish rooms and a very relaxing spa.
I enjoyed dinner in the excellent Mr Cooper's House and Garden Restaurant, with its quirky foliage centrepiece, but there is also the elegant Adam Reid at The French.
For another taste of something very special, I highly recommend the Signature Serene Sleep on the spa's treatment menu. It does exactly what it says on the packet, being so sublime that I nodded off. The relaxation room, too, with its unusual tented pods, is a heavenly oasis to curl up away from the cold, dark and dreich winter days the outside world tends to throw at us at this time of year.
That doesn't mean that you shouldn't go out and explore, of course, and meet the warm and friendly Mancunians who are justifiably proud of their city. In such a convenient location, Oxford Road Station is a five-minute walk, while St Peter's Square tram stop is on the doorstep.
Nearby hot spots include Piccadilly Gardens, Old Trafford (for Manchester United fans), the Etihad Stadium (for Manchester City), Salford Quays and MediaCityUK, home to another television favourite – ITV's Coronation Street – as well as an outpost for the BBC (tours are available).
For Christmas shopping, you're spoilt for choice between market stalls and the boutiques of King Street to high end department stores like Harvey Nichols, the bargain-filled Lowry Outlet or vast Trafford Centre. Pantomimes, musicals, comedy shows and concerts should get you in the festive mood, while you should watch a film or play at HOME as it's reputedly one of the best arts centres in the country.
If wintry weather hits, stay indoors at a wealth of museums – masters aplenty at the Manchester Gallery; matchstick men and matchstick cats and dogs at the Lowry Centre; or the poignant Imperial War Museum.
A new Christmas trail in Manchester is opening from 1 – 30 December 2017 which will light up the National Trust's Dunham Massey, transforming the Georgian mansion and deer park landscape into a magical illuminated wonderland. Led by Zoe Bottrell, who has designed Christmas at Kew for the past four years, it promises to give Blackpool Illuminations a run for their money, featuring over 100,000 bulbs, torchlight flames and floating decorations on the lake.
Famous for a lively music scene (thanks to local heroes such as Oasis, Mick Hucknall, Happy Mondays, Take That and The Smiths) and for having a strong student population, Manchester certainly knows how to party. Crowded bars and raucous night life are all part of the fun, while there is a strong café culture, too.
Didsbury is the neighbourhood to head for if you want to find most of the Cold Feet filming locations and perhaps even some of the stars. Mind you, when I bumped into James Nesbitt, who plays Adam, it was at a Burns' Supper at Gleneagles Hotel!
John Thomson (who plays Pete) is a patron of the Umbrella Café, Manchester's first dry bar, which serves some mean mocktails.
Yet for other tee-totallers, I wouldn't miss afternoon tea at The Midland's newly-renovated Tea Room which is the epitome of elegance and grace. Not only can you choose from all flavours of Quinteassential teas and imaginatively filled finger-cut sandwiches, but there are melt-in-the-mouth scones and cakes, too. Children's Afternoon Teas are also available.
If that doesn't make you all warm and fuzzy inside, I don't know what will… well apart from the fact that we can look forward to an eighth series of Cold Feet come the New Year.
Travel news
Entertainer and presenter Stephen Mulhern has teamed up with singer, performer and producer Jonathan Wilkes in a new entertainment partnership with P&O Cruises (pocruises.com) which will include the creation and production of a stunning new show for the cruise line. Although being kept under wraps until spring 2018, the show promises to set the bar for sheer wow factor.
Best Western has launched its winter campaign with savings of up to 30% on winter stays B&B. In Edinburgh, stay at the Best Western Kings Manor Hotel on 16 Dec from £65 for a double room. Visit bestwestern.co.uk
In celebration of the release of Paddington 2, it's marmalade sandwiches all round during very special afternoon tea journeys on the Belmond British Pullman, the train that plays a starring role in the sequel of the film. Departing from London Victoria on 2nd Dec 2017 and 16th Feb 2018, prices start from £550 for two adults and two children under 16. Visit Belmond.com
Hot choice:
First Choice (firstchoice.co.uk) offers seven-night holidays to Gran Canaria staying at the 3Sun IFA Interclub Atlantic on an all-inclusive basis from £398 pp. This price is based on two adults sharing and includes flight departing from Edinburgh on 27th Nov 2017 and transfers.