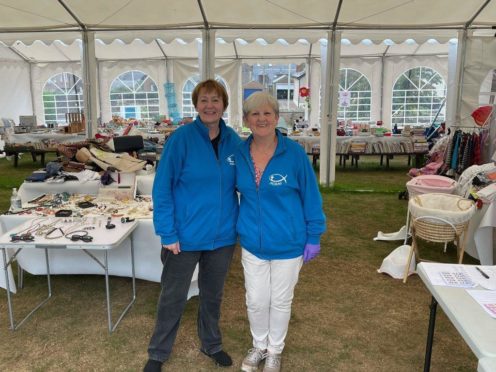 An Angus church is enjoying a new lease of life after embracing an ancient Bible tradition and adapting it for the 21st century.
Members of Forfar's Lowson Memorial put up a large white marquee in the grounds of the kirk to restart community outreach projects halted during the Covid lockdown.
Akin to a Tabernacle, the 'tent of meeting' mentioned throughout the Old Testament, it was initially opened to host a free breakfast club for families during the school holidays.
Since then it has also been the venue for a pensioners' lunch club, a weekly youth group regularly attracting around 80 youngsters, Bible study classes and Messy Church events.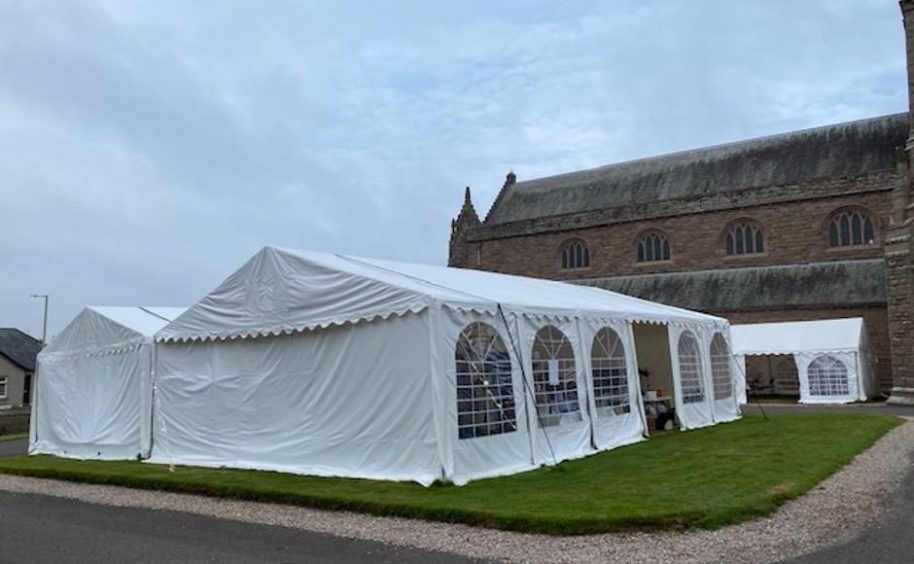 Plans are afoot to possibly hold a Christmas fayre, murder mystery night and music concerts in the marquee.
Lowson minister, the Rev. Dr Karen Fenwick, said members are delighted with their new 39 foot by 49 foot church with in'tent'.
Grant support
It was funded by a £9,750 grant from Angus Council.
She said: "The new tent sits alongside one that the church already owned and has provided an incredible outreach opportunity.
"As a child, I was taught the expression 'if you are not fishing, you should be mending your nets' and that is what I did during the Covid-19 lockdown which has led to fantastic possibilities opening up.
"Voluntary Action Angus, which has links to Angus Council, got in touch to ask if the breakfast club could restart in June and offered us the grant for the tent after I explained use of the church building was restricted.
"Acquiring a tent this size is something that I have wanted to do for years but I did not think it would be fair to go to the congregation with the financial cost so we are very grateful."
Dr Fenwick said the money was used to buy tables and chairs for the tent, safety barriers as well as lighting and heating units so activities can continue during the autumn and the winter months.
Food project
Food provided to hundreds of people over the last three months has been donated by local supermarkets and other food retailers.
Dr Fenwick added: "We are now using both the building and the tent simultaneously.
"The experience so far has been really exciting, inspiring, incredibly busy and exhausting.
"The congregation has always been forward-looking.
"We took services online as soon as lockdown happened and our existing food delivery service supplied over 250 parcels and meals on a weekly basis across the community.
"I have been preaching that we will probably not go back to how things were before.
"I told them that God is on the move and we have to be ready to move with Him."
She continued: "The message has gone down incredibly well with people and I am so excited about the possibilities for outreach that lie ahead."
Pop-up success
A pop-up sale to raise money for church funds, badly depleted due to lockdown, is currently being held in the tent.
"It has been fantastic because many people who would not normally come into the church building have stopped by the tent for a browse and a cup of tea," she added.
"I have spoken to so many strangers and many are curious about what else goes on at the church."
Dr Fenwick said the tent constituted a type of reformation within Lowson Memorial.
"I have always been of the view that people need to feel that they belong before they believe," she explained.
"If they feel that they can be part of a community, which I am literally seeing in front of my eyes, then there is a possibility that they can come to that place of belief."
The tent is likely to remain in place until December before being packed away for the winter.