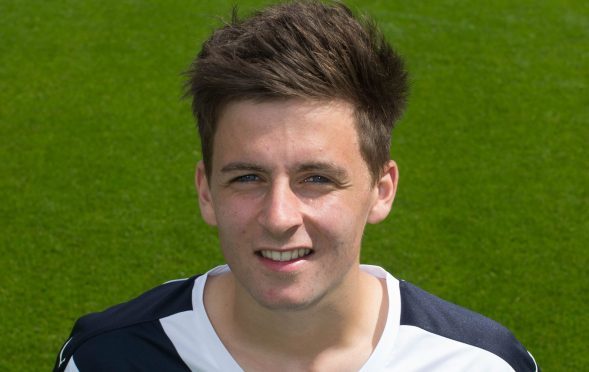 A former Dundee FC youth player found bleeding from the head after an alleged serious assault has woken up following a lifesaving operation.
John Black, 20, from Blairgowrie was taken to Ninewells Hospital following the incident at Old Hawkhill in Dundee in the early hours of October 8 and spent more than a week in intensive care.
Last night, his mother June revealed he is recovering well after waking up six days on from an operation to release pressure on his skull.
Mrs Black said: "John has woken up from the induced coma and was able to be transferred to the High Dependency Unit on Tuesday.
"He is very weak and still has some intravenous meds being given to him. He appears to have some short-term memory issues but we expected that.
"He recognises us and can answer basic questions. As for long-term issues, the signs are looking good but those are yet to be known."
Mrs Black said her son will need post-operative work for at least several months following the alleged assault.
She added: "This is really just the start of John's recovery and he may require some months in hospital yet.
"He has other specialists looking after him now."
John was found unconscious and bleeding from the head, prompting a major police investigation.
A former development squad player, he was released by Dundee FC last year but a spokesman from the club paid tribute to the "well-liked" midfielder.
He said: "We have been made aware of the situation and our thoughts at this time are with John and his family. We are hoping he makes a speedy recovery."
A post on Facebook page Dundee FC News said: "I'm sure all the Dundee fans send their thoughts and prayers to former Dundee youngster John Black, who is on a life support machine.
"Fans across the world are thinking of you buddy."
His mother June replied: "Thank you so much for kind thoughts."
The incident is the second tragedy to hit the Black family in recent years.
John's older brother Aaron took his own life aged 22 in 2011 after being haunted by his experiences during a tour of Afghanistan with The Black Watch.
John was just 14 years old when his brother sent a final "goodbye" text to his mother days before Christmas.
Robert Chambers, 23, has been charged in relation to the incident at Old Hawkhill and made an appearance at Dundee Sheriff Court on Monday October 9.
He faced a single charge of assault to severe injury and danger of life but made no plea.
The case was continued for further examination and Chambers, of Dundee, was released on bail.